Texas Longhorns vs. Baylor Bears Spread Winner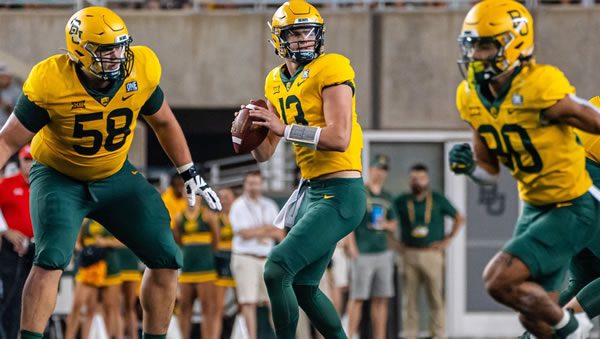 Texas Longhorns (3-0 SU, ATS 3-0) vs. Baylor Bears (1-2 SU, ATS 1-1)
Date: Saturday, September 23rd
Location: McLane Stadium, Waco, TX
TV: ABC
Point Spread: Texas -15/Baylor +15 (Receive a 100% real cash bonus up to $300 with code PREDICTEM at BetUS Sportsbook!)
Money Line: Texas -718/Baylor +483
Over/Under: 51.5
The Texas Longhorns and Baylor Bears matchup in a Big 12 showdown at McLane Stadium in Waco, TX. The over/under for this matchup is currently 51.5 while Texas is favored by -15.
Head-to-Head Matchup:
In the most recent head-to-head matchup between the teams, Texas picked up the 38-27 win (last year). Defensively, the Longhorns held Baylor to just 179 passing yards. On offense, Texas went 4/9 on 3rd down and compiled 402 yards of total offense.
Texas Longhorns Recent Form:
As they gear up for this week's face-off with Baylor, the Texas Longhorns continue to stand undefeated with a 3-0 record. In their most recent outing, they beat Wyoming with a 31-10 victory.
Combining for 41 points, the teams fell short of the over/under line of 48.5. Texas was favored to win by 30.0 going into the game, giving them an ATS loss.
Against Wyoming, Quinn Ewers not only threw for two touchdowns but also ran for one touchdown. He concluded with 131 passing yards and a completion rate of 52.4%.
Despite carrying the ball 21 times against Wyoming, Jonathon Brooks was unable to score a rushing touchdown and finished with 164 yards in the game for Texas. On his four receptions, Xavier Worthy finished with one touchdown and 56 yards.
Against Wyoming, the Longhorns defense was excellent against Wyoming, giving up just 10 points on 291 yards allowed. Wyoming's passing game finished with 136 yards. Up-front, Texas gave up 4.1 yards per attempt. As we head into this week's game, the Texas defense ranks 22nd for points allowed, with an average of 14.7 points per game. Teams have been gaining 180 passing yards per game against them (47th nationally). Against the run, they've given up 96.3 rushing yards, placing them 33rd in college football.
Away Injury Report
| FullName | Position | InjuryBodyPart | InjuryStatus |
| --- | --- | --- | --- |
| CJ Baxter | RB | Ribs | Questionable |
Baylor Bears Recent Form:
With all their games at home, Baylor has a record of 1-2. Against the spread, Baylor has gone 1-1 this season. The Bears have been favored one time compared to one game as the underdog.
In the win against Long Island University, quarterback Sawyer Robertson achieved a QB rating of 76.52, completing 10 of 22 passes for 113 yards. Additionally, he contributed one touchdown to the game.
Baylor's leading rusher against Long Island University was Dawson Pendergrass, who rushed for 111 yards and found the endzone one time on 21 carries. In the passing game, Ketron Jackson Jr. finished with a team high 29 receiving yards while averaging 14.5 yards per reception.
Against Long Island University, the Bears defense was excellent against Long Island University, giving up just 7 points on 183 yards allowed. Long Island University's passing game finished with 40 yards. Up-front, Baylor gave up 4.9 yards per attempt. Defensively, the Bears defense has come up with seven sacks this season and are 1st in quarterback hurries. Overall, they are allowing 23 points per contest (45th). Against the pass, they are 30th in the NCAA, having allowed 163.7 passing yards allowed per game. Baylor is giving up 170 rushing yards per contest.
Home Injury Report
| FullName | Position | InjuryBodyPart | InjuryStatus |
| --- | --- | --- | --- |
| Blake Shapen | QB | Knee | Out |
| Dominic Richardson | RB | Ankle | Questionable |
| Devin Lemear | S | Elbow | Out |
Betting Trends
On the road, Texas has gone 3-2 vs. the spread.
At home, Baylor has gone 6-4 against the spread (last ten).
Baylor's ATS record in their three most recent games as an underdog is 2-1.
Looking back on the last five times Texas was favored, their ATS record was 2-3.
Line Movement:
Regarding the current moneyline odds, Texas is currently given a 88% chance of winning, along with a moneyline payout of -718. On the other hand, the Bears' implied win percentage is 17% with a moneyline of +483. After the lines opened with Texas favored by 14, Texas has now become even more of a favorite, currently sitting at -15. Even though the over/under line for this contest opened at 51.5 and has stayed the same, the payout for the over has transitioned from -113 to where it currently stands at -111.
Free Pick
So two weeks ago, Texas showed up against Alabama, with a bend but don't break defense, holding them to three field goals in a key 34-24 win. But fast-forward to last week against Wyoming, and they looked flat at the start. Sure, they gave up 155 rushing yards to Wyoming, but let's dial into that—62 of those yards came from one early TD run. Take that out, and the Cowboys only managed around 2.5 yards per carry.
Now, onto Baylor. These guys could be sitting pretty at 3-0 if it weren't for a late-game meltdown against a strong Utah team. The kicker? Their offense ain't the same without QB Blake Shapen. Backup QB Sawyer Robertson is struggling, posting less-than-stellar stats in recent games. Now, they've got to go up against a Texas D that, when focused, can be a run-stopper. With Shapen likely out and their RB D. Robinson questionable, Baylor's run game is in for a rough day.
This Texas defense tightened up after a slow start last week. Baylor, with a backup QB and possibly without their starting RB, won't be able to take advantage. The point spread is big, but I'm laying the lumber with the Long horns.