UCLA Bruins vs. Colorado Buffaloes Pick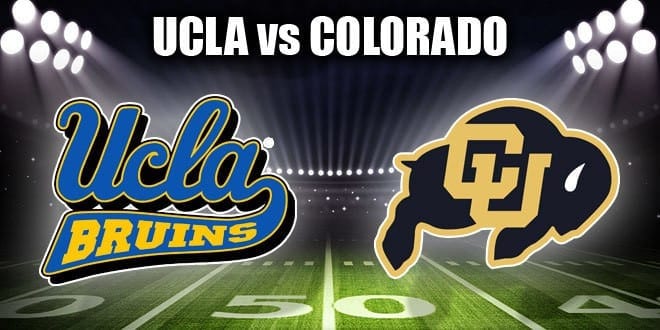 UCLA Bruins (0-3 SU, 1-2 ATS) vs. Colorado Buffaloes (3-0 SU, 2-1 ATS)
College Football Week 5
When: Friday, September 28, 2018 at 9PM EDT
Where: Folsom Field, Boulder, Colorado
TV: Fox Sports One
By: Loot Levinson, NCAA Football Handicapper, Predictem.com
Point Spread: UCLA +10/COLO -10
Total: 62
I like the Colorado Buffaloes to cover the spread at home against UCLA this Friday. Colorado might be untested, but they are 3-0 and have looked pretty good. After watching UCLA fall so flat at home against teams like Cincy and Fresno, it's clear that something is amiss in Westwood. And it might take a while for people to realize how far they have truly fallen.
Big-Time Coaching Hires Falling Flat
Even if you didn't think the arrival of Chip Kelly would immediately solve all of UCLA's problems, few anticipated this kind of a start. The week off might have afforded them a chance to get some stuff together, but it's hard to remember such a flaccid Bruins' football team, even as they've been stinking it up the last few seasons. Opening with a 9-point home loss to Cincinnati was bad enough, but at 4-0 maybe Cincy is a lot better than advertised. And they were out of their depth in a road loss to Oklahoma the following week. But for them to fall by 24 at home to Fresno, an exponentially-less-appealing destination for players than Westwood, shows how far the Bruins have really fallen.
Week 5 College Football Pick: Louisiana vs Alabama Pick
We see this nowadays at all levels where people project a certain amount of success for a team when a big-name coach is hired. And considering his past Pac-12 success, you can't blame people for being excited at Kelly's return to the conference when he took the UCLA gig. But it's never as easy at it looks. The mere presence of a coach on the sidelines isn't enough to take a meandering offense and make them a force. It's not going to take a defense that can't stop anything and make them respectable. At the end of the day, Kelly's arrival is probably a good thing, but this looks to be a complete rebuild where he will need a lot of time to make his imprint.
Perhaps some of this young talent on UCLA will eventually manifest. As of now, they're handcuffed with a lot of youth, along with veterans who are coming from a losing tradition. Finding an area where they do things well is hard to locate. QB Dorian Thompson-Robinson (again with the double last names) is a talented freshman, but suffers behind a deficient line and a dearth of weaponry. And on the 15th against Fresno State, he was 10-for-24 with 151 yards and two picks. That's against Fresno, just to be clear.
Deteriorating Morale
As if that isn't bad enough, now you have Thompson-Robinson's father (not sure if he's Thompson or Robinson) pissing in people's ears, following some vitriolic tweets in regards to the head coach. They're liable to have a mutiny on their hands. It's just that while growing pains were anticipated, I don't think people expected UCLA to be so neck-deep in doo-doo by week five. And that's squarely where they are.
More Behind the Story?
The story seems too easy doesn't it? UCLA is squarely in the dumps, Colorado has gotten off to a 3-0 start and it all equals a big ol' butt-whipping for the Buffaloes in Boulder, right? Two nice road wins to open the year over Colorado State and Nebraska led to a home win over New Hampshire in week three, followed by a week off. QB Steven Montez has a nice cast of weapons with RB Travon McMillian and emerging sophomore receiver Laviska Shenault, Jr. Where they really stand will be better determined when they get into the meat of their conference schedule, but first signs are positive. And after a game at home, followed by an off-week, they are nice and dug-in at Boulder—not the easiest place to play.
TIRED OF YOUR CREDIT CARD NOT WORKING FOR DEPOSITS? IT WILL AT BOVADA + GET A 50% BONUS!
Still, there's a chance that the first three games of the season for each team painted a slightly-irregular picture. When you look at 0-3 vs. 3-0, you want to look behind the still some for hidden nuggets. Surface appraisals only hold so much merit. Colorado beat what looks to be a really down Colorado State team, a winless Nebraska, and New Hampshire of the FCS. Sure, UCLA has looked bad, but against better opposition. Those looking to take a leap-of-faith on that notion certainly have gumption.
Granted, the Bruins took this matchup last season at the Rose Bowl, 27-23. But for Bruins' supporters who thought last season was rough, they would probably like to be back in that spot now. Watching the Bruins this season, we see ineptness on both sides of the ball, a lack of enthusiasm and energy, and a general overall feeling of malaise. We all know things can shift on a dime at this level. It's still hard to tell those who have seen the Bruins stinking it up this season that their eyes deceive them.
Lay the Number on the Home Favorite
On one hand, if UCLA were to thrive in this conference at some point, why not here against a team in Colorado that always struggles to maintain a Pac-12 standard? The true strength of Colorado is up-in-the-air, leaving a possible window for UCLA to sneak in there. Results might have painted a faulty image, but rather than try to outsmart ourselves, we're going to go with our first impression—that UCLA is in big trouble and really stinks, not a team that's going to suddenly give Colorado a run for their money. I'm laying the number.
Loot's Pick to Cover the Point Spread: I'm betting on the Colorado Buffaloes minus ten points.