UCLA Bruins vs. Oregon Ducks Betting Insight & Prediction ATS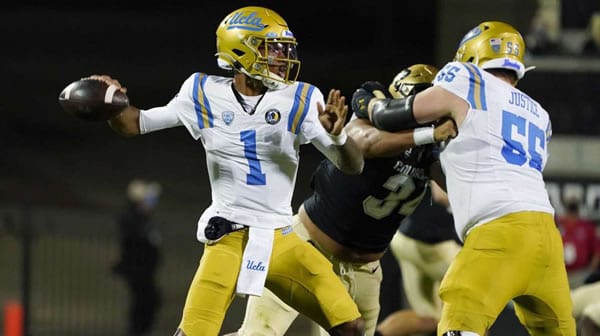 UCLA Bruins (6-0 SU, 4-2 ATS) vs. Oregon Ducks (5-1 SU, 4-2 ATS)
College Football Week 8
Date and Time: Saturday, October 22, 2022 at 3:30PM EDT
Where: Autzen Stadium, Eugene, Oregon
TV: Pac-12
Point Spread: UCLA +6/ORE -6 (Bovada – Get a 50% bonus at the online bookie with the BEST live wagering platform on the planet! It's 5x better than the rest!)
Over/Under Total: 70.5
The UCLA Bruins come to Eugene for a heavyweight Pac-12 showdown with the Oregon Ducks on Saturday. This is the biggest regular season spot for the Bruins in a number of years, as they finally seem to have a contender at 6-0 under Chip Kelly. And what better spot for him to have that game than at his former stomping grounds at Autzen Stadium? To really solidify their status as contenders, they need to beat a good Oregon team, winners of five straight since losing to the best team in the country in week one in Georgia. Oregon and UCLA got last week off leading up to this big game. Two weeks ago, Oregon gave Arizona a 49-22 hammering, while the Bruins beat a Utah team, 42-32, which went on the next week to beat undefeated USC.
High Stakes
Not to make it all about this one week for both teams, but a lot is undeniably on the line for each squad. For Oregon, you almost want to give them a pass for the flop against defending champion Georgia. We see them putting together nice wins and laying conference opposition to waste. Big things and Pac-12 supremacy is still definitely on the table. For unbeaten UCLA, this would serve as the payoff for a long struggle to get this school back in position to do big things. A win here sets them up nicely, but beyond that, it would be a huge morale-booster for the program in an overall sense.
Lot to Prove
UCLA has taken care of business across the board, winning 6 straight to open the season and covering four spreads for us, just as Oregon has done since righting the ship after losing to Georgia. And UCLA did establish some credentials with a win over a tough Utah team, though beating them at the Rose Bowl counts a little less. They also beat Washington, giving them the better conference wins thus far and also the fact that they haven't lost yet, though they likely would have had they faced Georgia. This is still the fork in the road for both teams in this season.
10* CFB Championship! 49-23, 68% Season!
Jack Banks is all-in in tonight's College Football Championship! The Banker swept his NFL yesterday (Won Div GOY) and he's had a 49-23, 68% CFB phenomenal season! Jack won his CFB Bowl GOY (Penn State) and he wraps up the season with win #50! Take it to the bank with Jack Banks!
Sticking Point for the Bruins
When a team that is down in the dumps resurrects its program, one needn't nit-pick too much. But let's say the UCLA defense still lags a bit behind the offense at this point in the Bruins' progression. One might recall in the era directly preceding Kelly's arrival to the program a UCLA defense that bordered on slapstick status. And that persisted into Kelly's reign, as the "D" was something the Bruins needed to overcome rather than rely upon for help. That continues to the present, with some elevations in talent on that side of the ball, in addition to the offense's rise and the balance they have achieved, having taken a sad song and made it a bit better.
A UCLA defense that has held up, but still given up point-allowances in the thirties to Utah, Washington, and South Alabama in three of their last four will be put to the test. If that's what their defense can come up with in those far more-advantageous spots, what's it going to look like against a balanced and potent home Oregon offense that has averaged fifty points scoring in their last five games? Bo Nix has really taken to the QB role in this offense, with a nice cast of weapons both in the air and on the ground. With Nix a threat to run, they also have a two-headed running back attack with Mar'Keise "Bucky" Irving and Noah Whittington, with a receiving crew led by Troy Franklin. To get behind the Bruins in this spot, you're hoping the offense can drown out Oregon's offense somehow because unless they're going against struggling offenses, this UCLA defense is a little out of its depth. This could be the spot where it bottoms out to some degree.
Ammo for UCLA
I think there is something to be said for the Chip Kelly factor as you'd assume he's putting an awful lot into this game, as he returns to where he made his bones in this business. A win here would mean he's back, after a prolonged time out of the spotlight after a mixed NFL run and a major rebuilding period in Westwood. The balance and potency of their offense is considerable, with well-seasoned QB Dorian Thompson-Robinson at the helm. He has 15 TDs through the air and four more on the ground, with only two picks, working with a robust cast of ball-catchers, including team-leading Jake Bobo. Running back Zach Charbonnet has had some big games in this offense and gets a lot of help on the ground. They have the weapons to hang with anyone in this conference.
Lay the Points
One could reason that last season, a still not ready for primetime Bruins team came within a FG of a more-complete Ducks team and has matched up with the Ducks well previously, so why wouldn't it culminate here? It's just that at some point in this conference, being an incomplete team will cost you and this might be that spot for UCLA. Not that they couldn't acquit themselves well in a shootout, something they're capable of bringing about in this game, but I think the state of their defense starts coming at a steeper cost sometime around the second half of this game. I'll take the Ducks.
Loot's Pick to Cover the Point Spread: I'm betting on the Oregon Ducks minus 6 points. Note: Stop overpaying for betting odds! Start wagering on games at reduced juice!