UCLA Bruins vs. Utah Utes Pick ATS – Bookies Looking for UCLA Money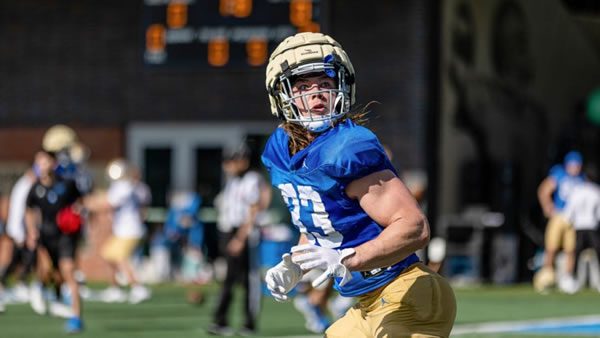 UCLA Bruins (3-0 SU, 2-1 ATS) vs. Utah Utes (3-0 SU, 1-1-1 ATS)
College Football Week 4
Date and Time: Saturday, September 23, 2023 at 3:30PM EDT
Where: Rice-Eccles Stadium, Salt Lake City, Utah
TV: Fox
Point Spread: UCLA +4.5/UT -4.5 (Bovada – Check out their live wagering platform! It's incredible!)
Money Line: University of California Los Angeles +165, University of Utah -195
Over/Under Total: 51.5
The UCLA Bruins come to Salt Lake City for a Pac-12 showdown with the Utah Utes on Saturday. Both teams enter this game at 3-0, with their sights set on having a big season. So, the stakes are high. Each team got an easy warm-up win leading up to this, with the Bruins beating North Carolina Central, 59-7, while Utah scored a 31-7 win over Weber State, both on Saturday. This will be the conference opener for both teams. Who can get the upper hand at Rice-Eccles Stadium?
Getting a Lay of the Land
Utah has been a steady contender for years, overcoming a tough conference with good coaching, team cohesion, and a singular mission. But we've seen UCLA start to poke their head up the last few years. Still a flawed, but an increasingly-dangerous team that latched onto some real success last season in a year that included a 42-32 win over the Utes at home, not bad against a Utah team that twice beat USC last year. UCLA is not foolproof, but with Chip Kelly, they've become better and a more-complete team. And the offensive upside can be a real issue for this Utah squad.
While Utah has shown their depth at quarterback is really coming in handy while star QB Cam Rising recovers from a torn ACL suffered in last season's Rose Bowl, particularly with the play of QB Nate Johnson, surely they want their number-one guy in there. Apparently, it's coming down to Rising's surgeon giving him the OK. But you almost sense that since he's practicing, they're waiting for the right time, which would definitely be now as the tough spots in-conference are here.
UCLA: Very Dangerous
Dante Moore, who won't be 19 until next May, was a top recruit who came to UCLA after flipping late, and we see UCLA starting to turn him loose. He has 7 TDs and no picks in his first looks in college ball. We're starting to see that Chip Kelly high-powered offense manifest, with a cavalry of impactful backs and ball-catchers starting to chip in for the cause. There has been a little adjustment period, so the three layups to start the season have been helpful in allowing all these young players to find their sea legs.
UCLA has become a hot spot to land for offensive players who want to be put into a spot in which they can thrive. This offense allows a lot of different players to shine. In three games, they already have three backs with multiple scores on the ground, and with J. Michael Sturdivant, Moore seems to be developing some nice aerial chemistry. This is an offense one should suspect will become better over time.
The Proverbial Flip Side of the UCLA Coin
In order for UCLA to make the transformation from dangerous X-factor to real contender, the "D" is going to need to come along. By this time, it's almost an institutional quirk with this program that whatever great things are happening offensively are threatened by the inadequacies on the other side of the ball. For the most part, we don't know what that side of the ball will look like for the Bruins. Their first three games showed them in a decent light, but this "D" will not be judged in the end by how they dealt with Coastal Carolina, San Diego State, and NC Central.
Defensive issues aside, it's still, on paper, not a bad matchup for UCLA in a few different ways. Utah isn't like Oregon or USC on offense. They're good but not as explosive or relentless on offense. They're more balanced. That offers different challenges to UCLA but also gives them at least an "in" for their superior offensive explosiveness to be the deciding factor. At least it won't be a situation where their defense is swallowed up, and everything just goes off the rails. But make no mistake, until we see different, that Bruins' defense is always a major concern when UCLA is taking on upper-echelon conference teams.
Questions for Utah
They have a good defense and know what it's like to have that side of the ball surface in big conference games, whether it's as a whole or in stepping up in very key sequences. But when playing these offensively-effervescent conference teams, points really is the name of the game. Nate Johnson has looked good, something that maybe shouldn't be so hard for a Utah recruit to do when taking on Weber State and Baylor. Still, the offense isn't really showing signs of much pop, even in those contexts. If it's Johnson, he's facing a scenario of having to keep pace with UCLA in his first tough matchup, something he hasn't shown he can do. If it's Rising, you're looking at a spot where a rusty QB is starting his season in an already-heightened context in which he might not be completely ready.
Take the Points
It really goes both ways, as UCLA and Moore will be presented with a tough spot in a hard place to play against a defense that far surpasses what they've been seeing up to this point. If the offense is to fall flat, this game is as good a candidate as any. I just can't help but think that heading into this game in Week 4, the Utah offense might not be ready to hit the top gear they just might need at some point on Saturday to keep up with the Bruins. I see UCLA making a strong run at this. I'll take the Bruins.
Loot's Pick to Cover the Point Spread: I'm betting on the UCLA Bruins plus 4.5 points.