USC vs. Washington State Odds & Pick 9/18/21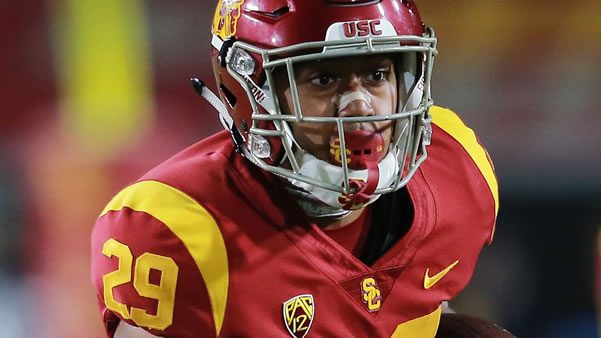 USC Trojans (1-1 SU, 1-1 ATS) vs. Washington State Cougars (1-1 SU, 0-2 ATS)
College Football Week 3
Date and Time: Saturday, September 18, 2021 at 3:30PM EDT
Where: Martin Stadium, Pullman, Washington
TV: Fox
Point Spread: USC -8.5/WSU +8.5 (Betanysports.eu - Making the switch to this bookie will save you THOUSANDS of dollars in vig! Why you ask? Because they only charge you -105 instead of the expensive -110 your book is slamming you with! Make the switch! You'll be so glad you did!)
Over/Under Total: 62.5
The USC Trojans come to Pullman to take on the Washington State Cougars in a Pac-12 battle on Saturday. Considering how few games each team played last season, they actually faced each other at the Coliseum in '20, with the Trojans registering an easy 38-13 win. But sometimes, the Cougars come alive in the face of conference play as they commence their Pac-12 schedule this week at home. In this crazy conference, past performances only count for so much. Following a rough loss to open the season, the Cougs got their first win on Saturday with a 44-24 win over Portland State. USC, meanwhile, had a really rough go of it on Saturday, losing to Stanford, 42-28, despite being 18-point favorites at home. Can they rebound this week?
How Dangerous are The Cougars?
No matter how down Washington State may seem, they are always dangerous, especially at home. They can play with a wide range of forms. Granted, a loss to Utah State to open the season was depressing. And they didn't cover against Portland, but with the continued growth of QB Jayden DeLaura, it could be sooner than later when we see this offense kick it into gear. Nick Rolovich has some good things in place with Max Borghi and Deon McIntosh in the backfield, along with a slew of receivers who are growing in power, including surging Travell Harris, who had two touchdowns on Saturday.
It's hard to say anything laudatory about the Washington State defense after they blew it late against a team that was overturned on its back last season in Utah State. That kind of fourth-quarter slacking-off makes it really hard to cover spreads, as we've seen through the first two weeks. And against a team that has a lot of offensive juice in USC, that would appear to be a major hang in the fence. But two-week windows can be misleading, especially with an FCS opponent in the mix. And going into week three already with concrete conclusions about the Cougars could lead us astray.
Get our weekly free college football picks against the spread >>>
Does Last Season Suggest Anything About This Week?
Last season was a crazy time for everyone, but when two teams return with so many of the same faces, including both starting QBs, it's worth looking for information. The performances of both quarterbacks was jarring, with Kedon Slovis throwing for five TDs with no picks on 25-for-32 passing. DeLaura, conversely, threw for just 134 yards with no TDs and a pair of picks. But it wasn't just that, as USC dominated in most facets—flexing a disruptive defense while really taking it to the Cougars' offensive line. The Cougars did have some success running the ball, something they could maybe build on. And the version of DeLaura they are now facing carries more experience, as do other key members of the offense he leads. And they get this one at home, as USC takes to the road for the first time this season. And from early reports, there could be some weather, a far cry from what USC players have been experiencing in SoCal, where it has been piping hot for months without let-up.
Why This Won't Be Easy for the Trojans
While everything looked in order with a routine week one win over San Jose State, it all melted away at the Coliseum in a puzzling loss to Stanford. After all, the Cardinal were coming off a ragged performance in a 24-7 week one loss to Kansas State. So not many foresaw a lopsided Stanford win in LA. The score didn't even do justice to the depth of Stanford's dominance. It just serves as a further testament to the wackiness that pervades this conference and how going off of past performances and current form perhaps means less in the Pac-12 to some extent.
Either way, USC showed a defense on Saturday that is still a work-in-progress. Any fanciful preseason assessments of this group didn't seem to hold water against a Stanford offense that looked awful in week one. There were an alarming number of big plays through the air and even on the ground that made USC look like the kind of ragged "D" that a team like Washington State could exploit to some degree, especially at home.
Key Variables
It didn't fire last week, but Kedon Slovis has shown that he can get a lot out of this offense. They have weapons-galore in all facets. It didn't manifest last week when all signs said it would, but all that means is that USC isn't a great team, nor are they a consistent one. But they don't need to be great to get the cover in Pullman against a team that can't even hold off Utah St. And coming off the shocker on Saturday, maybe one could expect more urgency from a USC team who would really be in the dumps if they got off to an 0-2 conference mark. Still, if this Cougars' offense is getting better and warming to the task of the new season, this is a spot where they could potentially thrive.
Lay the Number
This is a game with a wide range of possible outcomes. That's the nature of these inconsistent teams in a conference where getting a true read on a team can be elusive. While I think the Washington St. offense could surge and that their defense might not actually be that bad overall, the Trojans just have higher-caliber talent across most areas that should register in a highly noticeable way. I don't see the Cougars matching up that well with the Trojans, as last year's result partially attests. Southern Cal is up against it, and I see some urgency helping carry them through to a win and a cover at Pullman. I'll take the Trojans.
Loot's Pick to Cover the Point Spread: I'm betting on the USC Trojans minus 8.5 points. Did you know that Wagerweb Sportsbook offers 20 point college football teasers? You can make the Trojans a +11.5 underdog!