Utah at Arizona Pick Against the Spread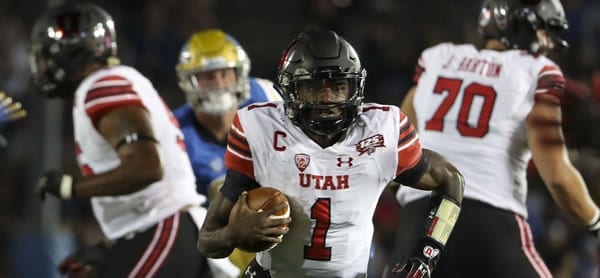 Utah Utes (9-1 SU, 7-3 ATS) vs. Arizona Wildcats (4-6 SU, 2-7-1 ATS)
College Football Week 13
Date and Time: Saturday, November 23, 2019 at 10PM EST
Where: Arizona Stadium, Tucson, Arizona
TV: Fox Sports One
Point Spread: UTAH -22/ARIZ +22 (SportBet)
Over/Under Total: 58.5
The Utah Utes come to Tucson on Saturday for a Pac-12 faceoff with the Arizona Wildcats. Utah could be on the precipice of big things, with a potential conference championship date with Oregon looming. After smashing UCLA 49-3 on Saturday, they are in high-gear but need to stay on-point. They get a road game this week, but against a downward-trending Arizona squad that faltered yet again and didn't cover the spread on Saturday in a 34-6 loss to the Ducks. Can they give Utah a run for their money in what is their last chance to make a statement in 2019? Or will a Utah team that is playing high-stakes football be too much for them? Let's break it down!
The Arizona Collapse and What it Means
Again this season, we see a Kevin Sumlin team fade into the good night in the second half of the season. The five losses are bad enough. That's on them. But to not deliver for bettors five weeks in a row is where people start taking it personally. They started well in conference play, but before long, they were getting hammered. Washington, USC, and Oregon is understandable, but in absorbing one-sided losses to Stanford and Oregon State, we see a team in disarray.
The Arizona offense still has some bite, but with 6 points against Oregon and 14 against USC, it's not translating at the higher levels of the conference. And going against a Utah defense that is allowing very little would appear to be a bad spot for them. Between Grant Gunnell and Khalil Tate, they can air it out, and Gary Brightwell and JJ Taylor are useful backs. They have a lot of aerial weapons, but is this going to sail against a Utah defense that has allowed seven or fewer points in four of their last five games? That would be a scary proposition if I were a potential Arizona backer and that's without even mentioning the urgency and stakes of this game for the Utes, where any thoughts of a mental falloff against a weaker foe don't come into play.
We now turn our attention to an Arizona defense that is approaching slapstick status at this point. Giving up 34 points to Oregon last week wasn't so bad, actually a high-water point for them of sorts, but they still didn't cover the spread, and it's the lowest point total they've yielded since early October. For a spiraling team to now have to pick up and take on another ultra-difficult team in Utah in consecutive weeks might be asking a lot from this team, which has gotten sideways in the second half of this season.
Why Utah Might Be Extra Tough in this Spot
The matchups are damning enough. Utah's offense is averaging 38 points a game over their last 6, having laid to waste some pretty decent conference defenses—certainly ones better than what 'Zona is bringing to the table as of late. QB Tyler Huntley deserves more credit, and on Sunday, his stat line was typical—efficient on 14-18 passing with 335 yards. With Bryan Thompson, Samson Nacua, Brant Kuithe, and backs getting involved, it could wreak havoc on an Arizona secondary that is very poor. Opposing quarterbacks are putting up Tecmo Bowl numbers on that bunch, and that figures to resonate this week. With Zack Moss closing in on 1000 yards rushing and also able to haul in many catches, it's going to be a lot to contain.
Even more troublesome to the Arizona prospects is the form of the Utes "D" heading into this week. They've allowed a combined 41 points in the last five games, and that's even counting Washington putting up 28 a few weeks back. With Julian Blackmon making plays in the secondary and Bradlee Anae one of the fiercest pass-rushers in the conference, they can make life exceedingly hard on a struggling Arizona offense that doesn't have enough juice up front to assuage the Utes' tide.
Without any repercussions, one might even fancy Arizona in this spot, as they certainly don't represent a fearsome opponent and could be overlooked with a jumbo spread. But with USC at 6-2 in conference and Utah at 6-1 having suffered their only loss to USC, they need to keep winning to guarantee themselves a spot in the title game. And then after that, who knows? In other words, the Wildcats can't bank on catching the Utes sleeping.
Looking for Value
Typically in these spots, a little more value can be seen with the underdog, as people need more incentive to bet on a team like Arizona with the slide they're on than they do a rampaging Utah squad. As of press time, we see a spread of Utah -22 points. And yes, Arizona is at home, but is that enough slack for Arizona? They lost by more than that at home to Washington, and that was before the losses added up. Utah has a lot on the line and letting up doesn't seem like a possibility with a team that should be pushing hard to win and run it up.
Lay the Points on the Road Favorite
Sure, Utah isn't the typical high-flying team where you might feel inclined to lay better than three TDs on the road in a conference spot. But I think their understated balance is their actual strength in this matchup versus an Arizona team that can be exploited in any number of ways. I don't see a lot of offense coming from Arizona in this matchup, and I'd rather hope the roof doesn't cave in on a backdoor cover than sit there and toil for hours, hoping Arizona can do something good. I'll take the Utes.
Loot's Pick to Cover the Point Spread: I'm betting on the Utah Utes minus 22 points.
100% Free Play up to $1,000