[et_pb_dcsbcm_divi_breadcrumbs_module hide_homebreadcrumb="off" homebreadcrumbtext="Home" separator="sep-raquo" hide_currentbreadcrumb="off" homebreadcrumborientation="left" _builder_version="3.8″ fontsbreadcrumbs_font="Lato||||||||" fontsbreadcrumbs_text_color="#000000″ fontsbreadcrumbs_font_size="15px" fontsbreadcrumbs_line_height="16px" fontsseperator_font="||||||||" fontsbreadcrumblinks_font="||||||||" fontsbreadcrumblinks_text_color="#2567cf" custom_margin="25px|||" custom_margin_phone="30px|||" custom_margin_last_edited="off|desktop" custom_css_main_element="font-family: Helvetica Regular;" global_module="3641″ saved_tabs="all"][/et_pb_dcsbcm_divi_breadcrumbs_module]
Utah State Aggies vs. Michigan State Spartans Total Play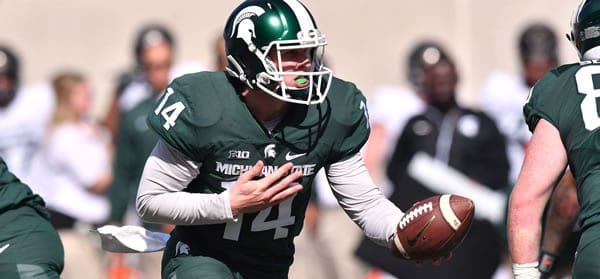 Utah State Aggies vs. Michigan State Spartans
College Football Week 1
Date/Time: Friday, August 31st, 2018 –7:00 PM ET
Where: Spartan Stadium – East Lansing, Michigan
TV: BIG TEN NETWORK
Point Spread: Utah State +23 /Michigan State -23
Over/Under Total: 52
The Michigan State Spartans and the Utah State Aggies will lock horns at Spartan Stadium in East Lansing, Michigan on Friday, August 31st, 2018. This contest will be a primetime featurette live at 7:00 PM ET. The game will be televised on the Big Ten Network where the Mountain West meets the B1G. The Aggies and Sparty have never met previously.
Utah State Aggies Season Review
Last year, the Aggies wrapped up their 2017-18 season with an overtime loss in the Nova Home Loans Arizona Bowl in a battle of Aggies with New Mexico State. New Mexico State erased a five-decade-plus bowl drought and did it with style as they edged out Utah State 26-20 in overtime. Since going 10-4 in 2014, Coach Matt Wells has not produced a winning season in Logan since as Utah State has gone 15-23 over the last three seasons. 
Hope Is Abreast in Logan
The good news for Aggies fans is that their team returns 18 starters on both sides of the football. In addition to this, Utah State seems to be heading in the right direction whether they are on offense or defense as well. Last year, the Aggies put together a scoring offense responsible for 30.2 points per game that comprised 397 yards of total offense per game on average. The Aggies also were +5 in turnover differential. All of these numbers compiled were the best seen by U-State since their ten-win campaign in 2014. The Utah State defense also gave up 26.9 points per game, nearly a field goal better than their 2016 numbers.
Michigan State Season Review
Despite many acclaims that Sparty would be a middling six-win outfit in 2017, Michigan State did what they typically do best and overachieve. Michigan State finished with 10 wins, including impressive victories over Michigan (gets ND on Sat) and Penn State. A perpetual menace, Sparty has a knack for upsetting the apple cart in the B1G race and throwing the conference into complete chaos. Michigan State was just one of two teams from the B1G conference to ever qualify for the College Football Playoff. Be that as it may, Sparty spanked Washington State in the Holiday Bowl by a score of 42-17 to add an exclamation point to their impressive body of work.
The Wizardry of Mark D'Antonio
There are many prospects that this team is a dark horse for the B1G Conference. This is all thanks to the wizardry and the mastery of their coach Mark D'Antonio. As mentioned, Sparty had won arguably three to four more games than it was supposed to in 2017. Now, Michigan State returns 10 offensive starters and nine defensive starters who already know how to shatter expectations. Mark D'Antonio knows how to make the most of what he has in terms of personnel that much has been clear. Now, he gets a stingy rush defense that only allowed 95 yards per game last year and a war hammer at running back in senior L.J. Scott.
Free Pick: Take Under 52
It is very easy to swallow the points here as Michigan State is clearly the superior team in terms of form, quality, and experience. However, many have had the same idea, and perhaps as a result of over 80% of the public cashing in on Sparty, the value in this market is likely out the window on MSU. Nevertheless, given the defensive proficiency of the Spartans, the Over/Under total in this contest could appear to be just a bit too high.
Sparty plays at a higher level at home as they have lost no more than one game in East Lansing in three of their last ten seasons. These numbers were fostered against some elite teams, so its safe to say that this contest will be a win. However, Michigan State is the kind of football team that could easily blank Utah State here. After all, Utah State is a run-heavy football team. This is an outfit that banks on an operation that averaged over 165 rushing yards per game for the last five seasons. If they can't get the motor running, as they will likely and continuously hit a brick wall it can be a very long afternoon for the Aggies. The question is whether or not Michigan State can or even wants to score enough to cover this line. After averaging 24.5 points per game in 2017, chances are they won't.
<div style="width:340px; margin: 0 auto;"><!-- [et_pb_line_break_holder] --> <a class="twitter-timeline" data-width="340" data-height="500" data-link-color="#008156" href="https://twitter.com/PredictemPicks?ref_src=twsrc%5Etfw">Tweets by PredictemPicks</a> <script async src="https://platform.twitter.com/widgets.js" charset="utf-8"></script><!-- [et_pb_line_break_holder] --></div>
<div class="widget105"><!-- [et_pb_line_break_holder] --><h4 class="parlays">Best Parlays</h4><!-- [et_pb_line_break_holder] --><!-- [et_pb_line_break_holder] --><table id="parlay"><!-- [et_pb_line_break_holder] --> <tr><!-- [et_pb_line_break_holder] --> <th><span class="team"></span></th><!-- [et_pb_line_break_holder] --> <th>2 Team Parlay</th><!-- [et_pb_line_break_holder] --> <th>3 Team Parlay</th><!-- [et_pb_line_break_holder] --> <th>4 Team Parlay</th><!-- [et_pb_line_break_holder] --> </tr><!-- [et_pb_line_break_holder] --> <tr><!-- [et_pb_line_break_holder] --> <td><a href="https://affiliates.sportbet.com/tracking/Affiliate.aspx?idBook=2&mediaTypeID=220&AffUrlID=80&LandingPageID=55"><img src="https://www.predictem.com/wp-content/uploads/2018/06/sportbet-sm.png"></a></td><!-- [et_pb_line_break_holder] --> <td>2.74 to 1</td><!-- [et_pb_line_break_holder] --> <td>6.24 to 1</td><!-- [et_pb_line_break_holder] --> <td>13 to 1</td><!-- [et_pb_line_break_holder] --> </tr><!-- [et_pb_line_break_holder] --> <tr><!-- [et_pb_line_break_holder] --> <td><a href="https://record.bettingpartners.com/_5vfuDOH_H2wWPf2JTsWUjGNd7ZgqdRLk/1/"><img src="https://www.predictem.com/wp-content/uploads/2018/06/bovada_sm.png"></a></td><!-- [et_pb_line_break_holder] --> <td>2.64 to 1</td><!-- [et_pb_line_break_holder] --> <td>6 to 1</td><!-- [et_pb_line_break_holder] --> <td>12.3 to 1</td><!-- [et_pb_line_break_holder] --> </tr><!-- [et_pb_line_break_holder] --> <tr><!-- [et_pb_line_break_holder] --> <td><a href="https://record.webpartners.co/_jGZUKO3JWgwmunhzcKAZ62Nd7ZgqdRLk/1/"><img src="https://www.predictem.com/wp-content/uploads/2018/06/mybookie-sm.png"></a></td><!-- [et_pb_line_break_holder] --> <td>2.64 to 1</td><!-- [et_pb_line_break_holder] --> <td>6 to 1</td><!-- [et_pb_line_break_holder] --> <td>12 to 1</td><!-- [et_pb_line_break_holder] --> </tr><!-- [et_pb_line_break_holder] --></table><!-- [et_pb_line_break_holder] --><div class="widget-footer"><a href="https://www.predictem.com/best-sportsbooks/parlays-odds/">See all Sportsbook Parlays</a></div><!-- [et_pb_line_break_holder] --></div><!-- [et_pb_line_break_holder] --><!-- [et_pb_line_break_holder] --><!-- [et_pb_line_break_holder] --><style><!-- [et_pb_line_break_holder] --> #parlay {border-collapse: collapse;<!-- [et_pb_line_break_holder] --> width: 100%; border: 0px;<!-- [et_pb_line_break_holder] --> font-size: 14px!important;}<!-- [et_pb_line_break_holder] --> #parlay td, #parlay th {<!-- [et_pb_line_break_holder] --> border: 0px;<!-- [et_pb_line_break_holder] --> padding: 8px;<!-- [et_pb_line_break_holder] --> text-align: left;}<!-- [et_pb_line_break_holder] --> #parlay th {<!-- [et_pb_line_break_holder] --> padding-top: 5px;<!-- [et_pb_line_break_holder] --> padding-bottom: 5px;<!-- [et_pb_line_break_holder] --> font-weight: bold;<!-- [et_pb_line_break_holder] --> line-height: 14px;<!-- [et_pb_line_break_holder] --> text-align: center;<!-- [et_pb_line_break_holder] --> color: #000;}<!-- [et_pb_line_break_holder] --> #parlay tr {border-bottom: 1px solid #edeef0;}<!-- [et_pb_line_break_holder] --> .team {font-size: 16px;}<!-- [et_pb_line_break_holder] --></style>