Thursday Night Betting Pick: Wake Forest vs. NC State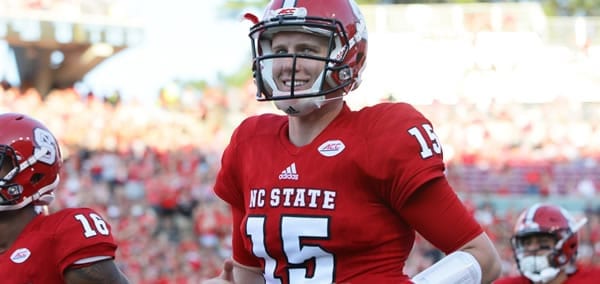 Wake Forest Demon Deacons (4-5 SU, 2-7 ATS) vs. No. 21 NC State Wolfpack (6-2 SU, 4-4 ATS)
NCAA Football Week 10
Date/Time: Thursday November 8th, 2018. 7:30PM (EST)
Where: Carter-Finley Stadium Raleigh, N.C.
TV: ESPN
Point Spread: WF +17/NCST -17
Over/Under Total: TBA
On Thursday, the ACC will once again take the primetime spotlight when the no. 21 North Carolina State Wolfpack host the Wake Forest Demon Deacons for a conference showdown. The Wolfpack halted a two-game losing streak last week in impressive fashion by pummeling Florida State 47-28. The Wolfpack's big victory was highlighted by a tremendous offensive performance as they reached the 40 point mark for the second straight game. On Thursday, NC State will get another opportunity to highlight their weapons on offense when they get a juicy matchup against a Wake Forest team that is reeling. Despite the 17 point betting line, bettors should be salivating over this week's match-up and circumstantial betting opportunity.
Wake Forest Injury Update: QB Sam Hartman
Outside of a few blowouts earlier this year against inferior opponents, Wake Forest has struggled pretty significantly on offense. The Demon Deacons are just 1-4 straight up in Atlantic Coast Conference play with their lone victory coming against the worst team in the conference in Louisville. Excluding the win against Louisville, Wake Forest has scored just 44 points combined in their 3 most recent games against conference foes. The Demon Deacons could not afford any further setbacks on offense, but that is exactly what happened in last week's 41-24 loss against Syracuse.
Starting quarterback Sam Hartman went down with a leg injury in last week's loss and will now miss the rest of the season. For those unaware, Hartman has been a massive part to the Wake offense this year. The freshman quarterback tossed 16 touchdowns this year which is the most in school history for a freshman at Wake Forest. Now the offense will likely turn to junior quarterback Kendall Hinton. Hinton lacks a lot of game time experience and has thrown just a handful of passes during his career in meaningful minutes. Therefore, the Demon Deacons are going to have an uphill challenge as they look to solve some of their offensive woes with a backup quarterback.
NC State offense catching fire
I mentioned earlier that the North Carolina St. offense has reached 40 points in two consecutive weeks. However, the way they have been putting up the points is even more impressive as it has truly been a complete all-around effort. In last week's blowout over the Seminoles, veteran quarterback Ryan Finley threw for 3 touchdowns, running back Reggie Gallaspy eclipsed the 100-yard mark on the ground, and WR Jakobi Meyers caught 9 passes for 125 yards with a touchdown. The offense was able to keep the Seminoles defense guessing at all times with good play call and even better execution. The offense was also given a boost by freshman running back Ricky Person Jr who accounted for 3 touchdowns. Person has been very effective when healthy, and the Wolfpack will definitely get him involved with more touches again this week.
Ultimately, the Wolfpack offense is just performing really well. They have a lot of pieces that are starting to come together, and they will put pressure on Wake Forest's defense from all angles. Specifically running backs Reggie Gallaspy and Ricky Person should be posed for big nights. The Demon Deacons defense has been pretty awful against the run this year allowing 221 yards per game on the ground (116th in the FBS). One of the reasons I really like this match-up is because NC State's offense should be able to run the ball with ease. I imagine that will open things up for the rest of the offense like we saw last week. Finley is a really solid quarterback, so I am expecting some significant opportunities down the field.
Wake Forest vs. NC State Betting Trends
Wake Forest has been one of the worst teams in the college football this year for bettors with a measly 2-7 mark against the spread. The Demon Deacons are actually 2-9 ATS in their last 11 games going back to last season. While NC State has been pretty mediocre with a 4-4 ATS mark on the year, the Wolfpack have been profitable in recent meetings against Wake Forest. NC State is 5-0 SU and 5-0 ATS in their last 5 meetings against the Demon Deacons, and I am betting that streak continues!
Jay's Pick to Cover the Point Spread: NC State -17. Need somewhere to get this bet down? Find the best sites for BitCoin Sports Betting where deposits and payouts are lightening quick!
<div class="widget105"><!-- [et_pb_line_break_holder] --><h4 class="parlays">Best Sportsbooks for Parlays</h4><!-- [et_pb_line_break_holder] --><!-- [et_pb_line_break_holder] --><table id="parlay"><!-- [et_pb_line_break_holder] --> <tr><!-- [et_pb_line_break_holder] --> <th><span class="team"></span></th><!-- [et_pb_line_break_holder] --> <th>2 Team Parlay</th><!-- [et_pb_line_break_holder] --> <th>3 Team Parlay</th><!-- [et_pb_line_break_holder] --> <th>4 Team Parlay</th><!-- [et_pb_line_break_holder] --> </tr><!-- [et_pb_line_break_holder] --> <tr><!-- [et_pb_line_break_holder] --> <td><a href="https://www.predictem.com/out/SportbetP"><img src="https://www.predictem.com/wp-content/uploads/2018/06/sportbet-sm.png"></a></td><!-- [et_pb_line_break_holder] --> <td>2.74 to 1</td><!-- [et_pb_line_break_holder] --> <td>6.24 to 1</td><!-- [et_pb_line_break_holder] --> <td>13 to 1</td><!-- [et_pb_line_break_holder] --> </tr><!-- [et_pb_line_break_holder] --> <tr><!-- [et_pb_line_break_holder] --> <td><a href="https://www.predictem.com/out/BovadaP"><img src="https://www.predictem.com/wp-content/uploads/2018/06/bovada_sm.png"></a></td><!-- [et_pb_line_break_holder] --> <td>2.64 to 1</td><!-- [et_pb_line_break_holder] --> <td>6 to 1</td><!-- [et_pb_line_break_holder] --> <td>12.3 to 1</td><!-- [et_pb_line_break_holder] --> </tr><!-- [et_pb_line_break_holder] --> <tr><!-- [et_pb_line_break_holder] --> <td><a href="https://www.predictem.com/out/MybookieP"><img src="https://www.predictem.com/wp-content/uploads/2018/06/mybookie-sm.png"></a></td><!-- [et_pb_line_break_holder] --> <td>2.64 to 1</td><!-- [et_pb_line_break_holder] --> <td>6 to 1</td><!-- [et_pb_line_break_holder] --> <td>12 to 1</td><!-- [et_pb_line_break_holder] --> </tr><!-- [et_pb_line_break_holder] --></table><!-- [et_pb_line_break_holder] --><div class="widget-footer"><a href="https://www.predictem.com/best-sportsbooks/parlays-odds/">See all Sportsbook Parlays</a></div><!-- [et_pb_line_break_holder] --></div><!-- [et_pb_line_break_holder] --><!-- [et_pb_line_break_holder] --><!-- [et_pb_line_break_holder] --><style><!-- [et_pb_line_break_holder] --> #parlay {border-collapse: collapse;<!-- [et_pb_line_break_holder] --> width: 100%; border: 0px;<!-- [et_pb_line_break_holder] --> font-size: 14px!important;}<!-- [et_pb_line_break_holder] --> #parlay td, #parlay th {<!-- [et_pb_line_break_holder] --> border: 0px;<!-- [et_pb_line_break_holder] --> padding: 8px;<!-- [et_pb_line_break_holder] --> text-align: left;}<!-- [et_pb_line_break_holder] --> #parlay th {<!-- [et_pb_line_break_holder] --> padding-top: 5px;<!-- [et_pb_line_break_holder] --> padding-bottom: 5px;<!-- [et_pb_line_break_holder] --> font-weight: bold;<!-- [et_pb_line_break_holder] --> line-height: 14px;<!-- [et_pb_line_break_holder] --> text-align: center;<!-- [et_pb_line_break_holder] --> color: #000;}<!-- [et_pb_line_break_holder] --> #parlay tr {border-bottom: 1px solid #edeef0;}<!-- [et_pb_line_break_holder] --> .team {font-size: 16px;}<!-- [et_pb_line_break_holder] --></style>