Washington Huskies vs. Oregon Ducks Pick 12/12/20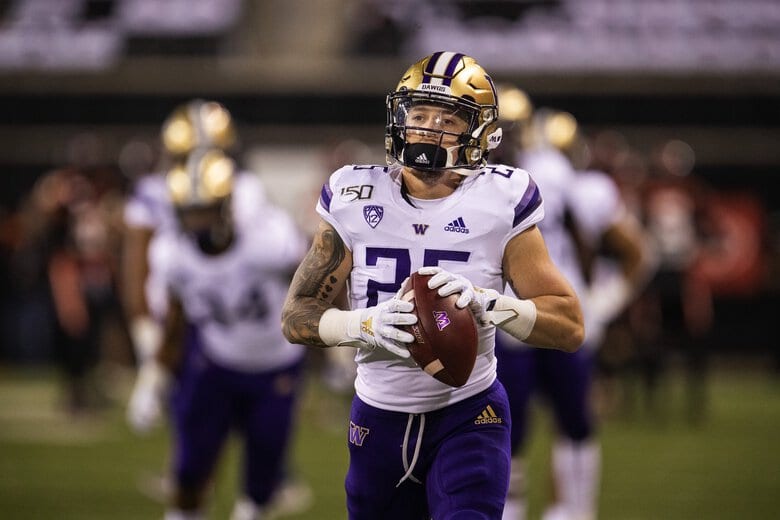 Washington Huskies (3-1 SU, 1-3 ATS) vs. Oregon Ducks (3-2 SU, 2-3 ATS)
College Football Week 15
Date and Time: Saturday, December 12, 2020 at 4 PM EST
Where: Autzen Stadium, Eugene, Oregon
TV: TBA
Point Spread: WASH +4.5/ORE -4.5 (SportsBetting.ag - Awesome Live Betting Platform!)
Over/Under Total: 55
The Washington Huskies take on the Oregon Ducks in Eugene on Saturday in Pac-12 action. Both teams were pretty big favorites last week, as each lost straight up, never mind covering the spread. We saw Oregon drop its second game in a row after starting 3-0, losing to Cal on Saturday, 21-17. Washington saw things go really sideways when the underdog Cardinal came into town and handed the 3-0 Huskies a 31-26 defeat. Which team can rebound in time for Saturday?
What the Past Tells Us
The "Border War" of the northwest is one of the most-played rivalries in college football. The Ducks have won every meeting between these schools since 2003, except for a bizarre two-year blip in 2016-17 when the Huskies outscored a not-so-great Oregon team 108-24 in a pair of meetings. Other than that, it's been all Ducks, including last season's 35-31 win. A lot has changed since that. And with all the transition and new players across all areas, one wonders how much the past even matters here. Still, a Washington backer can't love hearing that the Huskies have won just twice in Eugene since 1996.
Issues for Oregon
A lot of talent on offense and maybe the state of their opposition helped camouflage some of the issues we saw earlier in the season. There were some troubling signs in the first handful of games, but in the last few weeks, the growing pains in this program have become more evident. Tyler Shough is doing OK, but there's a big drop-off from who was in there last season. The line hasn't been great in recent weeks. A run-game that should be superb with experienced backs hasn't really manifested much in the last few weeks, either.
More Picks: Oklahoma St. at Baylor Prediction >>>
We also see Oregon's defense missing some key people. They are a largely-revamped unit with all the departures, guys sitting out, and injuries. In a largely defensive battle against a Cal team that entered the game 0-3, they just weren't good enough. And at the end of the day, you have a pretty good Oregon offense, but not one good enough to carry the team, with a defense that has been pretty good in spots while not being anything terribly special. To come up short in consecutive weeks to Oregon State and Cal has this Ducks squad looking as ragged as it has in a few seasons.
Where Washington Stands
New head coach Jimmy Lake got off to a quick start in his Washington tenure with three straight wins. Saturday may have been a reality sandwich. And Stanford isn't as bad as some may think, despite a disassembled roster and many other issues. On Saturday, they were able to do their thing and pound the ball, with the Huskies left grasping for answers—a disturbing development at home. It was 24-3 at halftime for the 12-point favorites, and though the score at the end looked closer, it wasn't much of a game.
It's a little difficult to calibrate where the Huskies stand heading into this game. Beating Oregon State in the opener by 6 points was nice, but not all that impressive. They looked a little better in hammering Arizona the next week and posted a win over a Utah team that was still out of rhythm after a belated start. But their game against Stanford makes you wonder how they'll look when the conference competition begins getting a little harder. And even an Oregon team that hasn't looked great in Eugene would appear to qualify.
With freshman Dylan Morris behind center, there are going to be some issues associated with the over-abundance of youth. While not very good on Saturday, he has seen his numbers getting a little better. He's done a capable job commandeering this offense as he gets his bearings at this level. He has a nice back in Sean McGrew, with talented receivers like Cade Otton, Ty Jones. However, missing Puka Nacua and Terrell Bynum (both questionable) last week had a palpable effect on an aerial offense that lacked for real weapons. On this field on Saturday, they're going to need to do better than they've been the last few weeks on the offensive side of the ball.
Major Questions
After watching Washington allow Stanford to run the ball as well as they did, will they be able to curtail an irritated Oregon team? While guys like CJ Verdell have gone into the tank a bit in the last few weeks, the Ducks still have a multi-pronged ground game that can do a lot of damage on a Washington front was all too easy to exploit last week. Or do we just have two young teams in a state in a transition in a wacky season where anything can happen in this game?
Take the Points
I don't think either Washington or Oregon are bad teams at all, but in a conference that has a strange sense of parity and in an even stranger season altogether, neither is good enough to insulate themselves from the craziness that is the Pac-12. In their current states, the Ducks and Huskies are just along for the ride in this conference, where you're going to win some, you're going to lose some, and not a ton of it is going to follow any rhyme or reason. There's just something about this Ducks team right now that makes winning games hard enough at this point without having to worry about covering numbers. I'll take the points in what looks to be a close game.
Loot's Pick to Cover the Point Spread: I'm betting on the Washington Huskies plus 4.5 points. Bet the Huskies as +24.5 underdogs by inserting them into a 20 point college football teaser which can be found at BAS Sportsbook! They also offer -105 odds on sides and totals! Awesome bookie!
Get $60 of FREE member picks & predictions
(NO commitments. NO Credit Card. NO Salesman.)