Week 6 Pick: Washington Huskies vs. Stanford Cardinal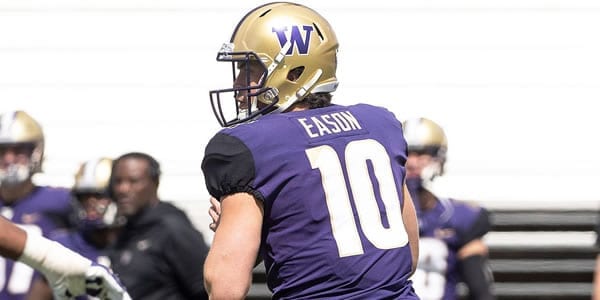 Washington Huskies (4-1 SU, 4-1 ATS) vs. Stanford Cardinal (2-3 SU, 1-4 ATS)
College Football Week 6
Date and Time: Saturday, October 5, 2019 at 10:30PM EDT
Where: Stanford Stadium, Stanford, California
TV: Fox
Point Spread: WASH -14.5/STAN +14.5 (SportsBetting.ag)
Over/Under Total: 51
The Washington Huskies come down south for a Pac-12 matchup with the Stanford Cardinal on Saturday. The Huskies are looking good after rebounding from a bad home setback to Cal with three straight wins. Last week, they evened their conference mark at 1-1 with a 28-14 win over USC. They now begin back-to-back road conference games and look to start making their case in the Pac-12. They are favored to beat a Stanford team that has fallen flat thus far in 2019, with a slew of injuries having sapped them of their upside. At least they managed to win after getting their butts kicked three weeks in a row, beating Oregon State, 31-28. Will they eventually fire or are they going to be easy pickings for a ranked Washington squad?
Can Stanford Get on the Right Track?
Everything seemed in order after week one for Stanford, following a routine ten-point win over Northwestern. Then the wheels came off, with the Cardinal mired in their worst funk in the David Shaw era. Granted, they had it tough with two straight road games at USC and UCF, but they weren't even vaguely-competitive in either battle. Then at home against Oregon, they couldn't even get in the end zone in a flat-as-can-be 21-6 loss. Having multiple injuries already befall your quarterback before the season reached the halfway point isn't going to help, as KJ Costello's health has this Stanford offense off-key. But even when he's been in there, the results haven't been sterling. Nursing an injured hand, his exact status for this game is still unknown as of press-time. And nothing against replacement quarterback Davis Mills, as the junior is seeing his first real action with Costello getting all the time the last few seasons. He actually had a good game against Oregon State. But that's just the point. When a Stanford team's potential can only be illustrated based on a field-goal win over Oregon State, it speaks volumes.
But it's not just quarterback play that has the Cardinal in this predicament. A team that has been able to run the ball with effectiveness, the Stanford ground-game is especially pedestrian through five games. Cameron Scarlett is pretty good, but he doesn't get very vertical often, making it hard to pick up big chunks of yardage on the ground. And while they have some reliable targets in Colby Parkinson, Conor Wedington, and Michael Wilson, developing a consistent rapport aerially has been elusive, with QB injury issues not helping. We saw signs of life on Saturday in the win over Oregon State, but at the higher reaches of the conference, it looks to be a real grind on offense. Facing one of the better playmaking defenses against Washington doesn't figure to provide immediate relief.
Matchup Advantages for Washington
Even a Stanford backer has to bristle a little bit when pondering some of these matchups. A lot has changed to make last season's narrow Washington 27-23 win at home a bygone memory. Huskies quarterback Jacob Eason has been gaining comfort within his new system, working well with a nice cabaret of ball-catchers, including Aaron Fuller, Hunter Bryant, and Andre Baccellia. As of now, Stanford has the worst pass defense in the conference. They might even be in the running for the worst in the Power Five. Almost every QB they face puts up huge yardage, even Oregon State's. How will that look against a talented Washington aerial attack? Their defense against the rush has been better, but only as a result of teams having so much aerial success and not needing to pound the ball. In that regard, they would appear to have few answers for a Washington offense gaining in balance. On Saturday, Salvon Ahmed ran for 153 yards. Along with other weapons like RB Richard Newton, Sean McGrew, and WR Chico McClatcher, there are a lot of tools for the Huskies to wield on a reeling Stanford defense.
With the Stanford offense yet to establish any continuity at this level, the Washington defense might not be all that up their alley. In five games this season, the Huskies have not allowed more than 20 points. They showed a lot last week, holding a still-powerful USC offense to 14 points. Their secondary is strong and makes a lot of plays. With Myles Bryant, Elijah Molden, and Cameron Williams with his three picks, it's a unit that can change the complexion of a game. With Stanford having so much trouble running the ball, it's hard to picture an abundance of points against this Huskies' squad on Saturday—even at home.
Avoiding the Obvious Conclusions
When betting college football, there will be certain matchups where you build a case, and it seems all too easy. Here we have one of the top teams in the conference in Washington—a team with balance that is capable of beating any team. They now come into Stanford to face a team that has fallen flatter than anyone imagined thus far in the season. It all adds up to what seems like an easy day at the office for Washington, doesn't it? Well, that's what one would think. But Stanford is a team that has the wherewithal to improve. They're a prideful team with good leadership, and it's a sideline that is accustomed to success. It's not a foregone conclusion that even a rough-looking Stanford team can't compete in a home conference setting.
Lay the Points on the Road-Favorite
Be that as it may, there are certain matchup components in this game that just don't bode well for the Stanford cause. While they reserve the right to pick up their overall form across different elements, they are outmanned in enough key areas that it makes one wonder how competitive they can be in this spot. Washington is such a well-rounded team that Stanford won't be able to camouflage their weaknesses enough to hang in there. I'll take the Huskies and lay the number in this one.
Loot's Pick to Cover the Point Spread: I'm betting on the Washington Huskies minus 14.5 points.
100% Free Play up to $1,000