Free Pick: Wisconsin Badgers vs. Michigan Wolverines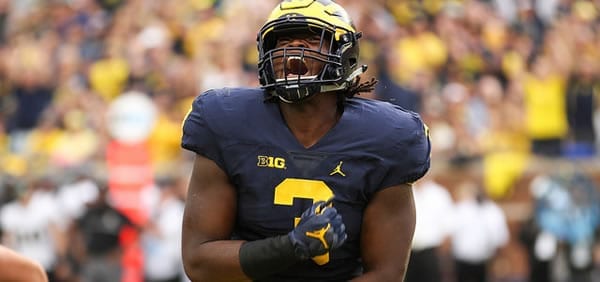 Wisconsin Badgers (4-1 SU, 1-4 ATS) vs. Michigan Wolverines (5-1 SU, 3-3- ATS)
College Football Week 7
Date and Time: October 13 at 7:30pm ET
Where: Michigan Stadium
TV: ABC
By: Ted Walker, College Football Handicapper, Predictem.com
Point Spread: WISC +7.5/MICH -7.5 (MyBookie)
Over/Under Total: 48
It is getting late early as they like to say and the NCAA season is breezing by. The main contenders for the college football playoff have announced themselves for the most part, leaving that next group of want-to-be's in search of signature wins. Michigan is one of those teams that has a relatively clear path to the CFP draw. The Wolverines will likely get a pass on their opening 7-point loss to a trendy Notre Dame team if they run the table through to the Big Ten Championship. Winning out would mean victories over Ohio State, Penn State and also Wisconsin, who visits Ann Arbor this weekend. The Badgers have played Michigan tough in recent years, splitting the last ten games overall and winning eight of those against the spread. Wisconsin is just 1-4 ATS to open this season but is 13-3 against the spread in their last sixteen as visitors with four ATS wins in their last six trips to The Big House. Look for an NFL-style game as both teams are run-heavy offenses that like to wear down opponents and control the clock. That probably isn't a good description of the NFL anymore so maybe this game is best described as a throwback to the days where men were men and every team had a fullback.
Re-Visiting 2016
It is almost useless to cite a game from two seasons ago as a predictor for most NCAA games but this is game is setting up much like the 2016 contest between these teams. Wisconsin was good but imperfect on offense with an inconsistent Alex Hornibrook in his first season as a starter. Michigan was a contender in the Big Ten and beyond but would be up against a tough test against a team that could match size and strength. The result then was a 14-7 grinder that Michigan eventually won. Hornibrook only completed 9-of-25 of passes that night but Wisconsin had the ball late in the fourth with a chance to drive for the tie. I am positive that Hornibrook remembers that game as a missed opportunity in his young career and he will get a chance to right that wrong now as a more experienced signal caller. The big difference from then to now is that Wisconsin's defense is no longer elite. They are good, ranking 40th in total yards allowed and 12th in points per game but they are not the dominant unit they have been over the last four-plus seasons. LB Andrew Van Ginkel is questionable and he is a big factor as Wisconsin has just five sacks without his pass-rush skills. Wisconsin is also dealing with several injuries in the secondary as well as the first-half suspension of S Scott Nelson who was called for targeting during the Nebraska game. How Wisconsin DC Jim Leonhard coaches up the young and inexperienced secondary will have a lot to say about the result this weekend.
Maize and Black and Blue
There is no doubt that Michigan is one of the most physical teams in the land. They rank near the top in any category where big people push around other big people. The Wolverines enter the week averaging just shy of 200 rushing yards per game and lead the nation in defense, allowing just 230 total yards per game. They also limit the opponent to an NCAA-best 134 passing yards per game. Wisconsin has legitimate pass catchers in A.J. Taylor (18/354/2) and TE Jake Ferguson (16/213/2) but the Badgers will be in a lot of trouble if the game script requires them to throw a lot. Michigan has done well in getting to the QB as part of that stellar pass defense with 18 sacks in six games while allowing just a 34% third down conversion rate. The Wolverines will have to find a way to bottle up Jonathan Taylor as he comes into the game leading the NCAA at 170 rushing yards per game. Michigan holds opponents to less than 100 yards on the ground on average (2.6 yards per carry) but they really haven't faced a team that is going to have the commitment to the run that Wisconsin will. If they do that, it could be a relatively easy day for UM.
Keep it Close
Wisconsin has the recipe to hang in this game as it often does against what may be a superior opponent. The Badgers frustrated LSU and drug them into a fist-fight kind of game in 2016 for a 16-14 win and Bucky has a laundry list of close losses (ATS wins) against teams that really should dispatch them rather easily. The run game, the solid defense and the lack of penalties and turnovers are the Badger hallmarks for ATS efficiency. The run game is there as they rank 4th in the NCAA and they have converted nearly 50% of their third downs as a result of that run-game success. What may be missing, as I alluded to earlier, is the defense. Wisconsin has been above average on that side of the ball but just allowed 400 yards passing to Nebraska. The lack of pass rush and now significant in injuries issues in that secondary are going to make defending Michigan very tough. Shea Patterson is completing nearly 70% of his passes and that UM line has kept him clean with only eight sacks allowed. Karan Higdon is a thumper-back that is averaging 5.8 yards per carry and any success he has will help open up the play action. Patterson hasn't spread the ball around a ton but so Wisconsin may be able to focus on taking away the main targets but one of those is 6'8" TE Zach Gentry.
Alabama vs Missouri Prediction
These teams have played on common opponent thus far with both taking on Nebraska in their own buildings. Wisconsin is fresh off a 41-24 win against the Huskers while Michigan roughed up Herbie 56-10. The Wolverines struggled with Northwestern in Evanston before pulling out a 20-17 win while The Badgers lost a 24-21 battle against a BYU team that matched up well from a strength standpoint. The take away from all that is Michigan is just a little better than Wisconsin across the board and it has shown. Having this game in Ann Arbor is huge for Michigan, even though Wisconsin has come to be relatively comfortable in The Big House. Michigan is not looking past Wisconsin for any reason in this one and the Wolverines know they need to take care of business to have any chance at the post-season draw.
UW's Hornibrook has completed a career-best 64% of his passes and limited the mistakes with just two interceptions thus far but he is not going to win this game by throwing the ball 35+ times. I think Michigan finds a way to at least limit Jonathan Taylor and that will leave Wisconsin at a playmaking disadvantage on the road. Given the deficiencies in that Badger secondary, Michigan should be able to move without too much impediment. Both teams are averaging 30+ points per game and the over/under total is set at 48 so just about everyone is expecting a modestly paced game. Michigan has less to worry about on Saturday and Wisconsin is going to feel much like it did after that 2016 game as they lose another close one, this time by a 26-16 margin.
Your Name's Pick to Cover the Point Spread: Michigan
<h4 class="widgettitle">NFL Picks</h4><!-- [et_pb_line_break_holder] -->
<div style="width:340px; margin: 0 auto;"><!-- [et_pb_line_break_holder] --> <a class="twitter-timeline" data-width="340" data-height="500" data-link-color="#008156" href="https://twitter.com/PredictemPicks?ref_src=twsrc%5Etfw">Tweets by PredictemPicks</a> <script async src="https://platform.twitter.com/widgets.js" charset="utf-8"></script><!-- [et_pb_line_break_holder] --></div>