Wyoming Cowboys vs. Illinois Fighting Illini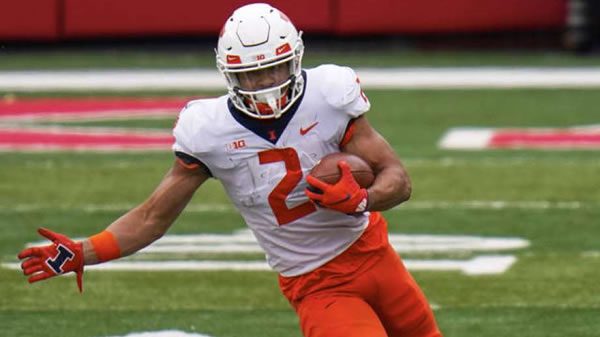 Wyoming Cowboys (0-0 SU, 0-0 ATS) vs. Illinois Fighting Illini (0-0 SU, 0-0 ATS)
When: Saturday, August 27, 4 p.m.
Where: Memorial Stadium, Champaign, Ill.
TV: BTN
Point Spread: WYO +10.5/ILL -10.5
Total: O/U 46
Outlook
Illinois made a big step forward in Bret Bielema's first year in Champaign, nearly making it to a bowl game for the first time since 2019. The Illini would have qualified for a bowl had they done better than 1-2 in the non-conference, which makes this game a critical one from their perspective. With three non-conference home games on the schedule this season, Illinois has an excellent chance at a winning record if the Illini can avoid the early stumble.
A year ago, this wouldn't have been the right opener to play, but Wyoming is likely to struggle this time around after being hit hard by both graduation and the transfer portal. The Cowboys will debut a new quarterback and return just eight starters from last year's team on both sides of the ball combined. Wyoming hasn't made a bowl in an even year since 2016, and with little experience on this squad, this looks like it could be a rough matchup from the Cowboys' perspective.
How the Public is Betting the Wyoming/Illinois Game
If you like Illinois in this spot, get the Fighting Illini as soon as possible. The spread has ticked up from -10 to -10.5 at most books, and there are signs that it's about to go to -11 sooner rather than later. The total has also increased, jumping from 44 to 46.
Injury Concerns
Wyoming:
The Cowboys report no injuries.
Illinois:
The Fighting Illini report no injuries.
When Wyoming Has the Ball
This is a total question mark as to what Wyoming is going to do, as there's only one quarterback on the roster who has any real experience throwing the football at the college level. Andrew Peasley lost his job to Logan Bonner at Utah State and decided to hit the transfer portal to Laramie, making him one of the few players who opted to use a transfer to join the Cowboys rather than depart them. Peasley played well in stretches with the Aggies but never enough to establish himself as anything more than a reserve option.
Things are a little better on the ground, but not a lot. Xazavian Valladay transferred to Arizona State, leaving Wyoming without one of its two best running backs from a season ago. Titus Swen is still here, however, and he led the Cowboys in touchdowns last season with seven while averaging 5.9 yards per carry. However, that was behind an experienced line that led Wyoming to 5.1 yards per carry against its slate, and only one starter is back in his natural position from last year's team. Teams really didn't move the ball much against Illinois after Virginia embarrassed the Illini defense, which means it's likely going to be tough sledding against the Illini front seven.
When Illinois Has the Ball
Chase Brown has to be licking his chops when he takes a look at this matchup. The Illini's leading rusher is back for his junior year in Champaign, and after averaging nearly six yards per carry last season, he should be ready to run against a Wyoming defense that couldn't stop anyone on the ground.
Last year, the Cowboys had their worst performance against the run since 2016, giving up 4.6 yards per carry. That was with linebacker Chad Muma, who now plays for the Jacksonville Jaguars. Only one starter is back in the linebackers and secondary, so if the Illini can open some holes in the front four, Brown could have a lot of open space in front of him.
The passing attack is more of a question mark for Illinois. Tommy DeVito was serviceable at Syracuse but never really wowed anyone, and the Illinois receiving corps of Isaiah Williams and Casey Washington weren't all that impressive a season ago. Granted, Illinois' quarterback play was rather weak a season ago, which is why DeVito traded one combination of orange and blue for another in making the move to Champaign. With an inexperienced secondary facing him, this is the time for DeVito to build his confidence.
Betting Trends
Illinois has been an excellent bet in its home opener, as the Illini have covered in four straight home openers, including winning the game outright as a 7.5-point underdog against Nebraska a year ago. However, they've yet to cover a non-conference game under Bielema, losing to UTSA and Virginia and falling to the hook against Charlotte when they beat the 49ers by ten as a 10.5-point favorite.
Wyoming hasn't been the place you look for road upsets, as the Cowboys tend to struggle when they have to come down from the elevation of Laramie. Wyoming is 1-19 SU all-time against the Big Ten, only beating Wisconsin in 1986, and the Cowboys haven't beaten a P5 team on the road since 2005 at Mississippi. They did beat Missouri in their last P5 meeting in 2019, but that was at home. When the Cowboys had to come to Columbia and face the Tigers without the help of elevation in 2018, they took a 40-13 defeat.
For the total, this is going to be a case of different kinds of teams. Eight of Illinois' past ten games played to the under, while five of Wyoming's past six games went over.
Weather Report
Whichever TV executive placed this game at 4 p.m. might end up deeply regretting that decision. These teams are likely to deal with gross conditions for football because of the humidity, as thunderstorms are set to roll into eastern Illinois during the afternoon. The temperature will be manageable on its own at 83 degrees, but with sticky conditions from the storms added to the mix, it's going to feel like a steam bath on the field.
Wind shouldn't matter here; it's set to blow at six miles per hour to the south-southwest.
Dan's Pick to Cover the Spread
With so many new faces in place in Wyoming, I really don't want any part of the Cowboys in this road matchup. I think Illinois has made a lot of progress under Bielema and will be on track to contend for a bowl game this season. There isn't much to suggest Wyoming can either slow down the Illinois ground game or do its share of the scoring.
I think the humid conditions will keep the score from getting too embarrassing, so I'd wait on the total and see if it'll push even higher than the current number. I'm not waiting to grab Illinois, though; I want the Illini before this spread gets crazy. Question: What price are you laying on odds when you bet games? There's a better than good chance you're laying -110 or higher. Did you know there's a sportsbook out there where you only need to lay -105? This adds up to HUGE savings over the course of a season an even more over the years! Make the switch to reduced juice odds at BetanySports! You'll be so glad you did!