RBC Canadian Open Odds & Picks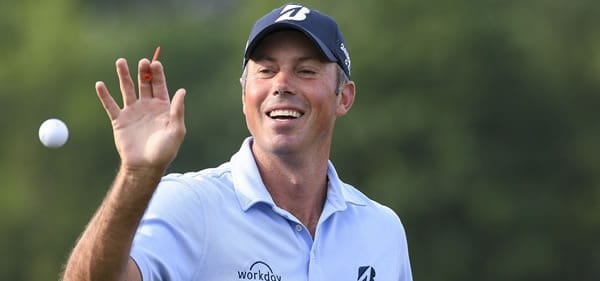 RBC Canadian Open
June 6-9, 2019
Hamilton Golf and Country Club – Ontario, CAN
The Golf Channel/CBS
It was a treat to visit Jack's Place last week and a date at Pebble Beach is right around the corner. I know a lot of fans would like to take an at-bat at Fenway or stroll the 50-yard line at Lambeau but golf has all sports beat in creating fan envy considering the venues that the PGA pros get to visit every year. A historic course in Canada welcomes the PGA Tour this week as the RBC Canadian Open moves to June with the 2019 schedule shuffle. Hosting an event the week before a Major isn't often a positive but the Canadian Open is improving it's spot on the schedule after spending the last decade-plus as the follow-up to the British Open. Not many of the Tour starts were willing to immediately travel and play the Canadian Open after making the trip across the pond but this new spot on the calendar is more fitting and many more elite players will be in Ontario this week.
Dustin Johnson leads the field this week and he will be looking to defend his 2018 Canadian Open crown. Rory McIlroy and Brooks Koepka are the other headliners in the field with Bubba Watson, Sergio Garcia and Henrik Stenson as part of a strong veteran contenders group. Two-time Canadian Open champ Jim Furyk is also in attendance.
Hamilton G&CC was established in 1894 and hosted its first Canadian Open in 1919. This will be just the sixth overall Canadian Open held here and the first since 2012 with most of the last decade's events taking place at Glen Abbey. Hamilton is a throwback in many ways, including overall distance as the course measures in at just under 7,000 yards. The par-70 layout was extended in the late nineties but is still short by Tour standards. The lack of modern length doesn't hurt this course as the original intent was to be subtle in its trickiness versus overtly difficult. The last Canadian Open here came in 2012 with Scott Piercy winning at 17-under par with the 2006 edition being won at 14-under. There will be plenty of birdies this week but those winning scores aren't out of line with the majority of Tour stops. Players will need to be accurate first as the course has few opportunities to simply overpower it and only having two par-5's usually provides an advantage to the lesser hitters as well.
Each week, we take a look at the online betting sites and highlight the best values on the board. We make a short, middle and long odds pick to win and breakdown a couple of head-to-head matches that can be found at just about any golf betting outlet. Odds and pairings for this week come courtesy of the board at Bovada. Here are our picks to win the 2019 RBC Canadian Open.
Justin Thomas (16 to 1 odds to win)
Thomas took his recent wrist injury seriously and spent enough time on the shelf to fully heal. That meant a long layoff and missing the PGA Championship but the good news now is that Justin has zero limitations or lingering issues. Thomas had a rough day at Muirfield and missed the cut but I'm happy to chalk that up to rust and Hamilton will be a more forgiving venue. Justin enters the week as the #1 player on Tour in birdie average and ranks in the top-5 in both tee-to-green and off-the-tee performance. The putter is Tour average in most categories but Thomas is a top-10 performer when on the green in regulation. Considering he is 4th in greens hit, I'd say his putting averages are well within the range to make him a winner this week.
50% Cash up to $250

Brandt Snedeker (40 to 1)
Sneds has had a rather nondescript season so far but he has only missed two cuts in seventeen starts while posting solid top-20 finishes in each of the last two weeks. He was around in 2012 when the Canadian Open last stopped in Hamilton and was able to card rounds of 66 and 67 to show some affinity for the course. Brandt is a solid overall ball striker that still finds a good amount of fairways and his relative lack of distance will not be an issue this week. His work on the greens remains well above Tour average with top-16 marks in strokes gained putting and overall putting average. Snedeker is solid around the greens as well with a top-50 scrambling rate. There isn't much that this vet hasn't seen and I don't think he's done winning considering he is 26th on Tour in total strokes gained.
Keegan Bradley (66 to 1)
Bradley remains one of the most notable victims of the anchored putting ban and it is actually a bit sad considering how elite of a shotmaker he is. Bradley is 54th in driving distance, 40th in fairways hit and 22nd in greens hit to enter this event as one of the best tee-to-green players in this field. It all falls apart when he has that putter in hand, ranking 206th in strokes gained and 207th in total putting. There is always some nervousness when backing a poor putter but Keegan got around Bethpage Black just fine and has only missed three cuts on the season overall. I think Hamilton G&CC is a perfect venue for Bradley to have volume birdie putts and gain more strokes from tee-to-green than he loses on the greens. He is a longshot for a reason but a good week with that flat stick will have Keegan fighting near the top of the board.
Head-to-Head Matches
Picks to win based on predicted score for all four rounds. Check out your favorite online betting site for single round matches and a variety of prop bets.
Brooks Koepka (+110) v. Dustin Johnson (-140) (pick to win: Koepka)
A true heavyweight battle here between the two players you make take versus the field to win this event outright. Johnson and Koepka have shared the field most recently at the Masters (neither made our picks) and The PGA with DJ going T2 and solo second in those stops with Koepka T2 at Augusta while winning the PGA Championship. Being the best two players on the planet right now makes this a close match no matter how you slice it but Koepka getting better than even money has to be a factor. On the course, Koepka owns a small advantage in birdies per round and is the more accurate driver of the two. Dustin has the edge on the greens but Brooks nets a nearly identical scoring average so he is as efficient on top of being talented. Johnson is the better player around the greens and seems to have a little less drama built into his game at this point but Koepka is such a good front runner right now that you have to expect him to get out of the gates quickly this week and perhaps never look back.
Matt Kuchar (-120) v. Webb Simpson (-105) (pick to win: Kuchar)
I backed Kuchar last week and wound up on the wrong side of things as Matt missed his first cut of the year at the Memorial. I'm back on him as he still leads the Tour in FedEx points and more importantly, greens hit. Both of these guys hit a ton of fairways but Kuchar is 13th in approach proximity and that leads to an edge in birdie average over Simpson. There isn't much differentiating the two on the stat sheet otherwise as both play well around the greens and hit a very similar tee ball. Kuchar has won two of the last three times when he and Webb have played the same event. I think a few days off should help the very busy Kuchar and that missed cut is a good motivator, especially with the US Open right around the corner. He will be focused and a very tough out.
Good luck and good golf!
50% Cash up to $1,000