[et_pb_dcsbcm_divi_breadcrumbs_module hide_homebreadcrumb="off" homebreadcrumbtext="Home" separator="sep-raquo" hide_currentbreadcrumb="off" homebreadcrumborientation="left" _builder_version="3.8″ fontsbreadcrumbs_font="Lato||||||||" fontsbreadcrumbs_text_color="#000000″ fontsbreadcrumbs_font_size="15px" fontsbreadcrumbs_line_height="16px" fontsseperator_font="||||||||" fontsbreadcrumblinks_font="||||||||" fontsbreadcrumblinks_text_color="#2567cf" custom_margin="25px|||" custom_margin_phone="30px|||" custom_margin_last_edited="off|desktop" custom_css_main_element="font-family: Helvetica Regular;" disabled="on" global_module="3641″ saved_tabs="all" /]
Picks For The Masters 2019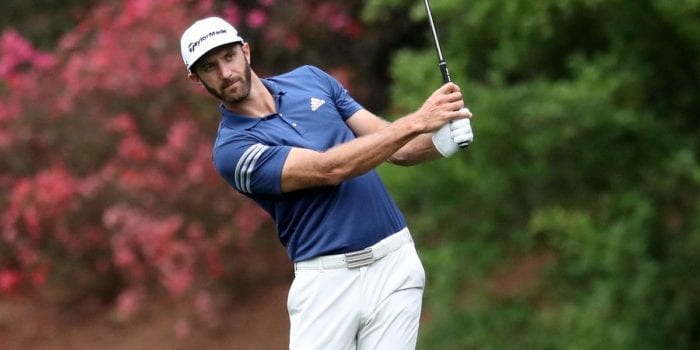 The Masters
April 11-14, 2019
Augusta National GC – Augusta, GA
ESPN/CBS
The first day of Spring was March 20th but, for me, Spring doesn't start until Jack Nicklaus and Gary Player hit those honorary tee shots into the fog on the morning of April 11. Golf was born in sheep pastures overseas, but the heart of the game now resides in Augusta, Georgia. The 83rd edition of the Masters is just over the horizon and there are few, if any, championships that are more coveted in golf.
The field is short at the Masters with just 87 competitors in 2018 but that is one the keys to keeping this championship the most exclusive invite on Tour. Patrick Reed donned the green jacket last year and looks to join Nicklaus, Faldo and Woods on the very short list of those who have successfully defended a Masters title. Reed's winning total of 15-under par was the 4th best score in Masters history, three strokes short of the 18-under tournament record posted by Woods and Jordan Spieth. Scores at Augusta are unpredictable at best with Danny Willett's 5-under winning just one year after Spieth's 18-under. One over par was good enough to win for Sam Snead in 1954 and Zach Johnson in 2007, marking the highest winning score in the history of the event. The bottom line is that the course will give up birdie looks but only to well struck shots. Some holes, especially while sporting Sunday pins, are accessible to only near-perfect approaches but players can and will score here.
Augusta National is one of the stars of Masters week, a fact proved by how well the course is known by most fans who have never, and will never, step within the confines of the property itself. We almost all know hole names are derived from when the land served as a plant nursery and we all can see the familiar green contrasted by the stark white sand used in the Augusta bunkers. The pine straw, Hogan's Bridge, Rae's Creek and Amen Corner are just a few images that spring to mind anytime someone simply mentions August National Golf Club.
Sitting at just under 7,000 yards as recently as the year 2000, Augusta National has seen near constant change over the last two decades and now sits at nearly 7,500 yards while playing its traditional par-72. The biggest difference from last year is the addition of nearly 50 yards to the par-4, fifth hole which now sports fairways bunkers for the first time. While the tweaks have changed the views and some of the challenges, what has remained the same over the years is the sheer difficulty of the Augusta greens. Several feature slopes to a degree not seen anywhere else on Tour and measuring the speed of the greens presses the venerable Stimpmeter to its statistical limits. Most greens on Tour run between eleven and twelve on the Stimp but Augusta's typical putting surface runs at or beyond thirteen, making all putts an adventure with some downhill attempts presenting the real chance to putt the ball off the green entirely. You can be a bit crooked off the tee and still recover as the Augusta rough is not overly penalizing but there is no such thing as winning a Masters title without having a tremendous week on and around these greens.
Let's take a look at two names that will be watched closely this week.
50% Cash up to $250

Tiger Woods (14 to 1 odds to win at Bovada.lv)
Woods enters as a four time Masters champion and at 14 to 1, he is the online sportsbook favorite among the former champions in the field. Tiger's last run at a green jacket came during a T4 finish in 2013 and he managed just a T32 finish last year after posting a 73-75 start, his worst Thursday/Friday result since a 75-75 opening as an amateur in 1995. Still, he has made the cut here in 20-of-22 tries and has shot under par in a remarkable 53% of his career rounds at Augusta. Tiger played some of his best golf of the year while finishing 5th at the Match Play but his putter betrayed him often, including the short miss against Lucas Bjerregaard that kept Woods from the final four. Tiger has the ball striking to remain relevant at the Masters with the 3rd best GIR percentage and a driver that still averages over 300 yards but the putter that was once the Tour's best now ranks just 162nd in putting on greens in regulation and 180th in overall average. Perhaps he uses a wealth of Augusta knowledge to reverse some of those putting stats but without any assurance of that, Bovada's 14 to 1 value doesn't look very good. I think he's good for a second page finish but a win is asking a lot.
Jordan Spieth (22 to 1 odds to win)
Spieth has to be the toughest player to predict in this tournament. One on hand, his five-year Masters career has produced nothing worse than a T11, includes the 2015 championship with three other top-3 finishes, including a T3 last year. His collapse at #12 during the 2016 event was by far his worst moment at Augusta and he still posted a runner-up finish that year. His Augusta scoring average of 70.05 is tremendous but that is tempered a bit by three rounds north of 74 in the last two years alone. The real problem I see with Jordan is the ball striking slump that has plagued him now for the better part of two seasons. Heading into the Valero Texas Open, Spieth was 213th in fairways hit and 158th in greens in regulation. You just cannot expect to do well at Augusta with the 188th ranked tee-to-green game. This course destroys mediocre shot making and that is how Spieth ranks this season with a scoring average outside the top-120 and a scrambling mark in the 150's. I won't believe it until I see it from Jordan and I will be betting against him in just about every head-to-head this week as a result.
Former Champions (since 2000)
Tiger Woods – 14 to 1
Jordan Spieth – 22 to 1
Adam Scott – 40 to 1
Bubba Watson – 40 to 1
Phil Mickelson – 40 to 1
Patrick Reed – 50 to 1
Sergio Garcia – 50 to 1
Zach Johnson – 150 to 1
Charl Schwartzel – 200 to 1
Danny Willett – 200 to 1
Vijay Singh – 300 to 1
Angel Cabrera – 1000 to 1
Trevor Immelman – 1000 to 1
Mike Weir – 2000 to 1
We've talked about Woods and Spieth and the only other relevant players here in my opinion are Bubba Watson, Patrick Reed and Sergio Garcia. No disrespect to Mickelson (Cut/T22/T36 last three Masters) and Scott (one Masters top-10 since 2013 W) but they have not been near top form recently and that is a red-flag heading into the Masters as it is hard to simply "find it" at Augusta.
Watson appears the best bet of the group given his wins in 2012 and 2014 alongside a T5 last year. He maintains the distance off the tee to attack the par-5's and three wins in 2018 proved he isn't washed up. Problem stat comes in the form of the 208th ranked GIR putter but Bubba can work the ball into the tight pins and clearly has a feel for the course as a two-time winner.
Reed is tempting as his 15-under last year would have won nearly every Masters in history but he dominated the par-5's to the tune of 13-under for the week and not much else. That isn't unusual at Augusta but he didn't prove much beyond an ability to handle the easier holes here and he hasn't recorded a round in the 60's at Augusta outside of last season. He enters ranked outside the top-160 in both fairways and greens, making a repeat title a longshot despite a continued deft touch on the greens.
Sergio should be a factor considering he has kept his putter inside the top-40 since winning here in 2017 but he fired rounds of 81 and 78 last season, giving him more missed cuts (6) than top-10 finishes (4) in his Masters career. Add in his recent mental lapses and emotional outbursts and I don't think he is a good horse to back.
Picks to win
Each week, we make a short, middle and long odds pick to win and try to do so from a value perspective. Rory McIlroy is at 8 to 1 or even less depending on what online sportsbook you look at, so, while he is probably a great pick to win, the smaller return makes him a little less attractive. Plus, you probably don't need any reassurance from me to bet a guy like him or Dustin Johnson so here are three picks that might bring a little more bang for your buck.
John Rahm (18 to 1 odds to win at Bovada.lv)
Rahm will be competing in just his third Masters but his T27 and solo-4th place finishes show he has a handle on Augusta. 2018 saw him go 68-65-69 after starting three-over which should provide some confidence that he can go low again. Rahm has won on both Tours in consecutive seasons and four of his six top-10s this season have come in his last five stroke play starts. His Augusta-friendly stats include being 2nd in overall off-the-tee performance and 2nd in the total tee-to-green metric. He enters the week ranked 27th in putting average so there are no real weak spots on the stat sheet. He has a nice resource in Sergio Garcia to help him along and it looks like Rahm is ready to fully announce his presence as a force in Major Championships.
Paul Casey (28 to 1)
Casey's low-key personality has him under the radar and most would be surprised to know that his worst Masters finish in the last four years was the T15 he posted in 2018. He was sixth or better in 2015-2018 and has at least two rounds in the sixties in each of the last four runs through Augusta. His 2019 record includes three top-3 finishes with the Valspar win just a couple weeks ago proving he is currently in peak form. Casey is 9th in fairways hit, 5th in total driving and 21st in greens hit to come in as the 12th best tee-to-green player on Tour. His GIR putting average is 66th and I think that is just good enough to make him a true contender to win with a top-10 a virtual lock if he winds up in the top-20 for putting during the week.
Brandt Snedeker (125 to 1)
Snedeker has had a quietly solid career at Augusta with eight cuts made in ten appearances and three top-10's, most recently in 2016. Brandt has been reliable this season with just one cut missed in twelve starts and his putter will be leading the way for him should he see success at Augusta. Sneds is 11th in strokes-gained putting but even more meaningful in my opinion is his 18th best overall putting average. His lag putting is premiere and that skill is a necessity on these greens alongside the clutch putting gene that will save key pars or even bogeys. That putting prowess helps Snedeker rank as the 6th best player around the greens this season and that is sure to gain him strokes on the field given all the difficult up-and-down chances players will see. His ball striking is the reason he is appropriately a long shot but a good week with the irons will give Brandt a chance to shine on the greens and spend time near the top.
Good luck and good golf!

-105 Reduce Pricing
---
Pay less per bet &
get largest betting menu