Golf Betting: Valspar Championship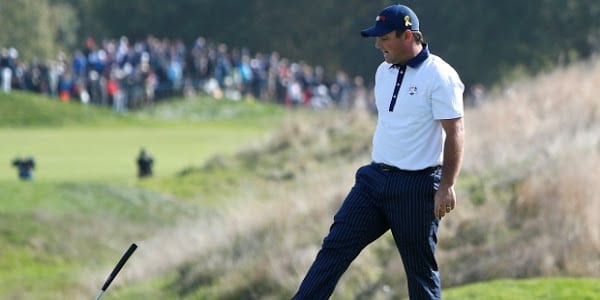 Valspar Championship
March 21-24, 2019
Innisbrook Resort's Copperhead Course - Palm Harbor, FL
The Golf Channel/NBC
By: Ted Walker of Predictem.com
2019 is shaping up to be a remarkable season on the PGA Tour. In just the first two months of competition, we have seen fan favorites like Phil Mickelson and Matt Kuchar win with top dogs Dustin Johnson, Rickie Fowler and most recently Rory McIlroy also in the winner's circle. Tiger is out there having fun and guys like Jon Rahm and Jason Day are in solid form as everyone begins the run-up to Augusta. The Florida Swing wraps up this week at The Valspar Championship and while few events can match the magnitude of The Players Championship, which we covered last week, The Valspar field is rather strong for a regular Tour stop. Paul Casey defends his 2018 title against the aforementioned Johnson, Rahm and Day with Sergio Garcia and Francesco Molinari also in action. This is a favorite stop of many vets as well with Steve Stricker, Stewart Cink and two-time Valspar champ K.J. Choi taking on the young guys at Copperhead.
The Copperhead Course at Innisbrook is a bit different than most Florida stops on Tour. The 7,300 yard, par-71 layout is much more of a shotmaking challenge that typically rewards the best ball strikers in a given week. The Copperhead fairways are tree-lined and accuracy is demanded both from the tee and into the greens. Luke Donald, Jim Furyk and Retief Goosen have all won here and most know that group to be among the best in terms of control rather than power. The par-5's neutralize the big hitters by winding around multiple doglegs so just about anyone can win here if they are hitting it straight. A good touch around the greens certainly helps with plenty of tough up-and-down chances coming after missed greens.
Each week, we take a look at the online betting sites and highlight the best values on the board. We make a short, middle and long odds pick to win and breakdown a couple of head-to-head matches that you can find at any golf betting outlets. In this week's odds and pairings we have used 5Dimes, Mybookie and Bovada for the odds quoted in this article. Here are our picks to win the 2019 Valspar Championship.
Patrick Reed (20 to 1 odds to win)
With runner-up finishes in 2015 and 2018, Reed has the best Copperhead record of anyone that hasn't actually won here. He hasn't missed a cut in 2019 with six top-25 finishes. He had a solid start to the Players but found trouble on Sunday before carding a 78 and falling out of contention. Reed has been consistent but just hasn't been able to put it all together. What he has done well all season is putt and he enters the week in the top-30 in strokes gained on the greens. That is important as I think his familiarity and success at Innisbrook is going to improve his ballstriking and allow him to make better use of that hot putter. Patrick is a fiery personality and there is a bit of unfinished business here as his runner-up last year came only after three-putting at the last to miss a win.
Keegan Bradley (40 to 1)
Bradley has the tee-to-green game you want heading into Copperhead with the 12th best overall driving stat and 37th best GIR rate. He hasn't missed a cut this season and has fared well against the best competition with two top-10 finishes in WGC events and a T16 last week at The Players. The putter is always an issue for Keegan and he ranks 207th in strokes gained to enter the week although his average on greens hit is quite a bit better. Bradley will need a standout week on the greens to contend but he has the right ballstriking mix as evidenced by his 21st ranked overall tee-to-green game. He will find the right spots around this course and will be a factor if he makes his share of birds. It helps that the winning totals have been rather modest with mid-teens under par having a good chance to win. Maybe a shootout win is beyond Bradley until he figures out the putter but this pace should suit him well.
Adam Hadwin (55 to 1)
The 2017 Valspar champ had a nice defense with a T12 last year and he is off to a solid start this season with three top-10's including a near miss runner-up at the Desert Classic. Hadwin is one of the lighter hitters on Tour but that isn't the key here and his top-40 fairways hit percentage is much more important. Adam hits plenty of greens from those fairways and his 33rd best putting average on green in regulation produces the 42nd best birdie rate. The only top-20 stat on Hadwin's sheet is his 16th in overall off-the-tee performance and you have to love what that means at a shot makers course. There will be plenty of players that take themselves out of things with shaky tee shots this week but Hadwin shouldn't be one of them. He can use that edge to gaines some strokes on the field and continue his good run at Innisbrook.
Head-to-Head Matches
Picks to win based on predicted score after all four rounds. Always compare odds in real time to get the best payout from your online betting site. For single round matches and golf prop betting odds will vary greatly. 
Jim Furyk v. Kevin Kisner (pick to win: Furyk)
Furyk nearly turned back the clock at The Players and hit some of the best shots of the final day. He has shared the field with Kisner in two events this season and beat Kevin both times. I think that record goes to 3-0 as Copperhead is so well suited to Furyk's game. No one is better than finding the fairways on Tour than Furyk who is in the short grass over 81% of the time. He is 12th in greens, 8th scrambling and 3rd in scoring average. He owns advantages over Kisner in all of those categories and is better in overall tee-to-green as well. Kisner is actually a good fit for the course as well so I think he will be around come the weekend but Furyk is swinging it so well that you want to stay with him at a course where he has won before.
Gary Woodland v. Paul Casey (pick to win: Woodland)
Woodland is one of the few power players that I am willing to stick with as his 12th ranked distance is balanced by the 40th best fairway percentage. He adds the 3rd best GIR% to come in 6th in overall tee-to-green performance. Casey is right there with him in many of those categories but given those similarities, the distance edge for Woodland becomes meaningful. These guys have split in the two events where both have played and both have won at Innisbrook. It should be a great match with neither a risk of missing the cut on paper but I think Woodland can use his power to sneak out a few more short irons that will prove to be the difference.
Good luck and good golf!