"The Match" – Tiger v. Phil Betting Preview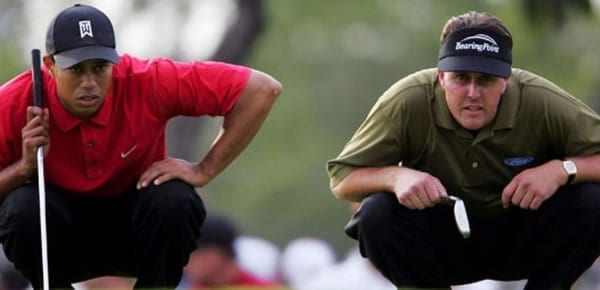 "The Match" – Tiger v. Phil
Date: November 23rd, 2018
Course: Shadow Creek Golf Course – Las Vegas, NV
TV: Pay-Per-View
Odds: Tiger -200 / Phil +170
We finally get the match of the modern golf age when Tiger Woods takes on Phil Mickelson in a made for TV showdown this November 23rd. These two legendary players are still among the most influential talents on Tour and few move the needle like they do, even as they are exiting the prime of their careers. If you polled the average golf fan, this is the twosome most would want to see, and in that regard, we all win.
What we will get in terms of golf remains to be seen however as it is anyone's guess as to how well these guys will play. The motivation is provided in the form of a $9 million-dollar, winner-take-all purse but most have the feeling these two would square off simply for bragging rights. Lefty and Tiger have been two of the most driven talents in golf history and neither is going to want to look bad with the whole world watching. The online betting sites have opened with Tiger as a -200 favorite with Phil at +170.
The one-on-one match play event hearkens back to the days of Shell's Wonderful World of Golf. The 1960's program featured the best players of the day going at it with Jack Nicklaus reviving the concept in the mid-1990's. The "action" or "challenge" match WAS competitive golf in the early days with the best players barnstorming the nation to make a living and grow their popularity. The full-field tournaments of today pushed those two-man clashes to the scrap heap, a fact that helps give Tiger v. Phil a very fresh feel.
The tale of the tape for this battle sees Phil enter at 48 years old and Tiger at 42. This match would have been truly epic about ten years ago but better late than never, I guess. Mickelson is 9th all-time with 43 Tour wins, including five Major championships, with his most recent win coming at the 2018 WGC-Mexico Championship. His win in Mexico ended a five-year winless streak. Woods, at 80 wins, trails Sam Snead's record of Tour wins by just two after a victory at the Tour Championship. Tiger has 14 Major victories, trailing only Jack Nicklaus in that category but has not won a Major since 2008. Woods ended his own five-year winless drought by taking the title at the 2018 FedEx finale.
These players have been paired in PGA Tour play on 37 occasions dating back to 1997. Tiger owns a slight edge with a 18-15-4 record against Phil but the overall scoring has been very close. Woods is averaging 69.7 per round with Mickelson at 70.2 in those head-to-head pairings. Not surprisingly, Woods has been the more consistent player when these two have been paired, carding 13 rounds at 71 or more with Mickelson north of 71 in 19 rounds. Tiger has been at 67 or better eight times with Phil breaking 67 on ten occasions. Tiger has never shot worse than 75 playing alongside his rival but Phil has been as high as 79, which happened at this year's Players Championship. Tiger notched rounds of 71 and 72 at TPC Sawgrass with Phil carding that 79 after an opening 73. The Match Play format of this contest favors Phil's more mercurial style as he only stands to lose the hole if trouble should arise.
The course selected to host the event is Shadow Creek in Las Vegas. Very little is known about the desert oasis as play has long been limited to Tour players, celebrities and corporate VIPs. The 7,560-yard, par-72 layout is a Steve Wynn project that was designed to look nothing like desert golf course. Hundreds, if not thousands, of trees were planted during the design to land-lock each hole from one another to the point where players would always feel as if they were the only ones on the course. There are plenty of water hazards, including an island green par-3 and the signature par-5 at #16 can stretch out to 625 yards. Tiger held the course record here (60) when the course was limited to 7,200 yards but Dustin Johnson's 66 now stands as the new record after the course was lengthened. This place sees only moderate play through the year and isn't even rated by a sanctioning body so whatever conjecture you hear about how it will challenge these golfers is up for debate. No one is looking to have Tiger or Phil grind to hit fairways so look for the short grass to be relatively easy to find. That is an advantage for both as accurate driving has not been a strong suit for either player at times. The greens should be receptive as the organizers want this thing to look good, but the surfaces will probably be fast off the putter to add some drama. I will go through some detailed stats but Tiger has a general advantage from tee-to-green with Phil still the better pure putter.
To further break down that tee-to-green advantage for Woods, Tiger finished the regular season with 58% of his fairways hit and Mickelson back at 51%. There were stretches in the early portion of the season that saw Phil well below 50% in driving accuracy and that was a trend he couldn't specifically solve at any point, including the Ryder Cup. Mickelson is comfortable playing from the rough but his greens hit percentage suffers and he finished 2018 ranked 136th in GIR with Woods at 67th. The overall tee-to-green performance metric had Tiger rated as the 7th best player with Phil trailing by 60 spots. Lefty remains one of the better putters on Tour, checking in at 3rd in overall putting average and 2nd in putts per green in regulation. His edge will only be slight however as Woods is top-30 in both categories and he has that clutch putt gene back as evidenced by a 4th best scrambling rate. Recovery prowess used to be Phil's true strong suit but he fell to 63rd in scrambling this season. Tiger is the rightful favorite in this match, the numbers and our eyes tell us that.
The betting options in this match have been basic to start with the simple Tiger (-200) and Phil (+170) line and there is also a stroke handicap with Tiger getting +1.5 strokes at -115 and Phil at +1.5 strokes -115. There are a few silly props out there and more are sure to be added as we get a little closer to the match date. I think the best bet for this match would be the alternate line that has Tiger as the 1.5-hole favorite. You are almost surely going to see that listed as -1.5-strokes but due to the format, individual strokes are not going to be counted. What you are betting on is that Tiger wins the match at anything more than that 2&1, including going 2up at the last. Given the recent play of both, I think a Tiger is a solid play to get a 3&2 kind of win.
<div style="width:340px; margin: 0 auto;"><!-- [et_pb_line_break_holder] --> <a class="twitter-timeline" data-width="340" data-height="500" data-link-color="#008156" href="https://twitter.com/PredictemPicks?ref_src=twsrc%5Etfw">Tweets by PredictemPicks</a> <script async src="https://platform.twitter.com/widgets.js" charset="utf-8"></script><!-- [et_pb_line_break_holder] --></div>