[et_pb_dcsbcm_divi_breadcrumbs_module hide_homebreadcrumb="off" homebreadcrumbtext="Home" separator="sep-raquo" hide_currentbreadcrumb="off" homebreadcrumborientation="left" _builder_version="3.8″ fontsbreadcrumbs_font="Lato||||||||" fontsbreadcrumbs_text_color="#000000″ fontsbreadcrumbs_font_size="15px" fontsbreadcrumbs_line_height="16px" fontsseperator_font="||||||||" fontsbreadcrumblinks_font="||||||||" fontsbreadcrumblinks_text_color="#2567cf" custom_margin="25px|||" custom_margin_phone="30px|||" custom_margin_last_edited="off|desktop" custom_css_main_element="font-family: Helvetica Regular;" global_module="3641″ saved_tabs="all"][/et_pb_dcsbcm_divi_breadcrumbs_module]
WGC – HSBC Champions Predictions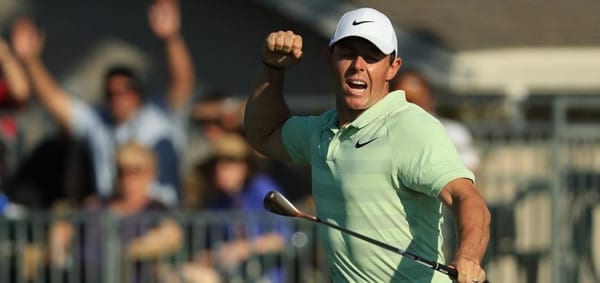 WGC – HSBC Champions
Date: October 25-28, 2018
Course: Sheshan International Golf Course – Shanghai, CHN
TV: The Golf Channel
The best golfers in the world just don't take the extended postseason breaks like they used to and that is wonderful for golf fans. The globalization of the game is overwhelmingly positive as well, but more tournaments overseas means a little more missed golf for US-based fans. The PGA Tour wraps up its Asian Swing this week with the WGC-HSBC Champions in China so anyone wanting to watch Dustin Johnson, Brooks Koepka and defending champ Justin Rose will have to be up in the wee hours of the morning to do so. I guess that is a relatively small price to pay to see these elite talents tee it up instead of going into hibernation until January like they used to.
Rose conquered this strong field last season as part of a stretch that saw him win just about everywhere outside of Antarctica but he has a tough task if he wants to repeat as champion. Rory McIlroy leads a strong Euro contingent in Shanghai that includes the majority of the European Ryder Cup team. Jason Day and Hideki Matsuyama add some more international flavor to the field, but there is a strong American presence as well with the only notable absences being Tiger Woods, Jordan Spieth, and Rickie Fowler. The HSBC has been part of the WGC schedule of events since 2009 and has been dominated by the big names with Dustin Johnson, Phil Mickelson and Francesco Molinari among past champs.
Sheshan Golf Course is an immaculate course that is one of the best not only in Asia but the world. The 7,261 yards, par-72 layout has hosted this championship in every year, but one since 2005 and has never failed to produce quality golf. The scoring pace has been a bit mercurial with 11-under good enough to win in 2014, but at least 23-under was necessary to get the "W" in 2013 and 2016. The course features several risk/reward opportunities so the long players can work an advantage if they challenge the course and pull the shot off. Risky attempts will lead to big numbers if not executed properly. The fairways and greens are heavily bunkered with water coming into play on many holes. Most of that trouble is easily avoidable by Tour players, but there are very tough up and down chances left for those that miss greens. Several greens at Sheshan can have pins placed near severe tilts and slopes, making it hard to get the ball close, even from near the green. There will be plenty of birdies for sure, but those players that are not on top of their game will get left behind rather quickly.
Each week, we take a look at the golf odds at 5Dimes and highlight the best values on the board. We make a short, middle and long odds pick to win and break down a couple of the more popular head-to-head matches that can be found at any golf betting outlet. Here are our picks to win the 2018 HSBC Champions.
Rory McIlroy (11 to 1 odds to win)
Rory has that sleeping giant feel in that he hasn't won since early in 2018 but finished 5th and 7th in the final two FedExCup events. He has six career HSBC starts and has been inside the top-11 each time, including four top-5 finishes. When he is right, he is the best driver of the ball on Tour. He led the Tour in "distance" and finished in the top-6 in off-the-tee, and tee-to-green performance, as well as total strokes, gained. The putter let Rory down a few times this past season, but he is returning to a place where his average finish suggests he is very comfortable with the greens. We all made a big deal when Tiger returned to form, and Jordan Spieth is looking forward to a better 2019, but Rory is another world-class player that is ready to return to regular contention. I think he has a good look at it this week on a course he can simply dominate.
Rafa Cabrera-Bello (33 to 1)
RC-B is one of just a handful that will have teed it up in all three events in Asia. He didn't have the best go at the CIMB but was T3 at the CJ Cup last week and will look to build on that and his T5 at Sheshan last season. Rafa is one of the more accurate drivers on Tour, ranking 17th in fairways hit and he adds a top-10 mark in greens hit to be a top-25 player in overall tee-to-green performance. His putter is way better than average, and he used it to notch the 16th best scoring average last year. He is a bit underdeveloped in the recovery game, but most of his scrambling stat is built on the big-time events like the Players Championship and the U.S. Open as he plays a limited regular schedule in the US. Those tournaments are designed to punish missed greens, so his overall greenside game is just fine. Rafa isn't going to overpower the course, but his accuracy will help him access the right spots on these greens and see better birdie looks.
Keegan Bradley (80 to 1)
Bradley did not play in Korea last week, but he did tee it up at the CIMB and had a nice finish there with 68 and 66 on the weekend. He hasn't played the HSBC since 2014, but he does have some experience here, including a T11 in 2013. There aren't many in this field that is better from tee-to-green than Bradley as he enters the week 11th in overall T2G performance from last season. The putter really is his Achilles heel as he finished 173rd last year but he did putt better toward the end of last season, winning the BMW Championship for his first Tour victory since 2012. He is always going to battle the flatstick but has proven he is good enough to win when he does get it rolling. He has limited his mistakes well, netting a top-40 scoring mark from a birdie average that is barely inside the top-100. He isn't an old-timer but has been around long enough to be ahead of the field in experience.
Head-to-Head Matches
Picks to win based on the predicted score for all four rounds. Check with your favorite online betting site for single round matches and a variety of prop bets.
Jon Rahm v. Tony Finau (pick to win: Finau)
Rahm has been very comfortable in WGC events with four top-20 finishes in just seven WGC starts, including a T3 and T2 in 2017. Finau was also trending in the right direction with a T10 at the Bridgestone last season, and he returns to Sheshan where he finished T11. Both players are next-level long off the tee but that paid off more for Finau last season as he was ten spots ahead of Rahm in scoring average. Tony is a better overall putter and given that the rest of the stat sheet is virtually even, that putting advantage looms large. There is just no real way for Rahm to outscore Finau if they have a relatively even week from tee-to-green. Rahm slumped slightly in 2018 after looking dominant during parts of 2017. That is not uncommon for young players, and you have to make Rahm prove he is back to his top-level as he is routinely going to be paired with big-time players in these head-to-heads. Tony has the better putter, and the better recent trend so stick with him in China.
Dustin Johnson v. Brooks Koepka (pick to win: Johnson)
You could probably flip a coin in this match as these two are essentially the best in the world right now. Koepka snagged the #1 spot in the World Rankings after his CJ Cup win last week, but I am going with DJ as his Sheshan record is better than everyone else in this field. Johnson won here in 2013, finished T5 in 2015 and was cruising to another win last season before carding a birdie-free final round that let Justin Rose sneak away with the title. Dustin isn't impervious to that occasional bad round but he rarely is held to zero birdies for an entire day, and I don't think that will happen this week. Koepka is as hot as you can get but don't forget that Johnson still possesses the highest ceiling on Tour after leading everyone in birdies, scoring, tee-to-green performance and off-the-tee performance last season. No one has really proven they can beat DJ when he is on, and I think he will be on this week.
Good luck and good golf!