2019 Rebel Stakes Results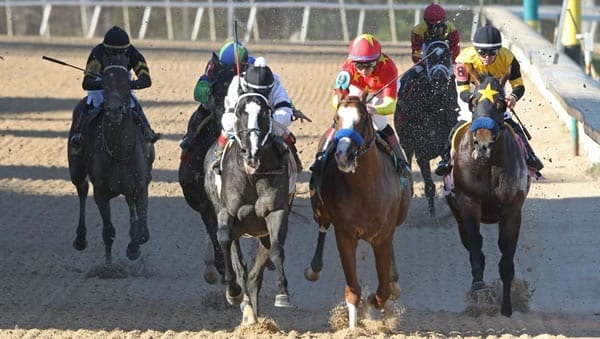 Baffert runners come up short as favorites in Rebel Stakes but remain strong contenders for Kentucky Derby
Trainer Bob Baffert's Rebel Stakes favorites each lost their own division of the Rebel Stakes at Oaklawn Park on Saturday, but their narrow defeats in no way diminished their status on the Kentucky Derby trail.
Game Winner and Improbable remain the two logical horses to beat in the Kentucky Derby, especially now that they have a race in them and another to go before Derby Day, Saturday, May 4.
Rebel I Results
| | | | |
| --- | --- | --- | --- |
| Long Range Toddy | $18.80 | $4.20 | $2.60 |
| Improbable | | $2.40 | $2.10 |
| Galilean | | | $2.40 |
| Payouts | | | |
| Double | 2/2 | $29.20 | |
| Double | 2/3 | $2.10 | |
| Exacta | 2/9 | $22.90 | |
| Pick 3 | 2,5,6,9,11,12/2/2 | $41.15 | |
| Superfecta | 2/9/8/1 | $15.14 | |
| Trifecta | 2/9/8 | $24.60 | |
In the first division of the Rebel, Improbable was sent off at 40 cents on the dollar and ended up tracking the leaders four-wide throughout before making his move behind a three-horse duel on the final turn. He took over from pace-battle winner Galilean into the stretch and opened a clear lead in mid-stretch, but ran out of gas with 50 yards to go and lost by a neck to our third pick, Long Range Toddy, who surprisingly got one of the best trips in the race under jockey John Court.
Long Range Toddy was on lead inside early but let Classy John to his outside take over before the quarter had been run in 23.77. Then it started to get a little crazy. Galilean, who hopped at the break and had to be used early, moved up to challenge outside Classy John before a half mile had been run, and then Extra Hope came off the rail and made a quick move three-wide to challenge. That trio dueled through a half in 47.58 and continued to duel on the turn while John Court simply took hold of Long Range Toddy and waited on the inside.
Turning into the stretch, Classy John was all done after six furlongs in 1:11.97, and Improbable, who had started to make his move in early turn, was up to challenge Extra Hope to his inside and Galilean at the rail turning into the stretch. Meanwhile, Long Range Toddy was still biding his time behind the duel turning for home and went after Improbable as that one put his rivals away after a mile in 1:36.43.
Using his fitness edge and perfect trip, Long Range Toddy rallied outside to catch Improbable late. The final time for the 1 1/16-miles was 1:42.49 and Long Range Toddy received a 95 Beyer Speed Figure for his efforts. A bay colt by Take Charge Indy-Pleasant Song by Unbridled Song, Long Range Toddy is trained by Steve Asmussen. He paid $18.80, $4.20, $2.60 across the board.
Galilean finished 2 1/4-lengths behind Improbable in third, and a length in front of Extra Hope in fourth. Both Galilean and Extra Hope performed gamely in defeat, while Classy John faded to finish last. Easy Shot and Ninth Street finished fifth and sixth respectively but were overmatched by the top four.
You have to give Long Range Toddy some credit for his winning effort, but we can't help thinking he was close to peaking in the Rebel, and he'll now have to face much tougher and fitter horses in his next, including Improbable and his stablemate Game Winner, who was defeated in the second division of the Rebel Stakes.
Rebel II Results
| | | | |
| --- | --- | --- | --- |
| Omaha Beach | $10.80 | $3.80 | $3.20 |
| Game Winner | | $2.40 | $2.40 |
| Market King | | | $8.40 |
| Payouts | | | |
| Double | 9/6 | $81.50 | |
| Exacta | 6/5 | $11.30 | |
| Pick 3 | 2/9/6 | $484.50 | |
| Pick 4 | 2/2/9/6 | $1,867.80 | |
| Superfecta | 6/5/1/8 | $98.11 | |
| Trifecta | 6/5/1 | $92.10 | |
Game Winner did everything but win his division of the Rebel, and like Improbable, he simply ran out of gas late. That being said, Game Winner did something only good horses do in his race, he dug in trying to win even when he had no air left. He was running on fumes and kept coming to lose the head bob by a nose in an excellent performance.
Taking nothing away from the winner, who was moving up in class after breaking his maiden, we can't see him beating Game Winner next time they meet.
Omaha Beach broke on top with ears pricked, pressed outside Market King through a quarter in 23.54, took over the lead by a head after a half-mile in 47.29 and shook off Market King into the final turn, getting the six furlongs in 1:11.82.
Game Winner was in mid-pack between horses on the first turn, moved outside for the run down the backstretch and made his move at the same time Omaha Beach opened up into the turn. Game Winner got within a length of Omaha Beach on the turn, but the latter opened a clear margin on the favorite into the stretch, and the race was on.
Game Winner precisely knew what to do when Joel Rosario asked him to go, and he dug in determinedly, getting to within half a length of Omaha Beach after a mile in 1:36.39 and coming hard at that one late. Game winner drew even with Omaha Beach with 50 yards left to go, but the fitness edge of his rival was too much to overcome and Game Winner tired in the final 10 yards. It was 8 ¼-lengths back to Market King, who somehow held on for third by a length over Gunmetal Gray, who trailed for most of the race and rallied wide.
Parsimony (rail), Jersey Agenda (between horses) and Our Brain Trust (outside) tracked the pacesetters to the final turn and couldn't go with Game-Winner when that one made his move four wide. Jersey Agenda steadied in mid-turn between horses, forcing Parsimony to his inside to check and lose all chance, but we can't imagine that these two would have kept up with the top two regardless.
Jersey Agenda did keep coming, however, rallying late to gain fifth money, a length behind Gunmetal Grey. Captain Von Trapp made a good move outside on the final turn but couldn't keep it going through the stretch and finished sixth, ahead of Laughing Fox, Parsimony, Kaziranga and Our Braintrust.
The winner got the 1 1/16-miles in 1:42.42, earned a 96 Beyer Speed Figure and returned $10.80, $3.80 $3.20 across the board. Trained by Richard Mandella, Omaha Beach is by War Front-Charming by Seeking the Gold and looks like a tough horse that may have finally learned how to win a photo. He gets stamina from his sire line and a big heart from his female side through Seeking the Gold.
We probably haven't seen the best of Omaha Beach yet, but would we bet him against Game Winner, now that the latter has a race in him?
Not a chance.