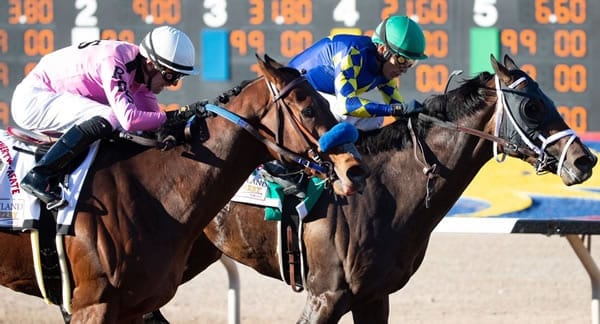 Cutting Humor wins Sunland Derby with perfect ride, but Anothertwisafate impresses more
Sunland Derby Recap
Cutting Humor and jockey John Velazquez made Predictem.com look good with a perfectly timed ride to win the Sunland Derby on Sunday, March 24, but we also needed a bit of racing luck to get our first pick home on top.
We were hoping Cutting Humor would go off at 5-1 or better based on his morning line of 8-1, but smart bettors soon figured out that he was probably going to get a dream trip behind a duel and bet him down accordingly.
Even-money favorite Much Gusto probably had little choice but to go to the lead early from the one hole, and he ended up in the predicted early pace battle with Anothertwistafate and run-off specialist Hustle Up. Those three put up a first quarter fraction of 22.76 seconds and Anothertwistafate wisely backed out to stalk the top pair from the inside as they sizzled the half-mile in 45.63.
Cutting Humor secured a perfect position behind the duelers early in the race, and as the pacesetters moved into the final turn both he and Anothertwistafate were poised to strike.
After six furlongs in 1:09.63 something had to give and Hustle Up was the first to crack in late turn as Cutting Humor moved up on the outside to challenge, but Anothertwistafate couldn't get out. He was in a vice and full of run as Cutting Humor got the jump on him into the stretch and took on Mucho Gusto.
Mucho Gusto gave way at the eighth pole after a mile in 1:34.76 and for a brief moment it looked as if Cutting Humor would open up, but Anothertwistafate was having no part of that scenario and was now in full flight on the outside. He sliced into Cutting Humor's lead with every stride but ran out of ground.
Cutting Humor held on to win by a neck and we daresay he'll never beat Anothertwistafate again. The one-second extra wait time in late turn had cost Anothertwistafate the victory.
Cutting Humor stopped the timer in 1:46.94 and returned $6.60 $3.40 $2.40 across the board. The top pair were 5 ¾-lengths ahead of third-place finisher Mucho Gusto. It was another 1 ½-lengths back to Wicked Indeed, who had stalked from good position inside and made a wide move in late turn before flattening out to finish fourth.
Eye Cloud trailed to the stretch and made a six-wide run in late turn to pass tired horses and finish fifth. Pasamonte Man stalked from good position inside and finished an even sixth. Hustle Up faded to seventh. Eighth-place finisher Collusionist was overmatched and passed a tired Walker Stalker, who was wide and faded to ninth.
Taking nothing away from Cutting Humor, who was perfectly spotted by trainer Todd Pletcher in the Sunland Derby, there's no question who the best horse was in this race, and it wasn't the winner.
Anothertwisafate fooled us going into the Sunland Derby with three wire-job wins over the Golden Gate synthetic, but his performance proved that he's the real deal. He can run on dirt, he can come from off the pace, and he definitely knows where the wire is, all of which were impossible to predict before the race.
Cutting Humor received a 95 Beyer Speed Figure for his Sunland Derby win. Anothertwistafate will likely get the same, but he has to be moved on to our 2019 Kentucky Derby Picks – Top 10 Contenders list. He wants to win, and with some racing luck he would have made it four in a row in the Sunland Derby.
A bay 3-year-old colt by Florida Derby-G1 winner Scat Daddy, who sired 69 stakes winners, Anothertwistafate is out of the First Defence mare Imprecation, a half-sister to three graded stakes winners including Prix du Moulin de Longchamp-G1 winner Nebraska Tornado. Purchased for $360,000 at the Ocala Breeders' Sales June 2-Year-Olds and Horses of Racing Age Sale, Anothertwistafate certainly has some pedigree to work with.
And he's not done yet.