This Saturdays Race Card Highlights the Santa Anita Derby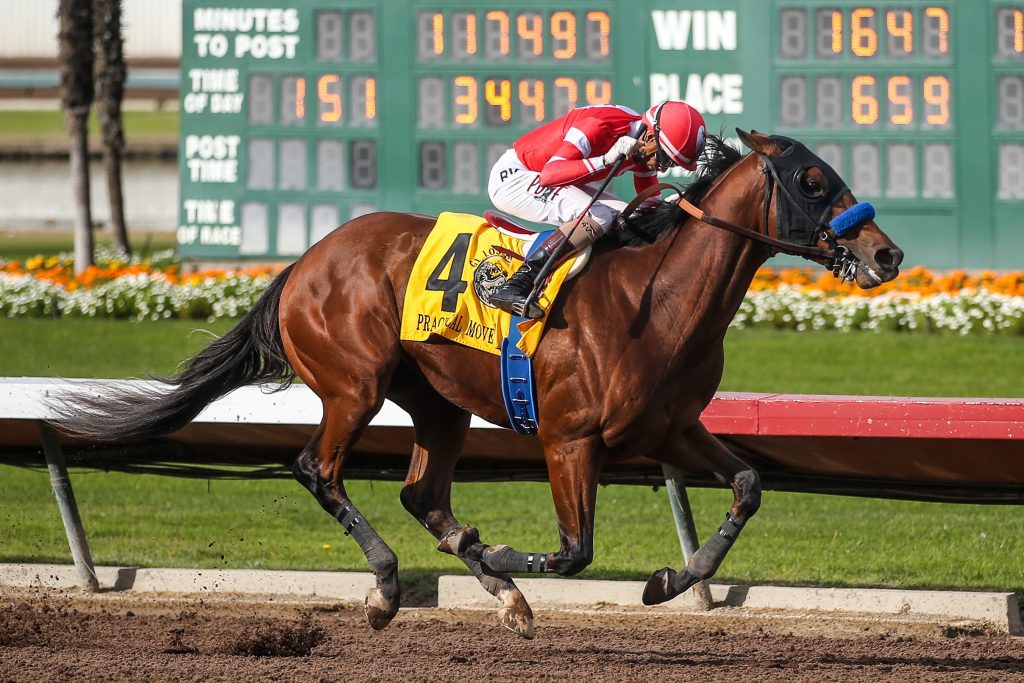 There are three major Kentucky Derby prep races this Saturday. On the East Coast in New York, the Woods Memorial Stakes is featured on the race card at Aqueduct. In Kentucky at Keeneland, the Blue Grass Stakes is the main event in this card. Out in Southern California on the West Coast, the Santa Anita Derby highlights the race card at Santa Anita Park.
The Santa Anita Derby is a Grade 1 stakes race for three-year-old Thoroughbred, and the prize purse is $750,000. I have my favorite, three legitimate contenders and a live longshot that lines up to win this race.
My Favorite
Trained by Tim Yakteen, Practical Move closed out the two-year career with winning the Grade 2 Los Alamitos Futurity Stakes on Dec. 17 in, 2022. In his three-year-old debut at Santa Anita Park, he also placed first in the Grade 2 San Felipe Stakes on March 4 of this year. Practical Move covered 1 1/16 miles on dirt at Santa Anita in 1:42.01 over Geaux Rocket Ride and Skinner in second and third place.
Sired by Practical Joke, he was bred to go more than a mile on dirt and stands out as the favorite in the Santa Anita Derby with a rating of 7.18 from Horse Racing Nation.
Three Legitimate Contenders
Geaux Rocket Ride is my No. 1 contender, with a second-place finish in the San Felipe Stakes. Trained by Richard Mandella, he has raced at Santa Anita Park as a three-year-old colt. As a son of Candy Ride, he won a six-furlong Maiden Special Weight sprint on Jan. 29 in his first competitive race.
Geaux Rocket Ride has a 6.15 rating from HRN, and he has the home-track edge to compete in this race as one of the leading horses in the backstretch.
My second legitimate contender is National Treasure, with a rating of 6.02 from HRN. As a two-year-old colt, he finished third in the Breeders Cup Juvenile on Nov. 4 last year. National Treasure made his three-year-old debut by taking third in the one mile Grade 3 Sham Stakes on Jan. 8, 2023.
Sired by Quality Road, he has raced at Del Mar, Keeneland, and Santa Anita Park. National Treasure has placed first, second, or third in all those three races.
As an export from Japan, Mandarin Keno is my third legitimate contender. He is set to become the first colt from Japans National Association of Racing to competing in the US. Trained by Terunobu Fujita, Mandarin Keno will be ridden by Japan native Kazushi Kimura.
As a son of Shanghai Bobby, he is one of the surprise contenders in the field for the 2023 Santa Anita Derby.
A Live Longshot
At a 4.94 rating from HRN, Skinner is a live longshot in my book. He is trained by John Shirreffs, and he raced for CRK Stable, LLC. As a three-year-old colt, he won a one-mile Maiden Special Weight race on Feb. 2 before finishing third in the San Felipe Stakes in early March. Skinner had his last three races at Santa Anita Park as an edge in racing at this Southern California track.
Get our resident expert Kenneth Strong's top plays for the full Santa Anita card!