American League Cy Young Award Picks – Odds Analysis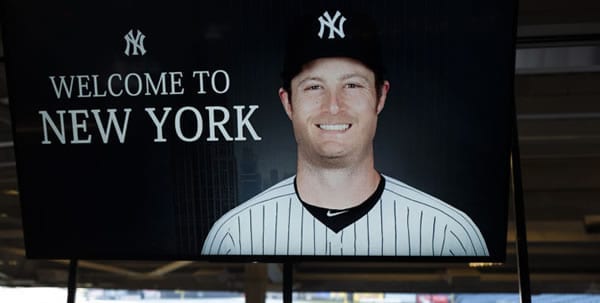 We're still waiting on an announcement regarding the 2020 MLB season and when it might resume (heck, we don't even know if the leagues are going to be what they've traditionally been or modified in some way), but for now, we're assuming we'll have a season, and the leagues will look the way they always have. Plus, ESPN's Jeff Passan seems pretty confident that we're going to have a baseball season sooner or later, so we're going to run with that as a positive and dive into the American League Cy Young award race.
For the American League, repeat winners are a lot less likely than they are in the National League. There are a few reasons for that. First, AL pitchers have a much harder job than in the NL because of the designated hitter. Yes, pitchers don't have to worry about getting plunked with a fastball and can pitch inside a lot easier, but the trade-off is that there are no easy outs in the American League. AL pitchers don't get to pitch to another light-hitting pitcher, and National League teams are a lot more likely to play small ball and give away outs than American League squads.
Second, because of the DH, AL lineups are designed to score a lot of runs rather quickly. It's no coincidence that the four teams that scored 900 or more runs last season (Yankees, Twins, Astros, Red Sox) were all American League clubs. Third, and possibly most overlooked, AL pitchers often go deeper into games than NL pitchers because their teams never have to pinch-hit for them. An AL manager is a lot more likely to stick with his ace in a tight spot in the seventh or eighth inning, especially if he has a bullpen full of question marks. That means more chances for a tired pitcher to make a mistake.
Add it all up, and there's a reason why no pitcher has won the AL Cy Young in consecutive seasons since Pedro Martinez repeated in 2000. (The NL, by contrast, has seen FIVE different pitchers repeat as Cy Young winner since Martinez, including Max Scherzer in 2017 and Jacob deGrom last year.) With Chris Sale now off the board after Tommy John surgery (and given his struggles last year, having him at +600 would have been insane to take anyway), here are the remaining pitchers who have a reasonable shot to claim the Cy Young.
Gerrit Cole, New York Yankees, +280
This couldn't be a better situation for Cole, as he will most likely get to pitch his first year in pinstripes in front of nobody, which will isolate him from the pressure that comes with pitching in New York. The first year in the Bronx is always the most difficult, and while that could lead to a real problem for Cole in 2021, all he's going to do this season is change his uniform. The pressure of the New York media is still going to be there, but if Cole is pitching thousands of miles away from New York, he won't have to hear from the radio guys, he won't have to read what's being said about him in the local paper and he won't have to hear from fans on a daily basis.
Plus, he's proven himself to be a pretty dominant pitcher, and now he gets the chance to shut out all of the distractions and simply do what he does best. He came darn close to winning the Cy Young last year after winning 20 games and posting a 0.895 WHIP but finished second in the voting to his then-teammate Justin Verlander. This time, he won't be overshadowed by anybody on the Yankees' staff and might be looked at as a savior for the Bronx Bombers if he's as good as advertised. Pitching was the significant weakness for New York a season ago, and if Cole is able to shore that up, the Yankees will be scary good.
Of course, being the favorite means that the value you're going to get for him isn't outstanding. However, getting back nearly three times your bet to back one of the best pitchers in the game is nothing to sneeze at, especially in this situation. If there's a time to take the favorite, this might be the time.
Justin Verlander, Houston Astros, +750
And here is last year's defending champion, who has two major issues working against him for this award. First, there's the fact that AL pitchers rarely repeat as Cy Young champions over consecutive years, so even at +750, that still isn't great odds considering that Verlander is going against 20 years of history. The second is the team that he plays for. The Astros have become the black sheep of baseball in 2020 thanks to their complete lack of remorse after using sign-stealing to reach the World Series and nearly win it over Washington.
That means that Verlander is going to have to be almost perfect to win this award because the writers are going to be looking for any excuse they can find for not giving an award to any member of the Astros this year. Remember, this award is determined entirely by human voters, and the writers tend to have a fairly long memory. If this vote is close, they're going to look for any reason not to make Verlander the choice.
So why is he on the list at all? Because Verlander is a good enough pitcher to make this such a clear-cut decision that the voters have no choice but to name him the winner again. Consider this: last year, he whiffed 300 hitters, and he fanned 290 the season before. He hasn't allowed batters to hit above .250 against him in any of the past six seasons, and he's had just one season in the past six where hitters had a higher OBP than .300 against him. Verlander misses bats with regularity and has excellent control, and he's in the last few seasons of his campaign. This might be his best shot to win another one because even though he is now 37, he won't have put up much mileage on his arm. That could help his chances.
Mike Clevinger, Cleveland Indians, +1000
If the Indians are going to make it back to the playoffs, it will have to be their pitching that gets them there, and Clevinger and Shane Bieber are both legitimate No. 1 pitchers. Clevinger appears to be slightly ahead of Bieber, in large part because he's believed to have better pitches, and he's shrugged off some previous injury concerns.
There's also the fact that Clevinger has been getting better every single year in Cleveland. In 2016, he was a bullpen arm with an ERA over 5 and a WHIP of 1.49. Since then, he's cut his ERA in half and has shaved his WHIP down to 1.06, all the while maintaining his ability to make hitters miss. However, Clevinger is more than just your typical strikeout pitcher. He's also excellent at pitching to contact and making hitters send the ball to where it can be easy prey for an Indians fielder. With Corey Kluber now in Texas, Clevinger has the potential to become the man in the Cleveland rotation, and if the Indians contend for the AL Central after trading what was their ace, Clevinger will get a lot of attention.
The problem with Clevinger is the same problem as always with Clevinger: injuries. Clevinger tore his meniscus in February, and the good news is that he's on track to have recovered completely by the time we start playing for real. However, Clevinger has been an injury-prone pitcher. As has been said before about MLB pitchers, there are only so many times you can activate the "disabled" setting before you lose the ability to activate the "dominant" setting. Clevinger has all the tools needed to win this award, but the question remains whether his body will let him.
Corey Kluber, Texas Rangers, +1400
What about the Indians' former ace, who has done this before? There are a couple of real concerns with Kluber. The first is that if he gets to play at home, nobody knows how his park is going to play. Globe Life Field has almost the same dimensions as the Rangers' former home of Globe Life Park, but Yankee Stadium was a designed as a carbon copy of the old Yankee Stadium in 2009 and played as much more hitter-friendly than its predecessor. There's just no way to know how Globe Life Field is going to play for a pitcher until baseball is actually played at the new place, which is not a variable you want for a pitcher.
However, that might not be an issue because Kluber might not pitch in Arlington at all this year, depending on what baseball decides to do. But there's no escaping the other problem, which is that Kluber hasn't been quite the same pitcher since failing on the biggest stage in 2017. Kluber lost two of the five games in the ALDS against the Yankees that year, and the Indians lost one of their best chances to end baseball's longest World Series drought. Since that time, Kluber has seen his ERA drastically rise, and while injuries hurt him last year, he's now 34, and it's fair to wonder if things are heading in the wrong direction for him.
Throw in that he now probably has to share a division with the mighty Astros, the opportunistic Athletics and Mike Trout (although he does get to cut back on facing the Twins), and there are just too many red flags here for me. Kluber could be great value if he returns to form, but I don't like the risk.
Blake Snell, +1100 and Tyler Glasnow, +1200, Tampa Bay Rays
Call this the Toofer Spurlock of our predictions, as with these guys, you get two predictions in one breakdown. Why? Two reasons: One, Snell and Glasnow are both excellent pitchers, and both have been getting a lot of buzz about their potential to put up big numbers. Snell comes off elbow surgery, and a cortisone shot, and the Rays say that he's back to being himself after a pedestrian 2019, which could make him an appealing option. Glasnow, meanwhile, has his fastball back to 99 miles per hour after battling forearm tightness last season. Both pitchers seem to be healthy, and both should get a lot of attention playing against the big media clubs of New York and Boston.
But the danger is precisely what happened with the Astros last year. Verlander and Cole made it tough for bettors because both were so dominant that it was difficult for bettors to take one without the other because the final result was essentially a coin flip. That's the main reason that I've put them together in this preview: I don't recommend taking one if you're not going to take the other one. To me, it's totally worth essentially dropping your odds on Snell and Glasnow to +1000 and +1100 in order to get both of them. However, that strategy does come with a risk: they also could pull votes from each other. If that happens, you're out two units with no payoff. But that's the gamble you take with these two. This is a high-risk, high-reward strategy that could really pay off.
Dan's Pick to Win the AL Cy Young Award
Getting almost three times my money back with Cole is fairly enticing, given that he won't be facing the usual problems that come with pitching in New York. But this isn't nearly as straightforward as the low price makes it seem, because the AL is filled with great pitchers and some outstanding hitters. So this seems to be a situation where I'd like to hedge my bets with at least one other pitcher, and if I do that, I'd probably up my bet on Cole to get more money back if he's the winner.
I think the best option for this strategy is Clevinger. Clevinger has been on an upward trend since 2016 and seems to be fully healthy after getting the off-season to recover. At +1000, there's a good amount of money to be made off of him if he turns in a top performance, and given his situation in Cleveland, he knows he has to be great for his team to do anything.
Betting 1.5 units on Cole and one unit on Clevinger means that you'll walk away with more than double your original bet in profit, and that's an excellent place to be in this situation. That's the way I'm going to choose to play it, as I really like Cole's chances but want to give myself one more option in case he struggles to adapt. On an unrelated note, you can bet your AL Cy Young picks for FREE and beef up your baseball betting bankroll by taking advantage of a beautiful 100% REAL CASH bonus where you can deposit anywhere from $100 to $300 and get your deposit matched dollar for dollar at MyBookie. Example: Deposit $300 and they will add $300 so now you have $600 in your betting account. In order to take advantage of this great offer, you'll need to sign up for an account at MyBookie through this special link and make sure PREDICT100 is in the promo code box. (It should be pre-populated already).
Odds to win the 2020 AL Cy Young Award
Gerrit Cole +300
Justin Verlander +500
Chris Sale +800
Shane Bieber +1000
Mike Clevinger +1400
Blake Snell +1500
Lucas Giolito +1500
Tyler Glasnow +1500
Zack Greinke +1600
Jose Berrios +1800
Charlie Morton +2000
Corey Kluber +2000
James Paxton +2000
Mike Minor +2000
Frankie Montas +2500
Shohei Ohtani +2500
Jake Odorizzi +3000
Sean Manaea +3000
Hyun Jin Ryu +3300
Carlos Carrasco +4000
Masahiro Tanaka +4000
Dallas Keuchel +5000
Eduardo Rodriguez +5000
Michael Kopech +8000
Andrew Heaney +10000
Aroldis Chapman +10000
Lance Lynn +10000
Lance McCullers Jr. +10000
Roberto Osuna +10000
Brad Keller +30000
Danny Duffy +30000
Griffin Canning +30000
Jakob Junis +30000
Kyle Gibson +30000
Matthew Boyd +30000
Yusei Kikuchi +30000
Alex Cobb +50000
Dylan Cease +50000
John Means +50000
Jose Urquidy +50000
Justus Sheffield +50000
Marco Gonzalez +50000