Astros vs. White Sox Odds & Predictions 7/16/21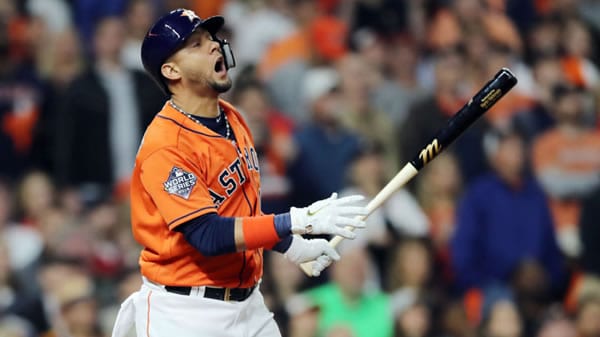 Houston Astros (55-36) vs. Chicago White Sox (54-35)
When: 8:10 p.m., Friday, July 16
Where: Guaranteed Rate Field, Chicago
Moneyline: HOU -145/CHW +125 (Get better lines >>> It pays to shop for the best prices! Anything less is WASTING your hard earned money!)
Runline: Astros -1.5/White Sox +1.5
Total: 8.5
Starting Pitchers: Lance McCullers Jr. (6-2, 2.94 ERA, 1.23 WHIP) vs. Dylan Cease (7-4, 4.11 ERA, 1.27 WHIP)
Put Up or Shut Up
The White Sox are likely a sure thing to reach the playoffs, thanks to their residence in the AL Central, home to three bumbling duds and an Indians team that can't generate any offense. But the White Sox aren't exactly setting the world on fire against teams who can actually play, and there's reason to be concerned when they come up against quality opponents. Incredibly, the AL Central is 1-15 in its last 16 playoff games, and its champion hasn't won a game in the postseason since 2017. The White Sox could be right on track to extend that streak, as Chicago is just 16-24 on the year against teams over .500.
With everyone but the Indians at least 15 games behind the White Sox, the rest of this season is about getting the South Siders ready for the playoffs, and that means beating the likes of the Astros, Red Sox, and Rays. They certainly haven't done the job against the Astros: they're 0-4 on the year against Houston, and only one was even a save situation, as the Astros have outscored the White Sox 27-8 in 2021.
Pitching to Expectations
Dylan Cease knows all too well what it feels like to be on the wrong end of the scoreline against the Astros: he ended up the loser in a 10-2 defeat against Houston last month as part of that Astros' sweep. The loss wasn't unexpected: the Sox went into that game as slight dogs at +117 at first pitch. However, it clues us in on an important thing to know about Cease: the books seem to have him pegged perfectly.
Cease has made 18 trips to the mound this campaign, and he's 0-5 when the White Sox have been underdogs. Going the other way, however, Cease has been an incredibly reliable favorite: with him on the mound, the Sox are 11-2 this year when they're expected to win the game. The losses haven't been because of hard luck, either, as Cease seems to save his worst stuff for the games when he's not supposed to have success. Cease has given up more than three runs on four occasions — and three of those instances were in games in which the Sox were underdogs.
More Picks: Dan's Mariners vs. Angels Prediction 7/16/21 >>>
Two and Two and Two
Watching Lance McCullers pitch since his return to the rotation after a month off has been a bit like watching Chuck Woolery host a game show from the 1970s. The longtime host's catchphrase was that his show would return in "two and two," and while Woolery was referring to two minutes and two seconds of commercials, McCullers' "two and two" has been his runs and earned runs total in the box score. In his past four starts — including one against the White Sox — the pitcher's line has looked the same each time, two runs, both earned. Going back a game further, he also gave up two runs to Texas on June 15, but one of those came because of fielding miscues.
When you're only giving up two runs a game, and you've got an offense like what Houston has at its disposal, you're going to win a lot of games. The Astros have won four of McCullers' past five starts, with the lone loss coming June 8, when two runs wasn't enough in a 2-1 loss to the Athletics. That appearance was McCullers' first loss since April 14, a start that seemingly had a significant effect on him: he hasn't given up more than three runs in a start since that game.
Betting Trends
The Astros have won their past four road games.
The Astros are 19-8 in their past 27 contests overall.
The White Sox have won their past five contests.
The White Sox are 1-6 in their past seven games against the AL West.
The over is 6-2 in the Astros' past eight games following an off day.
The under is 4-1 in the Astros' past five games.
The over is 4-0 in the White Sox's past four home games.
The Astros are 16-5 in the past 21 meetings.
Weather Report
This should be a comfortable night for baseball, with temperatures at 72 degrees and winds blowing at 11 miles per hour toward first base.
Dan's Pick
I don't like this situation with the White Sox. Chicago hasn't shown anything to suggest that they can handle a quality opponent, and Cease really hasn't pitched well against quality opposition. Even though Chicago's at home, the Astros have been the stronger team, and McCullers is pitching very well at the moment.
I'm not buying that the White Sox are really good enough to compete with the AL's elite. Give me the Astros. Question: Where are you betting on football this season? Does your bookie allow you to bet on ALL games (both sides and totals) at -105 odds? NO he doesn't! Dump your overpriced sportsbook TODAY and start taking advantage of discounted odds at BetAnySports! You'll be so glad you did!
MLB Betting Guide
New to betting on baseball? We've got you covered! Our comprehensive how to bet on baseball article explains all the different types of wagers offered at the sportsbooks including money lines, over/unders, run lines, parlays and more! Also get tips and strategies to increase your odds of beating the bookies!