Atlanta Braves at New York Mets 9/27/18 Pick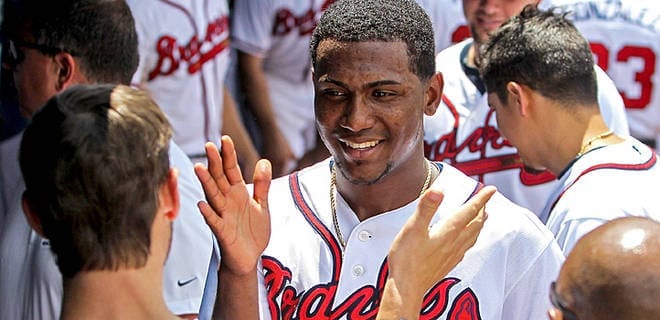 Atlanta Braves at New York Mets
Time: 7:10 PM ET
Where: Citi Field. New York, New York.
Listed Pitchers: Teheran (ATL) & Vargas (NYM)
TV: FOX Sports South & SNY
Moneyline: ATL (-130) / NYM (+110)
Over/Under: 8
Thursday night marks the end of a National League East Division series for this year when the Atlanta Braves play the New York Mets for the 19th and final time in 2018 at Citi Field. Atlanta has owned New York this season, winning 13 of their 18 meetings while outscoring the Mets 85-53. It's been another disappointing season for the New York Mets, while the Braves already clinched their first NL East Division Title since 2013. The Mets are playing for pride, and the Braves are playing for playoff seeding. After meticulously analyzing data and the facts, it appears that one club has an edge in this NL East Divisional battle.
deGrom shuts down Braves; makes Cy Young case
People got everything they paid for Wednesday night at Citi Field. New York's ace, Jacob deGrom (10-9, 1.70 ERA & 0.91 WHIP), pitched an absolute gem. Not to mention, he recorded the 1,000th strikeout of his MLB career. deGrom pitched a two-hitter thru eight dynamite frames, allowing no earned runs while punching out ten and giving up no walks. Seth Lugo (3-4, 2.66 ERA & 1.08 WHIP) earned his third save of the year after tossing a scoreless frame in the Top of the ninth inning. Michael Conforto (.246 AVG., 28 HR, 82 RBI & .353 OBP) and Dominic Smith (.227 AVG., 5 HR, 11 RBI & .261 OBP) both recorded solo-shots in the 3-0 Mets win.
Hot-lanta heading back to the show
At 89-69 (.563) overall, the Atlanta Braves already clinched the NL East Division crown for 2018. Currently, the Braves are just one game ahead of the Colorado Rockies for the second seed in the NL playoff picture. Consequently, this team still has a heck of a lot to play for with only four games left on their regular season slate. Brian Snitker's club is seeking their first World Series Championship since 1995.
With the loss on Wednesday, Atlanta saw their six-game win streak come to an end. During the stretch of dominance, the Braves outscored opponents 35-18. In fact, the Braves haven't struggled to outscore opponents all year long. The dynamic duo of Ronald Acuna Jr. (.288 AVG., 26 HR, 60 RBI & .364 OBP) and Freddie Freeman (.308 AVG., 23 HR, 95 RBI & .386 OBP) lead the charge for the potent Braves offense. Acuna Jr. leads the team in home runs despite only logging 107 games this year, and he's a front-runner for Rookie of the Year in the NL. Freeman is as steady as they come, putting forth another brilliant campaign in 2018. He's definitely the heart and soul of this lineup, and arguably the best first baseman in the business.
Atlanta has scored 747 runs thus far, which ranks sixth in the NL. The Braves have allowed 645 runs to opponents, and that's fourth-best in the NL. Their +102 run-differential is third-best in the NL. On the road, the Braves are even better than at SunTrust Park. Atlanta owns the best record on the road of National League clubs with a 46-31 (.597) this season. Overall, their road record ranks third in all of Major League Baseball. Only the Boston Red Sox and Houston Astros have fared better on the road this year.
Optimism for the Mets?
The New York Mets have been down and out for the count this year for quite some time now. Jacob deGrom winning the Cy Young would be the "team's" best accomplishment this year if it happened. You know it's been a struggle when you're all shooting for individual achievements in a team game. I've always been more of a glass half full type of person because let's face it: everybody wants to keep drinking and then fill that bad boy up some more. In essence, I think the New York Mets cup is in good hands if only those hands can find a way to remain healthy through the course of a grueling 162-game MLB Season.
Jacob deGrom (10-9, 1.70 ERA & 0.91 WHIP), Noah Syndergaard (12-4, 3.22 ERA & 1.25 WHIP) and Zack Wheeler (12-7, 3.31 ERA & 1.12 WHIP). Enough said. If that's your team's starting three, you should be looking nice if your offense has a modicum of talent. The foundation for a top-notch rotation is in place in New York, but they need to find some quality bats to up the production at the plate for next season.
At 74-84 (.468) on the season, the Mets are in fourth place in the NL East Standings. They're 15 games behind Division-winning Atlanta. Citi Field hasn't been an advantage at all for the Mets in 2018. New York's gone 34-43 (.442) at home thus far. Backing up wins has been a problem for the Mets lately. They've lost four of their last five games after winning their previous game.
Teheran vs. Vargas
Right-hander Julio Teheran (9-8, 4.03 ERA & 1.19 WHIP) is the scheduled starter for the visiting Braves Thursday night. Teheran has been solid lately. In his last ten starts, Teheran is 2-1 with a 3.34 ERA and 1.10 WHIP. However, Teheran's just been average on the road throughout this year. In 13 road starts, he's 5-5 with a 4.13 ERA and 1.15 WHIP. The veteran righty has shown a propensity for allowing senseless walks. Teheran's allowed 82 free passes this year, which is second-most amongst National League starters. The Mets haven't been able to solve the riddle that is Julio Teheran in 2018. In four starts versus New York this season, Teheran's 1-1 with a 1.72 ERA and 0.99 WHIP. Atlanta's right-hander has faced the Mets numerous times throughout his eight-year MLB career. In 12 career starts versus the Mets, Teheran is 6-2 with a 2.34 ERA and 1.12 WHIP.
Looking for the southpaw vs. righty matchup, the Mets turn to veteran left-hander Jason Vargas (6-9, 6.25 ERA & 1.49 WHIP) in Thursday's series finale. It's been a struggle for Vargas in his first season with the Mets, but he's really turned the corner as of late. In his last seven starts, Vargas is 4-1 with a 3.15 ERA and 1.08 WHIP. His numbers have been better at Citi Field, but they're nothing to write home about. In seven home starts this year, Vargas is 3-4 with a 4.78 ERA and 1.31 WHIP. This won't be the first time Vargas has encountered the Braves this season, but he'll probably be glad it'll be his last. Atlanta has roughed up the veteran lefty in three meetings. Vargas is 1-2 with a 6.34 ERA and 1.76 WHIP thru three starts versus the Braves in 2018. Four Braves batters boast career averages north of .374 against Vargas: Ozzie Albies (.375), Charlie Culberson (.429), Julio Teheran (.500) and Ronald Acuna Jr. (.800).
Where's the value?
The value here is on the Atlanta Braves -130. According to my calculations, the Braves win this game 66.6% of the time. With the line at -130, Atlanta would need to win this game 56.5% of the time to make betting on them profitable. Consequently, we have a sizeable 10.1% edge against the number by taking Atlanta on the money line. Atlanta has won 13 of 18 against New York this year, including seven of nine at Citi Field. Not to mention, the Braves are 5-1 in Julio Teheran's last six road starts at Citi Field.