Boston Red Sox vs. Baltimore Orioles Pick 5/10/21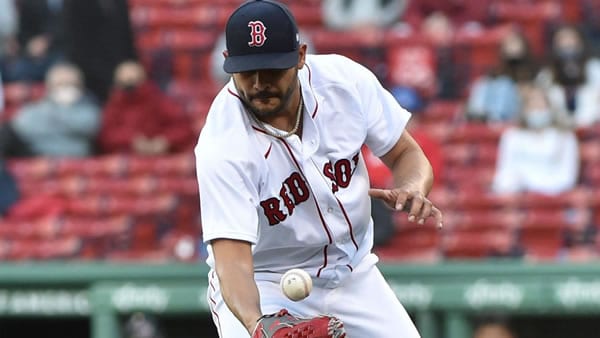 Boston Red Sox (22-13) vs. Baltimore Orioles (15-19)
When: 7:05 p.m., Monday, May 10
Where: Oriole Park at Camden Yards, Baltimore
Moneyline: BOS -140/BAL +130 (BetOnline - Awesome Live Betting! 35% Crypto Reloads! LIGHTNING FAST PAYOUTS!)
Runline: Red Sox -1.5/Orioles +1.5
Total: 9.5
Starting Pitchers: Martin Perez (0-2, 4.40 ERA, 1.47 WHIP) vs. Jorge Lopez (1-3, 6.49 ERA, 1.37 WHIP)
Wrong Way Concurrency
Home field advantage is supposed to be rather pronounced in baseball because it's both the only sport where the field dimension changes depending on the stadium, and it's the only sport where the home team is guaranteed to have the last chance to score if it's needed. But Baltimore and Boston have flipped that on its head this year, as they've played nine games this season, and the visiting team has won every time.
This might seem a bit odd, but it actually fits perfectly with how these teams have played all season in 2021. Boston has the best road record in the majors at 12-4, while Baltimore's 4-13 home record is the worst of an-yone. Nearly half of Baltimore's defeats at Camden Yards have come at the hands of the Red Sox, although they haven't yet seen Perez in 2021.
Jam Spot
One of the main reasons that Perez doesn't have a better record is the Red Sox's tendency to leave him in one inning longer than they should. Perez has shown solid control for most of the season, walking just 11 hit-ters in 28 innings, but Boston has lost in three of Perez's past four starts in part because the Red Sox have left him in for an inning longer than they should have.
Perez has come out with two outs in his last inning (the sixth in each of his past two starts) in each of his past four starts, and the only reason that the Red Sox got away with it against Seattle is that the Red Sox success-fully attacked the Mariners' bullpen, getting three runs off them in the final four innings to give themselves enough of a cushion. However, much like his team, Perez has been better away from Fenway Park than in Boston. In two road starts this year, he's got an ERA of 2.53 and has allowed just nine hits in 10.2 innings of work.
$100% Cash up to $500

Anything But a Nail-Biter
When it comes to the Orioles, close games really aren't how this team rolls. Sunday's loss was the first time in seven games that the Orioles had even played a one-run game, and only eight out of 34 Baltimore games have been decided by a run in either direction. The Red Sox haven't been much different, as only nine games in 35 have been decided by one run in either direction.
Boston's had six of its past seven road games decided by two runs or more, but despite that, the under has cashed in five of the Red Sox's past seven trips away from Fenway Park. In large part, that's been because one team has gotten the offense going, while the other team has barely done much of anything. Unfortu-nately for bettors, the Red Sox have been so inconsistent that it's been hard to predict which way they're going to go.
Betting Trends
The Red Sox are 10-1 in their past 11 against the AL East.
The Red Sox are 14-4 in their past 18 road games.
The Orioles are 14-58 in their past 72 against a team above .600.
The Orioles are 1-5 in their past six games, with the total set between 9 and 10.5 runs.
The over is 4-1 in the Red Sox's past five games.
The under is 6-1 in the Orioles' past seven home games.
The Red Sox are 37-14 in their past 51 trips to Baltimore.
The Red Sox are 42-18 in the past 60 meetings.
The over is 4-1 in the past five meetings in Baltimore.
Weather Report
It should be a comfortable night for baseball, with temperatures at 63 degrees and the wind blowing north-west at nine miles an hour, sending balls toward the first-base dugout.
Dan's pick
The Red Sox love the Inner Harbor so much that they've all but set up shop next to the National Aquarium. Boston has proven to be incredibly comfortable in Baltimore, and nothing the Orioles have tried this series has worked to re-assert what's supposed to be their home-field advantage. Throw in that Perez has been very relaxed on the road this season, and the signs all point to this being a straightforward result for the Red Sox.
With these teams not playing close games in eight of their nine encounters, it's a good time to go for the larg-er spread and a higher payout. Boston should be in control of this game. Did you know that there is an online sportsbook that offers reduced/discounted betting odds? Imagine shopping for your odds at Walmart prices rather than the more expensive option that you're currently playing into! You'd save TONS of money! Find this killer offer at BetAnySports! Dimelines for baseball betting (or better) and you only lay -105 on sides and totals for football/basketball wagers! Click here to sign up now and start saving big bucks!