[et_pb_dcsbcm_divi_breadcrumbs_module hide_homebreadcrumb="off" homebreadcrumbtext="Home" separator="sep-raquo" hide_currentbreadcrumb="off" homebreadcrumborientation="left" _builder_version="3.8″ fontsbreadcrumbs_font="Lato||||||||" fontsbreadcrumbs_text_color="#000000″ fontsbreadcrumbs_font_size="15px" fontsbreadcrumbs_line_height="16px" fontsseperator_font="||||||||" fontsbreadcrumblinks_font="||||||||" fontsbreadcrumblinks_text_color="#2567cf" custom_margin="25px|||" custom_margin_phone="30px|||" custom_margin_last_edited="off|desktop" custom_css_main_element="font-family: Helvetica Regular;" global_module="3641″ saved_tabs="all"][/et_pb_dcsbcm_divi_breadcrumbs_module]
Chicago Cubs at St. Louis Cardinals Pick 7/27/18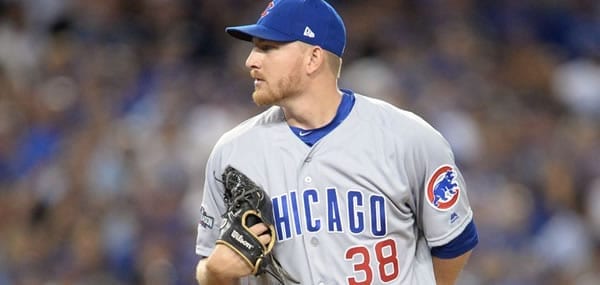 Event: Cubs vs. Cards
Date/Time: July 27, 2018 at 8:15 PM EDT
Location: Bush Stadium
Money Line: CUBS +105 / CARDINALS -115
Total line: 8.5
By Darin Zank
Fresh off a rousing come-from-behind victory Thursday the NL Central-leading Cubs open a three-game series against the rival Cardinals at Busch Stadium Friday night (8:15 ET). How are we playing this contest with our daily free MLB picks?
The MLB Betting Line
Friday's MLB betting odds opened St. Louis and Luke Weaver at around -110 over Chicago and Mike Montgomery, with an over/under of 8.5 runs. Both those figures were holding steady in early betting.
The Cardinals could also be found getting +170 giving the 1.5 runs on the MLB run line.
Friday Set-Up
The Cubs just split four games at home with Arizona, coming from behind to win Thursday's series finale 7-6. Chicago trailed the Diamondbacks Thursday 6-1 into the bottom of the fifth inning but tied the score on a two-run homer by David Bote in the bottom of the ninth and won it on an Anthony Rizzo long-dong one batter later.
With the win, the Cubs are 5-4 since the All-Star break. At 60-42 overall Chicago leads the NL Central by 2.5 games over second-place Milwaukee, and also leads Philadelphia by two games in the battle for the best record in the National League.
St. Louis, meanwhile, just dropped two of three games at Cincinnati, losing Wednesday's series finale 7-3. The Cardinals then had yesterday off.
St. Louis only trailed Wednesday 3-2 through 5 ½ innings, but the bullpen let things slip away from there.
With Wednesday's defeat, the Cardinals are 3-5 since the break and 4-5 since changing managers.
At 51-51 St. Louis trails Chicago by nine games in the NL Central but sits only 4.5 games behind Atlanta in the battle for the second National League wild-card spot.
The Cardinals lead this season series seven games to six.
On a personnel note, the Cubs are without 3B Kris Bryant, who's on the DL with a sore shoulder.
Friday's Starting Arms
Weaver (5-9, 4.79), by our strict standards, is 6/20 on quality starts this season, but two for his last three. Last Saturday he allowed three runs in four innings, with five walks, in a 7-2 loss to these Cubbies. But in his two starts previous to that he held the White Sox and Giants to three runs and five hits through 14 innings, with 14 strikeouts. On the year St. Louis is 9-11 with Weaver, with the overs going 11-9.
In three starts this season against Chicago Weaver has allowed 13 runs and 22 hits through just 12 innings. The Cardinals are 1-2 in those games, while the overs are 3-0.
Lefty Montgomery (3-3, 3.73) is 5/10 on quality starts this year, but only one for his last four. Last Saturday he held this St. Louis lineup to one run and five hits through six innings, although the Cubs lost that game 6-3. But in his three starts previous to that he allowed 10 earned runs and 21 hits through 15 innings. On the season Chicago is 5-5 with Montgomery, with the totals splitting 5-5.
In three appearances this year against these Cardinals, including two in relief, Montgomery has allowed one run through 10 innings.
Based on performance this year against Friday's opponents we're giving the Cubs the edge in this pitching match-up.
Friday's Batting Splits
Chicago ranks No. 2 in the Majors this year against right-handed pitching with a .267 team batting average, No. 1 with a .348 team OBP and 7th with a .426 team slugging percentage.
St. Louis ranks 20th against left-handed pitching with a .238 BA, 16th with a .319 OBP and 14th with a .409 slugging percentage.
So the Cubs get our baseball handicapping check-mark in the stick splits for Friday.
The Bullpens
The Cubbies bullpen ranks 4th the ML with a 3.29 ERA and 14th with a 1.30 WHIP while going 30/42 on save opportunities.
The Cardinals pen ranks 25th in ERA at 4.72 and 25th in WHIP at 1.46 while going 24/40 on save conversions.
We gotta give Chicago the advantage in the comparison of the bullpens, too.
Totals Report
The unders are 26-20 in games played at Busch Stadium this year, which are averaging 8.4 total runs per.
The overs are 9-3-1 in this season series, with the games averaging a healthy 11 runs per.
Free MLB Picks
The Cubs own our handicapping check-marks in the three main categories, and they're high off Thursday's victory. Plus, they're underdogs on the MLB betting odds. We're betting Chicago here.
For more baseball predictions and forecasts on a variety events visit our Sports Betting Forum.
<aside><!-- [et_pb_line_break_holder] --><div class="widget105"><!-- [et_pb_line_break_holder] --><h3>Biggest Sportsbook Bonuses</h3><!-- [et_pb_line_break_holder] --><div class="widgetlist"><!-- [et_pb_line_break_holder] --><div class="col1"><!-- [et_pb_line_break_holder] --><img src="https://www.predictem.com/wp-content/uploads/2018/04/bovada.png" width="150" alt="Bovada" /><!-- [et_pb_line_break_holder] --></div><!-- [et_pb_line_break_holder] --><div class="col2"><!-- [et_pb_line_break_holder] --><span class="list"><b>50% Cash</b></span><br><!-- [et_pb_line_break_holder] --><span class="list">5x Rollover</span><!-- [et_pb_line_break_holder] --> </div><!-- [et_pb_line_break_holder] --> <div class="col3"><!-- [et_pb_line_break_holder] --><a href="https://www.predictem.com/betting-sites/bovada/"><button class="btn-widget">Review</button></a><!-- [et_pb_line_break_holder] --></div><!-- [et_pb_line_break_holder] --></div><!-- [et_pb_line_break_holder] --><div class="widgetlist"><!-- [et_pb_line_break_holder] --><div class="col1"><!-- [et_pb_line_break_holder] --><img src="https://www.predictem.com/wp-content/uploads/2018/04/intertops.png" width="150" alt="Intertops" /><!-- [et_pb_line_break_holder] --></div><!-- [et_pb_line_break_holder] --><div class="col2"><!-- [et_pb_line_break_holder] --><span class="list"><b>50% Cash</b></span><br><!-- [et_pb_line_break_holder] --><span class="list">4x Rollover</span><!-- [et_pb_line_break_holder] --> </div><!-- [et_pb_line_break_holder] --><div class="col3"><!-- [et_pb_line_break_holder] --><a href="https://www.predictem.com/betting-sites/intertops/"><button class="btn-widget">Review</button></a><!-- [et_pb_line_break_holder] --></div><!-- [et_pb_line_break_holder] --></div><!-- [et_pb_line_break_holder] --><div class="widgetlist"><!-- [et_pb_line_break_holder] --><div class="col1"><!-- [et_pb_line_break_holder] --><img src="https://www.predictem.com/wp-content/uploads/2018/05/gt-bets.png" width="150" alt="GtBets" /><!-- [et_pb_line_break_holder] --></div><!-- [et_pb_line_break_holder] --><div class="col2"><!-- [et_pb_line_break_holder] --><span class="list"><b>150% Cash</b></span><br><!-- [et_pb_line_break_holder] --><span class="list">4x Rollover</span><!-- [et_pb_line_break_holder] --> </div><!-- [et_pb_line_break_holder] --> <div class="col3"><!-- [et_pb_line_break_holder] --> <a href="https://www.predictem.com/betting-sites/gtbets/"><button class="btn-widget">Review</button></a><!-- [et_pb_line_break_holder] --></div><!-- [et_pb_line_break_holder] --></div><!-- [et_pb_line_break_holder] --><div class="widget-footer"><a href="https://www.predictem.com/best-sportsbooks/bonuses/">See all sportsbook bonuses</a></div><!-- [et_pb_line_break_holder] --> </div></aside>