[et_pb_dcsbcm_divi_breadcrumbs_module hide_homebreadcrumb="off" homebreadcrumbtext="Home" separator="sep-raquo" hide_currentbreadcrumb="off" homebreadcrumborientation="left" _builder_version="3.8″ fontsbreadcrumbs_font="Lato||||||||" fontsbreadcrumbs_text_color="#000000″ fontsbreadcrumbs_font_size="15px" fontsbreadcrumbs_line_height="16px" fontsseperator_font="||||||||" fontsbreadcrumblinks_font="||||||||" fontsbreadcrumblinks_text_color="#2567cf" custom_margin="25px|||" custom_margin_phone="30px|||" custom_margin_last_edited="off|desktop" custom_css_main_element="font-family: Helvetica Regular;" global_module="3641″ saved_tabs="all"][/et_pb_dcsbcm_divi_breadcrumbs_module]
Barking Dog: Dodgers at Giants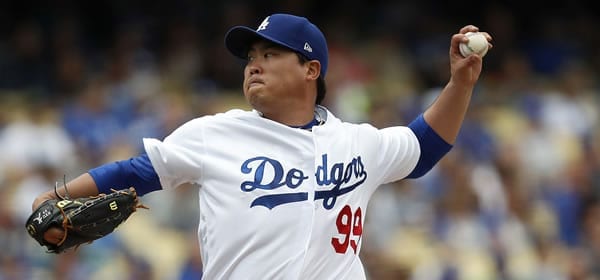 Los Angeles Dodgers at San Francisco Giants 9/28/18
Time: 10:15 PM ET
Where: AT&T Park, San Francisco, CA
Listed Pitchers: Hyun-Jin Ryu (LA) vs. Madison Bumgarner (SF)
TV: MLB, SportsNet LA, NBCS Bay Area
Moneyline: Dodgers -180/Giants +170
Over/Under: 7
The Dodgers are trying to pin down a playoff spot, while the Giants are struggling through a lost season. But you really can throw out the records when these teams meet, and San Francisco would love nothing more at this point to play pain-in-the-ass to LA. How are we playing the opener of this season-ending series with our daily free MLB picks?
MLB Betting Line
Friday's MLB betting odds opened Los Angeles at around -170 for this game, with an over/under of 7 runs. The early betting action then bumped that line as much as 15 cents, to around -185.
The Dodgers could also be found at around -115 giving the run and a half on the MLB run line.
Set-Up
Los Angeles just dropped two of three games at Arizona this week, losing Wednesday's series rubber match 7-2. The Dodgers then had yesterday off.
LA led Wednesday's game 2-0 through an inning and a half but gave up three runs in the bottom of the second and three more in the fifth and went down as a -130 favorite with Ross Stripling.
So the Dodgers are 3-3 over their last six games and 88-71 overall. LA trails division-leading Colorado by one game in the NL West race, but leads St. Louis by one game in the battle for the second National League wild-card spot.
The Giants, meanwhile, just lost two of three at home to San Diego, dropping Wednesday's rubber match 3-2. So San Francisco is only 1-6 over its last seven games and 5-18 over its previous 23.
At 73-86 overall San Francisco is playing out the string, as they say. But you know the Giants would love to spoil LA's playoff hopes this weekend.
San Francisco, 15 games behind the Dodgers in the standings, leads this season series nine games to seven.
Friday's Starters
Lefty Bumgarner (6-6, 3.20), by our strict standards, is 11/20 on quality starts this season, but only one for his last four. Last Friday he gave up three runs and eight hits through six innings against St. Louis, and over his previous four starts, he's allowed 14 earned runs and 25 hits through 23 innings. On the season the Giants are 9-11 with Bumgarner, 1-3 over his last four starts.
In two starts this season against Los Angeles Bumgarner allowed five runs and 12 hits through 12 innings. San Francisco split those two games.
Fellow southpaw Ryu (6-3, 2.00) is 8/13 on quality starts this year, and four for his last five. Last Sunday he tossed six innings of four-hit, shutout ball against the Padres, and over his last five starts he's allowed seven ER through 36 2/3 innings (1.53 ERA). On the season the Dodgers are 8-5 with Ryu.
In two starts this year against the Giants Ryu allowed just two runs and seven hits through 11 2/3 innings. LA split those two games.
On the whole, we must give Ryu and the Dodgers the edge in this pitching match-up.
Friday's Batting Splits
LA owns a .237/.322/.408 split against left-handed pitching this season.
San Francisco owns a .237/.296/.366 split against lefties.
We'll give the Dodgers the edge in the splits with the sticks for Friday.
The Bullpens
The Los Angeles bullpen owns a 3.74 ERA and a 1.22 WHIP.
The Giants pen owns a 3.66 ERA and a 1.27 WHIP.
We'll call the battle of the bullpens a push here.
Totals Report
Unders are 41-33 in games played at AT&T Park this year, which are averaging 8.0 total runs per, fourth-fewest among all ML ballparks.
Unders are 10-5-1 in Dodgers-Giants games this season.
Unders are 12-6 in Bumgarner's starts this year.
Free MLB Picks
Most signs point toward the Dodgers here, but we don't care. Sometimes when betting baseball, you've got to go with intangibles like rivalry and pressure and animosity toward opponents. And there's undoubtedly value whenever you can get Bumgarner as an underdog, and here he's getting a big price. We're going with the Giants for our free MLB pick for Friday. Speaking of picks- Get our expert picks on MLB, NFL and college football all for free! Check it out!
<aside><!-- [et_pb_line_break_holder] --><div class="widget105"><!-- [et_pb_line_break_holder] --><h4 class="cash">Best Sportsbook Bonuses</h4><!-- [et_pb_line_break_holder] --><div class="widgetlist"><!-- [et_pb_line_break_holder] --><div class="col1"><!-- [et_pb_line_break_holder] --> <a href="https://www.predictem.com/out/IntertopsB"><img src="https://www.predictem.com/wp-content/uploads/2018/04/intertops.png" width="" alt="Bovada" /></a><!-- [et_pb_line_break_holder] --></div><!-- [et_pb_line_break_holder] --><div class="col2"><!-- [et_pb_line_break_holder] --><span class="list"><b>50% Cash</b></span><br><!-- [et_pb_line_break_holder] --><span class="list">4x Rollover</span><!-- [et_pb_line_break_holder] --> </div><!-- [et_pb_line_break_holder] --> <div class="col3"><!-- [et_pb_line_break_holder] --><a href="https://www.predictem.com/betting-sites/intertops/"><button class="btn-widget">Review</button></a><!-- [et_pb_line_break_holder] --></div><!-- [et_pb_line_break_holder] --></div><!-- [et_pb_line_break_holder] --><div class="widgetlist"><!-- [et_pb_line_break_holder] --><div class="col1"><!-- [et_pb_line_break_holder] --> <a href="https://www.predictem.com/out/BovadaB"><img src="https://www.predictem.com/wp-content/uploads/2018/04/bovada.png" width="" alt="Intertops" /></a><!-- [et_pb_line_break_holder] --></div><!-- [et_pb_line_break_holder] --><div class="col2"><!-- [et_pb_line_break_holder] --><span class="list"><b>50% Cash</b></span><br><!-- [et_pb_line_break_holder] --><span class="list">10x Rollover</span><!-- [et_pb_line_break_holder] --> </div><!-- [et_pb_line_break_holder] --><div class="col3"><!-- [et_pb_line_break_holder] --><a href="https://www.predictem.com/betting-sites/bovada/"><button class="btn-widget">Review</button></a><!-- [et_pb_line_break_holder] --></div><!-- [et_pb_line_break_holder] --></div><!-- [et_pb_line_break_holder] --><div class="widgetlist"><!-- [et_pb_line_break_holder] --><div class="col1"><!-- [et_pb_line_break_holder] --> <a href="https://www.predictem.com/out/GtbetsB"><img src="https://www.predictem.com/wp-content/uploads/2018/05/gt-bets.png" width="" alt="GtBets" /></a><!-- [et_pb_line_break_holder] --></div><!-- [et_pb_line_break_holder] --><div class="col2"><!-- [et_pb_line_break_holder] --><span class="list"><b>100% Cash</b></span><br><!-- [et_pb_line_break_holder] --><span class="list">20x Rollover</span><!-- [et_pb_line_break_holder] --> </div><!-- [et_pb_line_break_holder] --> <div class="col3"><!-- [et_pb_line_break_holder] --> <a href="https://www.predictem.com/betting-sites/gtbets/"><button class="btn-widget">Review</button></a><!-- [et_pb_line_break_holder] --></div><!-- [et_pb_line_break_holder] --></div><!-- [et_pb_line_break_holder] --><div class="widget-footer"><a href="https://www.predictem.com/best-sportsbooks/bonuses/">See all sportsbook bonuses</a></div><!-- [et_pb_line_break_holder] --> </div></aside>
<div style="width:340px; margin: 0 auto;"><!-- [et_pb_line_break_holder] --> <a class="twitter-timeline" data-width="340" data-height="500" data-link-color="#008156" href="https://twitter.com/PredictemPicks?ref_src=twsrc%5Etfw">Tweets by PredictemPicks</a> <script async src="https://platform.twitter.com/widgets.js" charset="utf-8"></script><!-- [et_pb_line_break_holder] --></div>