[et_pb_dcsbcm_divi_breadcrumbs_module hide_homebreadcrumb="off" homebreadcrumbtext="Home" separator="sep-raquo" hide_currentbreadcrumb="off" homebreadcrumborientation="left" _builder_version="3.8″ fontsbreadcrumbs_font="Lato||||||||" fontsbreadcrumbs_text_color="#000000″ fontsbreadcrumbs_font_size="15px" fontsbreadcrumbs_line_height="16px" fontsseperator_font="||||||||" fontsbreadcrumblinks_font="||||||||" fontsbreadcrumblinks_text_color="#2567cf" custom_margin="25px|||" custom_margin_phone="30px|||" custom_margin_last_edited="off|desktop" custom_css_main_element="font-family: Helvetica Regular;" global_module="3641″ saved_tabs="all" /]
MLB Pick: Bet on Dodgers Bats Over Astros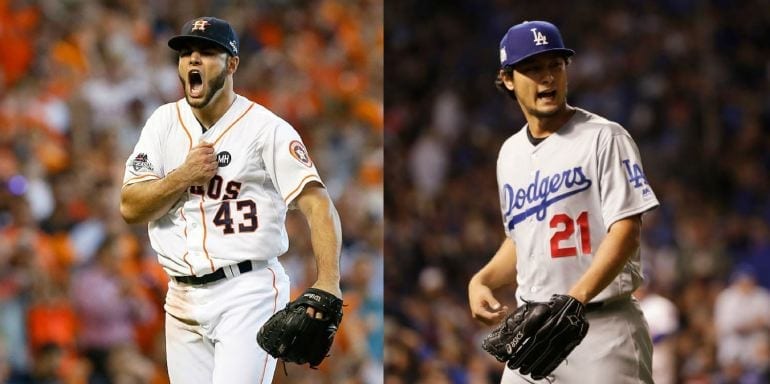 MLB offers up a World Series rematch this weekend as the Astros and Dodgers do battle at Chavez Ravine. How are we playing Saturday night's contest (9:05 ET) with our daily free MLB picks?
MLB Betting Line
Saturday's MLB betting odds opened Los Angeles and Kenta Maeda at -115 over Houston and Lance McCullers, with an over/under of 7.5 runs. Early MLB betting action then bumped that line a dime, to around -125.
The Dodgers could also be bet getting upwards of +175 giving the run and a half on the run line.
Saturday Set-Up
The Astros grabbed Game 1 of this series Friday night 2-1. Houston won as a -105 pick 'em with Justin Verlander, and the game played under a total of 7.5 runs, with no scoring after the second inning.
With Friday's victory the Astros have won three in a row, following a five-game losing streak. They're only 6-6 since the All-Star break but also a ML-best 38-17 on the road on the season.
At 70-41 overall Houston leads the AL West by five games over second-place Oakland.
The Dodgers, meanwhile, are 8-7 since the break. At 61-50 overall Los Angeles is tied for the lead in the NL West with Arizona, two games ahead of Colorado. The Dodgers also sit just a half-game back of Atlanta in the battle for the second National League wild-card spot.
This series is the first encounter between these teams this season. Last season Houston defeated Los Angeles in seven games in the World Series.
On the personnel front Houston is playing with both 2B Jose Altuve and SS Carlos Correa, who are doing time on the DL with injuries.
Saturday's Starting Arms
Maeda (7-6, 3.48), by our strict standards, is just 5/18 on quality starts this season, and 0 for his last four. Monday he gave up four runs on seven hits and three walks through 4 2/3 innings against Milwaukee, and just before that he gave up four runs through seven innings at Philadelphia. On the year the Dodgers are only 8-10 with Maeda, but the unders are a lopsided 13-4.
This will be Maeda's first-ever start against Houston, but he did make four appearances in relief in the World Series last fall, allowing one run and five hits through 5 2/3 innings.
McCullers (10-6, 4.05) is 11/21 on quality starts but 0 for his last three. Last Sunday he allowed four runs – three earned – and six hits through 5 1/3 innings, although he also struck out 11, against Texas, but over his last three starts he's been touched for 14 ER and 16 hits, with 10 walks, through 13 2/3 innings. On the season the Astros are 13-8 with McCullers, but 0-3 over his last three outings. Also, the totals are 11-9.
In two starts against the Dodgers in the World Series last fall McCullers gave up three runs and seven hits through 7 2/3 innings. Houston won both those games.
For our handicapping purposes we're calling this pitching match-up a push.
Saturday's Batting Splits
Houston ranks 14th in the Majors this year against right-handed pitching with a .251 team batting average, sixth with a .327 team OBP and 10th with a .419 team slugging percentage.
Los Angeles ranks 11th against right-handed pitching with a .252 BA, fourth with a .333 OBP and second with a .453 slugging percentage.
We'll give the Dodgers the check-mark with the sticks for Saturday, especially with the Astros missing Altuve and Correa.
The Bullpens
The Houston bullpen ranks third in the ML with a 3.15 ERA and No. 1 with a 1.05 WHIP.
The Los Angeles pen ranks 11th in ERA at 3.73 and eighth in WHIP at 1.24.
So the Astros hold the edge in the comparison of the bullpens.
Totals Report
The unders are 28-27 in games played at Dodger Stadium this year, which are averaging 8.2 total runs per.
The unders went 4-2-1 in last year's World Series, as five of those games saw eight or fewer runs scored.
Free MLB Picks
Houston's scored three runs or less six of its last eight times out. LA, meanwhile, popped off for 21 runs Thursday against the Brewers, then scored once Friday. Our guess is they'll end up somewhere in the middle of those two numbers Saturday, probably close to 5-6. We're betting the Dodgers here.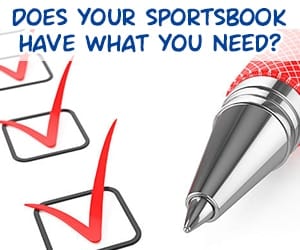 <div class="widget105"><!-- [et_pb_line_break_holder] --><h4 class="parlays">Best Parlays</h4><!-- [et_pb_line_break_holder] --><!-- [et_pb_line_break_holder] --><table id="parlay"><!-- [et_pb_line_break_holder] --> <tr><!-- [et_pb_line_break_holder] --> <th><span class="team"></span></th><!-- [et_pb_line_break_holder] --> <th>2 Team Parlay</th><!-- [et_pb_line_break_holder] --> <th>3 Team Parlay</th><!-- [et_pb_line_break_holder] --> <th>4 Team Parlay</th><!-- [et_pb_line_break_holder] --> </tr><!-- [et_pb_line_break_holder] --> <tr><!-- [et_pb_line_break_holder] --> <td><a href="https://affiliates.sportbet.com/tracking/Affiliate.aspx?idBook=2&mediaTypeID=220&AffUrlID=80&LandingPageID=55"><img src="https://www.predictem.com/wp-content/uploads/2018/06/sportbet-sm.png"></a></td><!-- [et_pb_line_break_holder] --> <td>2.74 to 1</td><!-- [et_pb_line_break_holder] --> <td>6.24 to 1</td><!-- [et_pb_line_break_holder] --> <td>13 to 1</td><!-- [et_pb_line_break_holder] --> </tr><!-- [et_pb_line_break_holder] --> <tr><!-- [et_pb_line_break_holder] --> <td><a href="https://record.bettingpartners.com/_5vfuDOH_H2wWPf2JTsWUjGNd7ZgqdRLk/1/"><img src="https://www.predictem.com/wp-content/uploads/2018/06/bovada_sm.png"></a></td><!-- [et_pb_line_break_holder] --> <td>2.64 to 1</td><!-- [et_pb_line_break_holder] --> <td>6 to 1</td><!-- [et_pb_line_break_holder] --> <td>12.3 to 1</td><!-- [et_pb_line_break_holder] --> </tr><!-- [et_pb_line_break_holder] --> <tr><!-- [et_pb_line_break_holder] --> <td><a href="https://record.webpartners.co/_jGZUKO3JWgwmunhzcKAZ62Nd7ZgqdRLk/1/"><img src="https://www.predictem.com/wp-content/uploads/2018/06/mybookie-sm.png"></a></td><!-- [et_pb_line_break_holder] --> <td>2.64 to 1</td><!-- [et_pb_line_break_holder] --> <td>6 to 1</td><!-- [et_pb_line_break_holder] --> <td>12 to 1</td><!-- [et_pb_line_break_holder] --> </tr><!-- [et_pb_line_break_holder] --></table><!-- [et_pb_line_break_holder] --><div class="widget-footer"><a href="https://www.predictem.com/best-sportsbooks/parlays-odds/">See all Sportsbook Parlays</a></div><!-- [et_pb_line_break_holder] --></div><!-- [et_pb_line_break_holder] --><!-- [et_pb_line_break_holder] --><!-- [et_pb_line_break_holder] --><style><!-- [et_pb_line_break_holder] --> #parlay {border-collapse: collapse;<!-- [et_pb_line_break_holder] --> width: 100%; border: 0px;<!-- [et_pb_line_break_holder] --> font-size: 14px!important;}<!-- [et_pb_line_break_holder] --> #parlay td, #parlay th {<!-- [et_pb_line_break_holder] --> border: 0px;<!-- [et_pb_line_break_holder] --> padding: 8px;<!-- [et_pb_line_break_holder] --> text-align: left;}<!-- [et_pb_line_break_holder] --> #parlay th {<!-- [et_pb_line_break_holder] --> padding-top: 5px;<!-- [et_pb_line_break_holder] --> padding-bottom: 5px;<!-- [et_pb_line_break_holder] --> font-weight: bold;<!-- [et_pb_line_break_holder] --> line-height: 14px;<!-- [et_pb_line_break_holder] --> text-align: center;<!-- [et_pb_line_break_holder] --> color: #000;}<!-- [et_pb_line_break_holder] --> #parlay tr {border-bottom: 1px solid #edeef0;}<!-- [et_pb_line_break_holder] --> .team {font-size: 16px;}<!-- [et_pb_line_break_holder] --></style>
<div style="width:340px; margin: 0 auto;"><!-- [et_pb_line_break_holder] --> <a class="twitter-timeline" data-width="340" data-height="500" data-link-color="#008156" href="https://twitter.com/PredictemPicks?ref_src=twsrc%5Etfw">Tweets by PredictemPicks</a> <script async src="https://platform.twitter.com/widgets.js" charset="utf-8"></script><!-- [et_pb_line_break_holder] --></div>