[et_pb_dcsbcm_divi_breadcrumbs_module hide_homebreadcrumb="off" homebreadcrumbtext="Home" separator="sep-raquo" hide_currentbreadcrumb="off" homebreadcrumborientation="left" _builder_version="3.8″ fontsbreadcrumbs_font="Lato||||||||" fontsbreadcrumbs_text_color="#000000″ fontsbreadcrumbs_font_size="15px" fontsbreadcrumbs_line_height="16px" fontsseperator_font="||||||||" fontsbreadcrumblinks_font="||||||||" fontsbreadcrumblinks_text_color="#2567cf" custom_margin="25px|||" custom_margin_phone="30px|||" custom_margin_last_edited="off|desktop" custom_css_main_element="font-family: Helvetica Regular;" global_module="3641″ saved_tabs="all"][/et_pb_dcsbcm_divi_breadcrumbs_module]
Free Pick: San Diego Padres at Philadelphia Phillies 7/20/18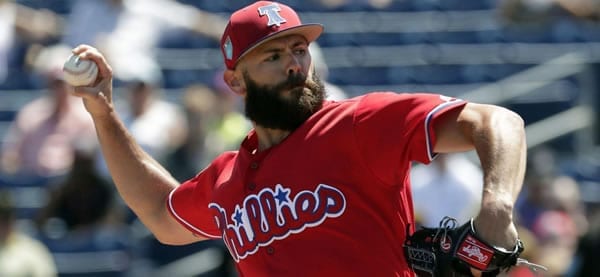 San Diego Padres (40-59) vs. Philadelphia Phillies (53-42)
When: Friday, July 20th, 2018, 7:05 PM EST
Where: Citizens Bank Ballpark, Philadelphia, PA
Weather: 80 degrees, wind blowing out to left at 10mph
by Kevin West, Baseball Handicapper, Predictem.com
Betting Odds: SD +153/Phi -153
Over/Under: Opened at 8, has been bet up to 8.5
The San Diego Padres start the second half of the 2018 MLB season continuing to build for the future, with what is seemingly no regard for winning at the current time. All one needs to confirm this plan is the fact that they're sending perennial gas-can Clayton Richard to the hill once again. A triple-A pitcher at best, Richard presents us with a wonderful opportunity to make some coin at the very fair price of -163. Let's take a look at a slew of reasons the Phils are the best bet on the board tonight.
The Phillies are Good?
It seems so weird to say that because Philadelphia has been somewhat horrible over the past few years. Off most handicapper's radar, the Phillies are 30-16 at home. Even I was surprised to see that their overall record at this point is 53-42. It's really easy to get stuck behind the 8-ball with regards to evolution. The team has played so poorly over the last few years (66-96 last season) that we kind of get it etched in stone in our minds that Philly stinks, and will always stink. The truth is just the opposite though. Bad teams accumulate tons of high draft picks over the years, build a strong minor league system, then take another lump for a season while all these players gain experience, add a free agent or two, and voila, they're good again. This is exactly what has happened with Philadelphia. All those seeds planted years ago are starting to bear fruit.
Speaking of good. Guys, if you're not betting at a sportsbook with reduced lines for MLB, now is the time to start. Check out our list of baseball sportsbooks offering dime lines.
Walmart Pricing
The oddsmakers have seemingly "rolled back prices" tonight, as Walmart does. We're getting something valued at $2.10 for the nifty price of $1.63. I generally tend to discourage people from "banging" a game (adding extra units), and I won't here either; however, I'll secretly be backing my truck up to the loading dock here, taking as much as I can before my conscience and internal money management alarm goes off. I'll be on this one for 2.5x my normal wager because Clayton Richard is in a bad spot tonight. Conversely, Jake Arrieta is in a great spot.
The Heat is On
I have a sneaking suspicion that Clayton Richard doesn't do well when the temperatures go from warm to HOT. Historically speaking, the south-paw has shown a consistent trend of falling apart in the month of July, when the temps go up. This July, he has a 5.29 ERA, lofty 1.82 WHIP. Last season he had a horrible 7.36 ERA, 1.94 WHIP and hitters scorched him for a.377 average. He only threw 1 inning in 2016, so we throw that one out. In 2015, a 5.40 ERA and 1.60 WHIP. Over the course of his career, he's accrued a 5.72 ERA, 1.56 WHIP and allowed a .342 average to opposing hitters.
There's No Place Like…Road?
If I were Padres manager Andy Green, there's no way in Hades I'd pitch this guy on the road. Over the course of his career, his splits are much worse. With an away ERA of 5+, Richard is always a consideration to fade (if this price is right; which it is tonight).
Arrieta is Solid
Many got down on Arrieta after he had a couple of killer years for the Cubs. He's still very solid and when you take into consideration that he's pitching at Citizens Bank Ballpark, which is hitter-friendly and yields the 3rd most longballs in the bigs, it's pretty impressive that he's been able to have a 2.53 ERA, 1.09 WHIP, while holding opponents to a .214 average.
More Reasons Why I'm Betting the Phillies Tonight
The Padres stink. Their record of 40-59 means they lose 2 out of every 3 games.
They're cold. The team has gone 3-11 in July and have lost 5 in a row.
The Phillies win the games they're supposed to. Philadelphia is 11-4 as a home favorite of -125 to -175.
As noted above, the Phillies are a great home team at 30-16.
They've been playing well lately. The team has gone 9-5 in July.
The Phils have been home since the start of the All Star break. They're been able to live in the comforts of their own beds and are well rested. Conversely, the Padres had to fly east and adjust to a 3 hour time zone difference.
The Padres have only scored more than 5 runs twice in their last 21 games.
Clayton Richard is having control issues. He's walked 14 hitters in his last 17 innings.
Jake Arrieta is throwing well. He has a 1.89 ERA and 1.00 WHIP over his last 3 starts. Two of which were road games.
The Padres roster has hit .074 vs. Arrieta (career) in 32 plate appearances.
Arrieta has only allowed 2 earned runs in his last 20 innings vs. SD.
Betting Trends
The Padres are 6-21 in their last 27 overall.
The Padres are 3-13 in their last 16 vs. a team with a winning record.
The Phils are 17-6 in their last 23 home games vs. a left-handed starter.
Philly is 4-1 in Arrietas last 5 starts.
The Padres are 19-40 in the last 59 meetings with the Phillies and are 4-11 in their last 15 games at Citizens Bank Ballpark.
Kevin's Prediction to Win:
Philadelphia Phillies -163.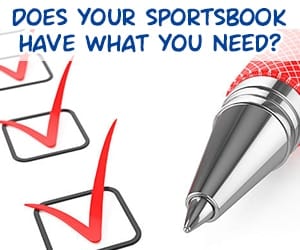 <div class="widget105"><!-- [et_pb_line_break_holder] --><h4 class="parlays">Best Parlays</h4><!-- [et_pb_line_break_holder] --><!-- [et_pb_line_break_holder] --><table id="parlay"><!-- [et_pb_line_break_holder] --> <tr><!-- [et_pb_line_break_holder] --> <th><span class="team"></span></th><!-- [et_pb_line_break_holder] --> <th>2 Team Parlay</th><!-- [et_pb_line_break_holder] --> <th>3 Team Parlay</th><!-- [et_pb_line_break_holder] --> <th>4 Team Parlay</th><!-- [et_pb_line_break_holder] --> </tr><!-- [et_pb_line_break_holder] --> <tr><!-- [et_pb_line_break_holder] --> <td><a href="https://affiliates.sportbet.com/tracking/Affiliate.aspx?idBook=2&mediaTypeID=220&AffUrlID=80&LandingPageID=55"><img src="https://www.predictem.com/wp-content/uploads/2018/06/sportbet-sm.png"></a></td><!-- [et_pb_line_break_holder] --> <td>2.74 to 1</td><!-- [et_pb_line_break_holder] --> <td>6.24 to 1</td><!-- [et_pb_line_break_holder] --> <td>13 to 1</td><!-- [et_pb_line_break_holder] --> </tr><!-- [et_pb_line_break_holder] --> <tr><!-- [et_pb_line_break_holder] --> <td><a href="https://record.bettingpartners.com/_5vfuDOH_H2wWPf2JTsWUjGNd7ZgqdRLk/1/"><img src="https://www.predictem.com/wp-content/uploads/2018/06/bovada_sm.png"></a></td><!-- [et_pb_line_break_holder] --> <td>2.64 to 1</td><!-- [et_pb_line_break_holder] --> <td>6 to 1</td><!-- [et_pb_line_break_holder] --> <td>12.3 to 1</td><!-- [et_pb_line_break_holder] --> </tr><!-- [et_pb_line_break_holder] --> <tr><!-- [et_pb_line_break_holder] --> <td><a href="https://record.webpartners.co/_jGZUKO3JWgwmunhzcKAZ62Nd7ZgqdRLk/1/"><img src="https://www.predictem.com/wp-content/uploads/2018/06/mybookie-sm.png"></a></td><!-- [et_pb_line_break_holder] --> <td>2.64 to 1</td><!-- [et_pb_line_break_holder] --> <td>6 to 1</td><!-- [et_pb_line_break_holder] --> <td>12 to 1</td><!-- [et_pb_line_break_holder] --> </tr><!-- [et_pb_line_break_holder] --></table><!-- [et_pb_line_break_holder] --><div class="widget-footer"><a href="https://www.predictem.com/best-sportsbooks/parlays-odds/">See all Sportsbook Parlays</a></div><!-- [et_pb_line_break_holder] --></div><!-- [et_pb_line_break_holder] --><!-- [et_pb_line_break_holder] --><!-- [et_pb_line_break_holder] --><style><!-- [et_pb_line_break_holder] --> #parlay {border-collapse: collapse;<!-- [et_pb_line_break_holder] --> width: 100%; border: 0px;<!-- [et_pb_line_break_holder] --> font-size: 14px!important;}<!-- [et_pb_line_break_holder] --> #parlay td, #parlay th {<!-- [et_pb_line_break_holder] --> border: 0px;<!-- [et_pb_line_break_holder] --> padding: 8px;<!-- [et_pb_line_break_holder] --> text-align: left;}<!-- [et_pb_line_break_holder] --> #parlay th {<!-- [et_pb_line_break_holder] --> padding-top: 5px;<!-- [et_pb_line_break_holder] --> padding-bottom: 5px;<!-- [et_pb_line_break_holder] --> font-weight: bold;<!-- [et_pb_line_break_holder] --> line-height: 14px;<!-- [et_pb_line_break_holder] --> text-align: center;<!-- [et_pb_line_break_holder] --> color: #000;}<!-- [et_pb_line_break_holder] --> #parlay tr {border-bottom: 1px solid #edeef0;}<!-- [et_pb_line_break_holder] --> .team {font-size: 16px;}<!-- [et_pb_line_break_holder] --></style>
<div style="width:340px; margin: 0 auto;"><!-- [et_pb_line_break_holder] --> <a class="twitter-timeline" data-width="340" data-height="500" data-link-color="#008156" href="https://twitter.com/PredictemPicks?ref_src=twsrc%5Etfw">Tweets by PredictemPicks</a> <script async src="https://platform.twitter.com/widgets.js" charset="utf-8"></script><!-- [et_pb_line_break_holder] --></div>