Houston Astros vs. Tampa Bay Rays Pick – Game 4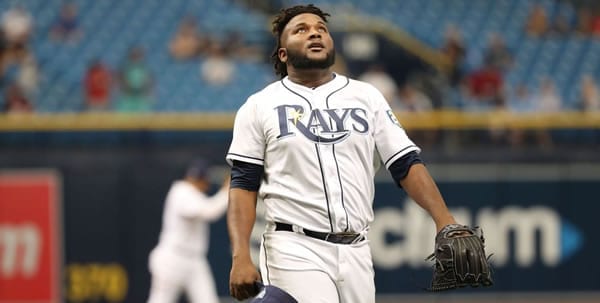 Tampa Bay Rays (98-68) vs. Houston Astros (109-56)
When: 7:05 p.m., Tuesday, October 8
Where: Tropicana Field, St. Petersburg, Fla.
TV: FS1
Moneyline: HOU -240/TB +210 (SportsBetting.ag)
Runline: Astros -1.5/Rays +1.5
Total: 7.5
Starting Pitchers: Justin Verlander (21-6, 1-0 postseason, 2.58 ERA, 0.80 WHIP) vs. Diego Castillo (5-8, 0-0 post-season, 3.41 ERA, 1.24 WHIP)
Short Rest
Those two words might strike more fear into the hearts of baseball managers than any other because they can singlehandedly turn a dominant ace into a hittable pitcher. Just ask the Cleveland Indians, who were forced to ask Corey Kluber to pitch on short rest twice in the 2016 World Series because he was the only healthy pitcher that they had. Kluber got through it once, but couldn't do it a second time. He wasn't bad, but he wasn't his usual dominant self, and the Cubs overcame him to win the World Series.
Now the Astros are going to ask Justin Verlander to go on short rest to try to close out the Rays. Verlander has never done this before and openly admits it, but he made the decision to take the ball in this game because he didn't want to risk losing this one to the Rays and giving them a chance at a winner-take-all game in Hou-ston.
Of course, this strategy comes with some serious risks. If Verlander doesn't pitch well and the Astros lose, not only will Tampa Bay get that winner-take-all game anyway, but Houston likely won't have Verlander at all, be-cause he'd be pitching on one day's rest if A.J. Hinch tried to use him. If Verlander is Verlander, the Astros should be fine. If not, this could be a surprise.
Bullpen Game
Tampa Bay is one of the only teams bold or crazy enough to try a bullpen game with its season on the line. But that's the Rays, who have been known to think outside the box regardless of the situation. Tampa Bay didn't have to dive into the pen in Game 3 thanks to rocking Zack Greinke, and the Rays are hoping that will give Castillo enough of an edge to get through Houston early and give the rest of the bullpen a chance to close the door.
Castillo faced the Astros in Game 2 and didn't pitch poorly at all, giving up one hit in 1.2 innings of work. He should be ready to go, but expect the Rays to have a quick hook if he gets into any trouble. Of course, if he does get into trouble and Verlander is on, it might be too late to matter.
The Historicals
Verlander is the only Astros' pitcher to win a game in St. Petersburg this season, as the Astros are 1-3 overall at Tropicana Field following Greinke's disaster. That's what Houston is banking on, as Verlander hasn't had any problems with the Rays at all this season. If that continues, it doesn't really matter what strategy the Rays have up their sleeves; the Astros would have a significant edge here.
Betting Trends
The Astros are 8-2 in their past 10 road games.
The Astros are 4-1 in Verlander's past five starts against the AL East.
The Rays are 10-1 in their past 11 home games against a team above .500.
The Rays are 2-8 in their past 10 ALDS games.
The over is 8-2-1 in the Astros' past 11 against the AL East.
The under is 10-2 in the Rays' past 12 home playoff games.
Weather Report
This game will be played indoors, so the weather is not a factor.
Dan's pick
In Game 1, I recommended taking Verlander and the Astros, and that proved to be a prescient pick. But this time, I'm not going to do that. Houston is the better team, but Tampa Bay is no pushover, and I absolutely hate the idea of backing a pitcher on short rest, even one as good as Verlander. The fact that I've got to pay such a high price to do it means that I'd have to take the Astros on the run line to get any decent return on this game.
I would really rather not bet this game at all, but if you can't let this one go past without making a bet of some kind, I recommend taking a chance on the Rays and on Verlander not reacting well to pitching on short rest. Give me the Rays here.
Take the Rays +210
STOP LOSING TODAY! START WINNING WITH DOC'S TEAM OF PROFESSIONALS! GET A FREE NO STRINGS ATTACHED $60 FOR THIS WEEKEND'S GAMES!