LA Dodgers vs. Tampa Bay Rays Game 4 Pick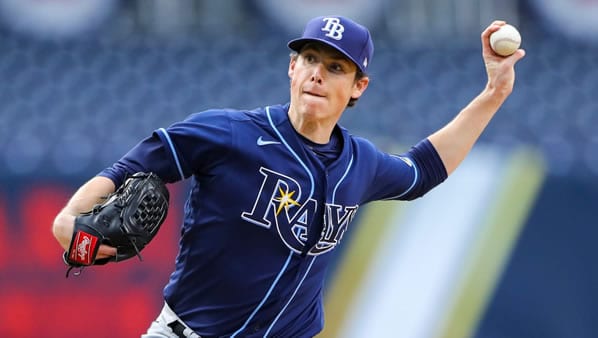 Los Angeles Dodgers (54-21) vs. Tampa Bay Rays (50-27)
When: 7:30 p.m., Saturday, October 24
Where: Globe Life Field, Arlington, Texas
TV: Fox
Starting Pitchers: Julio Urias (4-0, 0.56 ERA, 0.63 WHIP) vs. Ryan Yarbrough (1-0, 3.38 ERA, 1.31 WHIP)
Moneyline: LAD -169/TB +150 (BAS - Bet on games at reduced vig! Save BIG $$$!)
Runline: Dodgers -1.5/Rays +1.5
Total: 8
How Long to Last?
One thing nobody really knows here is just how long the Rays will let Yarbrough throw, as the Dodgers have already seen a bit of him during this series. Kevin Cash put him in to close out the fifth inning of Game 1, and even though it didn't hurt the Rays that night, it might be backfiring on Tampa Bay now.
One of the most significant advantages that Rays pitchers usually have over the opponent is that Tampa Bay usually doesn't let a hitter see the same pitcher more than twice in an appearance. Obviously, that's not possible in a seven-game series as opposed to a three-game set, but Yarbrough could have had an edge if he was going in without the Dodgers ever seeing him. Instead, four Los Angeles hitters now have actual experience going up against him, which could limit just how long he's able to pitch in this contest. Yarbrough made it through five innings against both the Yankees and the Astros, but the fact that the Dodgers just saw him means he might not be able to do that this time. On the other hand, with Tampa Bay using four relievers during a Game 3 loss, the Rays are kind of stuck between two unappealing options, as Yarbrough might have to go for five innings to keep the bullpen from becoming too overworked to get the Rays back into the series.
First Blood Counts
In baseball, the lack of a time limit would seem to mean that the trailing team has all the time in the world to recover from a slow start, but that hasn't been the case in this matchup. The team that has scored first has gone on to win in all of the first three games, in large part because these are top-quality pitching staffs that know how to hold a lead. Both teams boast deep bullpens and have a lot of confidence in their starters, which means there really is no weak link in either team's pitching repertoire.
BET TODAY'S GAME FOR FREE! DEPOSIT $100 AND GET A $100 FREE BET: MYBOOKIE!
For live bettors, this can be an excellent advantage. As soon as one team plates a run, it might be a wise idea to go for that team as the winner. It'll obviously pay more money if the Rays score first, but if the pattern holds, this is a great way to use what we know to create a winning bet.
Offense Rules
And now we're going to flip that trend on its head: even though both pitching staffs know how to hold the lead, the over has hit in all three games of this series. That's because Vegas is still seeing plenty of money come in expecting lower-scoring contests, and Game 3 was expected to be the lowest-scoring game yet with Walker Buehler and Charlie Morton on the mound. But the game just barely hit the total, coming in as the lowest-scoring game of the series but still another win for the over.
With so many people expecting so much from the pitchers, it might not be a bad idea to keep going contrarian to the public and keep hammering the over. These numbers are not adjusting, and even though Urias and Yarbrough are fine pitchers, they're not on the level of Buehler. Yet the difference is only half a run more than it was a night before.
Betting Trends
The Dodgers are 5-1 in their past six playoff games.
The Rays are 4-0 in their past four Saturday games.
The Rays are 5-2 in their past seven interleague games.
The Dodgers are 3-6 in their past six World Series games.
The over is 13-2-1 in the Rays' past 16 against the NL West.
The over is 5-0 in the Dodgers' past five against the AL East.
The over has hit in seven straight meetings between the teams.
Weather Report
The wind dies down and heads back toward the third-base line, with gusts coming at just 5 miles an hour and heading south-southeast. The evening will be a cool one, with the temperature hitting only 59 degrees at the first pitch.
Dan's Pick
I'm not liking this setup for Tampa Bay. Urias can go for several innings, and I'm not so sure that Yarbrough can. Tampa Bay needs to get this game to its bullpen with the lead, and I really don't love the Rays' chances of ever getting a lead off of Urias. Nor do I like Yarbrough's ability to go five innings against this lineup after half of the Dodger hitters have already seen him in this series.
Conversely, Urias is rested and should be ready to go after the Dodgers held him out of any of the first three games and opted to let him start this one. I think that patience pays off for the Dodgers here, and I like their chances to take a 3-1 chokehold on this series. Bet your Dodgers pick for FREE today by depositing $25 at Intertops Sportsbook and receiving a 200% bonus! They'll credit you with an extra $50 when you use bonus code ROOKIE200. Click here to sign up!
100% REAL CASH up to $300

USE BONUS CODE:
PREDICT100
MLB Betting Guide
New to betting on baseball? We've got you covered! Our comprehensive how to bet on baseball article explains all the different types of wagers offered at the sportsbooks including money lines, over/unders, run lines, parlays and more! Also get tips and strategies to increase your odds of beating the bookies!