Los Angeles Angels at St. Louis Cardinals Pick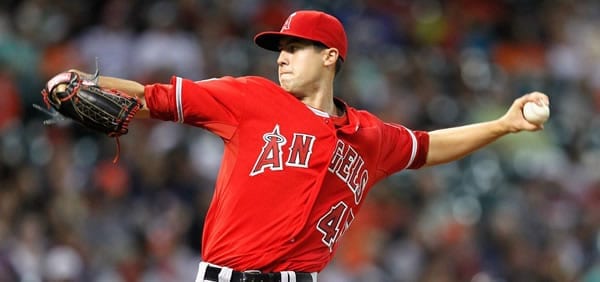 Los Angeles Angels (38-40) at St. Louis Cardinals (40-36)
When: 7 p.m., Sunday, June 23
Where: Busch Stadium, St. Louis
Moneyline: LAA +125/STL -135
Runline: Angels +1.5/Cards -1.5
Total: 9
Starting Pitchers: Tyler Skaggs (6-6, 4.61 ERA, 1.29 WHIP) vs. Miles Mikolas (5-7, 4.48 ERA, 1.21 WHIP)
Bittersweet Homecoming
Albert Pujols probably gave every St. Louis fan precisely what they wanted to see in Saturday's game: a home run for the ex-Cardinals slugger in a losing effort. Obviously, Pujols is nowhere near the same player he was a decade ago and has become a shadow of himself at age 39. But he's hit the ball well in his return to his old stomping grounds, going 2-for-6 with a home run so far against the Redbirds. The rest of the Angels have a combined 12 hits in two games, nothing terrible, but not good enough to beat quality teams either. In order to get something out of this series by picking up a win over St. Louis, Los Angeheim has to get its offense back to where it was in a four-game set at Toronto earlier this week, when the Angels slugged 29 runs in four games.
Obviously, St. Louis isn't Toronto, as the Cardinals boast a winning record and will almost certainly be playing meaningful baseball in August and September. But the Angels should be hitting better than this against Cardinal pitching.
Pack a Suitcase
Pitching on the road is supposed to be a difficult thing, but Tyler Skaggs seems to have it under control. So far this season, four of Skaggs' six wins have come away from the Angels' home stadium, including his past two starts, where he beat both the Blue Jays and the Rays, with the latter being a much more impressive victory. Against the Jays, he gave one of his best performances of the season, holding Toronto to three hits and just one run coming on a solo home run.
Skaggs' start at St. Louis could be another instance where he gets the better of a team in their home stadium and spoils their series in front of their home fans. There's a precedent for it: he's won his past two starts in the Central Time Zone, beating Minnesota and Kansas City.
Feast or Famine?
When things go well for Miles Mikolas, he's capable of some excellent things, such as his last start, when he went six innings, scattered six hits and blanked Miami in a victory at home. But when things don't go so well, watch out, as evidenced by the start before against those same Marlins, who crushed him for eight hits and five runs in five innings of work. So which one is going to show up here? Past stat lines suggest that it's likely to be the latter. The last time he turned in a quality start, against the Cubs, he didn't get out of the fourth inning in his next start, which was also against the Cubs. Otherwise, he's been able to string together back-to-back wins before, but that hasn't happened since May's first week.
The Historicals
These teams would have virtually no history with each other if not for Pujols going to the Angels after the 2011 campaign. That sparked a brief bit of bad blood between St. Louis and its former slugger, but the reception of Pujols made it clear that Cardinals fans have forgiven him.
Betting Trends
The Angels have won Skaggs' past four starts against a team with a winning record.
The Angels are 1-5 in their past six interleague road games.
The Cardinals are 5-1 in Mikolas' past six Sunday starts.
The Cardinals are 1-4 during their past five interleague games against a left-handed pitcher.
The over is 4-0 in the Angels' past four Sunday games.
The under is 5-1 in the Cardinals' six games.
Weather Report
With the temperature set for 87 degrees at first pitch, this is going to be a hot evening at Busch Stadium.
50% Free Play up to $1,000

Dan's pick
The Angels are going to turn this around eventually, and this might be the game where it happens. Mikolas' trend of following up good outings with struggles has me wary of trusting the Cardinals in this matchup. The Angels aren't as punchless as they've shown so far in St. Louis, and Skaggs has a history of getting the job done on the road. I'm going to take a shot with the Angels to get the job done and pull one back after three straight losses, allowing them to leave with something positive out of the trip.
Take the Angels +125