Los Angeles Angels vs. Seattle Mariners Pick & Preview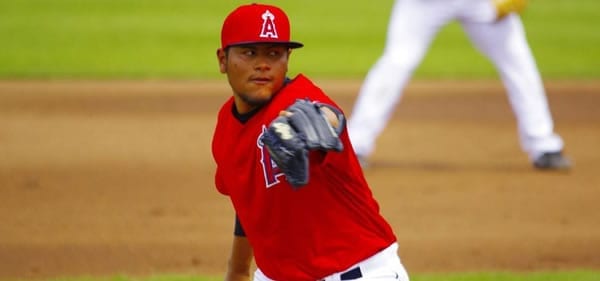 Los Angeles Angels (44-43) vs. Seattle Mariners (55-32)
When: Thursday, July 5th, 10 PM EST, 2018
Where: Safeco Field, Seattle, Washington
TV: DirecTV 687, 692
Betting Odds: LAA +130/Sea -140
Total: Opened at 8.5 and has moved up to 9
by Kevin West, Professional Baseball Handicapper, Predictem.com
A.L. West foes go at it again in the rubber game of a 3-game series tonight at Safeco Field where the Angels will send Jaime Barria (3.40 ERA/1.20 WHIP) to the hill vs. Mariners young lefty Marco Gonzalez (2.49 ERA at Safeco in 47 innings).
Barria faced the Mariners back on June 12th, taking the "L" going 5 innings, allowing 8 hits and 2 earned runs.
This will be the third time Gonzalez has faced L.A. this season. In his prior two outings, both at Safeco, he allowed 3 earned runs over 5 innings, and 4 earned runs over 6 innings. Not stellar numbers by any means, but with the Angels playing so poorly as of late (3-7 in their last 10 games) and the Mariners being red hot (8-2 in their previous 10), there's some value here with the M's as -140 favorites.
The game opened with Seattle as a short -108 favorite and has gone up throughout the day.
Things I like about the Mariners tonight.
They're hot! As noted above, the team is 8-2 over their last 10. With so many stats to look at in baseball, HOT takes precedence over all.
With Mike Trout, Albert Pujols, Justin Upton and Ian Kinsler in the lineup, one would think that L.A. would kill lefties. Trout "does," but has been ice cold as of late (.111 over last 7 days). Upton is hitting only .217 on the year vs. southpaws. Kinsler .197, Pujols .169 and career lefty killer Chris Young has sucked too, batting just .191. As a team, the Halos are only hitting .226 vs. lefties which have led to an ugly 6-15 record.
Overall, the Angels are only hitting .223 in the month of July. It's rare to see such an instance, but it could be said that the whole team has gone cold at once. They'll inevitably rebound at some point as this team has too many good players to remain in the tank, but it's not likely to happen tonight vs. a lefty at Safeco Field, a place the Angels have played poorly as of late, where the Angels have gone 1-4 in their last 5 contests.
The Angels aren't beating good teams as evidenced by their 11-27 record in their last 38 vs. a club with a winning record. The team has been bad on the road too, with a 4-12 record in their previous 16 road games.
Seattle has played well at home as they've been victorious in 20 of their last 26 games there.
The M's have been a great bounce-back team this season as well, going 16-6 off a loss.
Despite having a reasonably balanced righty/lefty lineup, the Mariners have performed exceptionally well vs. right-handed starters, putting up a solid 36-16 mark against them.
The M's have performed well with Gonzalez on the mound, winning 6 of his last 8 starts including 4-0 at Safeco.
Kevin's Pick to Win
Too many negatives here for the Angels and too many positives for Seattle. I make this line at -175, so needless to say, I believe the Mariners at -140 is a value play. On a side note, I love being able to throw in tidbits that will help educate you to become a "better bettor". With that being said, "most" online sportsbooks have the Mariners at -140 to win. My tip? It pays to shop around! You can find the very same bet for only -135 odds at BetOnline. It's common to see the same game at different odds at multiple betting sites. One should ALWAYS consider diversifying their sportsbook portfolio for many reasons (reduce risk, compare odds, potential downtime, wager offerings, etc.). In this case, saving 5 bucks per hundred your trying to win adds up. A dime bettor will lay 1350 opposed to 1400, a savings of 50 bucks. Over the course of the season, those 50's add up to HUGE savings. Or, if you're not betting at the lower odds, results in a huge waste of your hard-earned cash. Yuck! Click here to sign-up at BetOnline to diversify and lower your risked amounts.
<aside><!-- [et_pb_line_break_holder] --><div class="widget105"><!-- [et_pb_line_break_holder] --><h3>Biggest Sportsbook Bonuses</h3><!-- [et_pb_line_break_holder] --><div class="widgetlist"><!-- [et_pb_line_break_holder] --><div class="col1"><!-- [et_pb_line_break_holder] --><img src="https://www.predictem.com/wp-content/uploads/2018/04/bovada.png" width="150" alt="Bovada" /><!-- [et_pb_line_break_holder] --></div><!-- [et_pb_line_break_holder] --><div class="col2"><!-- [et_pb_line_break_holder] --><span class="list"><b>50% Cash</b></span><br><!-- [et_pb_line_break_holder] --><span class="list">5x Rollover</span><!-- [et_pb_line_break_holder] --> </div><!-- [et_pb_line_break_holder] --> <div class="col3"><!-- [et_pb_line_break_holder] --><a href="https://www.predictem.com/betting-sites/bovada/"><button class="btn-widget">Review</button></a><!-- [et_pb_line_break_holder] --></div><!-- [et_pb_line_break_holder] --></div><!-- [et_pb_line_break_holder] --><div class="widgetlist"><!-- [et_pb_line_break_holder] --><div class="col1"><!-- [et_pb_line_break_holder] --><img src="https://www.predictem.com/wp-content/uploads/2018/04/intertops.png" width="150" alt="Intertops" /><!-- [et_pb_line_break_holder] --></div><!-- [et_pb_line_break_holder] --><div class="col2"><!-- [et_pb_line_break_holder] --><span class="list"><b>50% Cash</b></span><br><!-- [et_pb_line_break_holder] --><span class="list">4x Rollover</span><!-- [et_pb_line_break_holder] --> </div><!-- [et_pb_line_break_holder] --><div class="col3"><!-- [et_pb_line_break_holder] --><a href="https://www.predictem.com/betting-sites/intertops/"><button class="btn-widget">Review</button></a><!-- [et_pb_line_break_holder] --></div><!-- [et_pb_line_break_holder] --></div><!-- [et_pb_line_break_holder] --><div class="widgetlist"><!-- [et_pb_line_break_holder] --><div class="col1"><!-- [et_pb_line_break_holder] --><img src="https://www.predictem.com/wp-content/uploads/2018/05/gt-bets.png" width="150" alt="GtBets" /><!-- [et_pb_line_break_holder] --></div><!-- [et_pb_line_break_holder] --><div class="col2"><!-- [et_pb_line_break_holder] --><span class="list"><b>150% Cash</b></span><br><!-- [et_pb_line_break_holder] --><span class="list">4x Rollover</span><!-- [et_pb_line_break_holder] --> </div><!-- [et_pb_line_break_holder] --> <div class="col3"><!-- [et_pb_line_break_holder] --> <a href="https://www.predictem.com/betting-sites/gtbets/"><button class="btn-widget">Review</button></a><!-- [et_pb_line_break_holder] --></div><!-- [et_pb_line_break_holder] --></div><!-- [et_pb_line_break_holder] --><div class="widget-footer"><a href="https://www.predictem.com/best-sportsbooks/bonuses/">See all sportsbook bonuses</a></div><!-- [et_pb_line_break_holder] --> </div></aside>