Los Angeles Dodgers at Houston Astros Betting Picks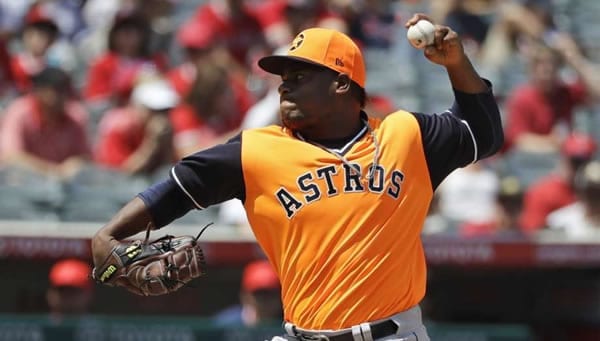 Los Angeles Dodgers (2-2) at Houston Astros (3-1)
When: 9:10 p.m., Tuesday, July 28
Where: Minute Maid Park, Houston
TV: FS1
Moneyline: LAD -139/HOU +125 (GTBets - 100% REAL CASH bonus up to $500!)
Runline: Dodgers -1.5/Astros +1.5
Total: 9
Starting Pitchers: Walker Buehler (0-0, 0.00 ERA, 0.00 WHIP) vs. Framber Valdez (0-0, 0.00 ERA, 0.00 WHIP)
Outside the Lines
Let's be honest: this matchup is going to attract so much attention because of what's going on around this game. Sure, this is a matchup between two strong teams, but it's because of the Astros' sign-stealing scandal that this has been one of the most anticipated matchups in the abbreviated baseball season.
That has the potential to create a lot of distractions for these teams to deal with, and there have already been signs of that being the story based on some of the questions asked of the players leading up to this series. This might be the rare game where it's a good thing that we have no fans in the stands, as both teams will be able to at least put crowd noise out of their heads and have a better chance to focus on the action on the field once the first pitch is thrown.
In almost every sport, the team that's mentally ready to play the game has a massive advantage, and that's never more true than in baseball because there's so much anticipation in the sport that players have to be mentally sharp at all times. If either of these teams is distracted by the off-field stuff, they're in trouble.
Premature Crown?
There's no denying it: baseball people outside of Southern California are sick of the Dodgers and waiting to see them fall. After all, Los Angeles has won seven straight NL West titles and is seen as the top threat to win the World Series, along with the Yankees. But through the first four games, the Dodgers have looked human, and the rest of baseball hasn't been shy about enjoying that. During a Reds-Tigers broadcast, for example, Reds broadcaster Thom Brennaman joked that with all the talk he'd heard about the Dodgers, he thought they weren't ever going to lose this season, but they were doing precisely that at home to San Francisco.
The point is that the Dodgers are the team with the most pressure in the National League, and it's frankly not close. The offense hasn't really jelled yet, and having to scratch Clayton Kershaw in the opening day start didn't help matters either. Walker Buehler should be able to get Los Angeles back on track, as he comes off an All-Star season and has established himself as a top strikeout pitcher. Buehler wasn't yet on the Dodgers in 2017 when Los Angeles lost to the Astros, so he's less likely to be distracted by the off-field scandal.
BANKROLL BUILDER! DEPOSIT $100 TO $300 AND MYBOOKIE WILL MATCH YOUR DEPOSIT DOLLAR FOR DOLLAR WITH A REAL CASH BONUS! GO HERE TO REGISTER NOW! 
Lost Leader
The Astros were always going to be a distracted team anyway in this matchup, but they've got the double distraction of the news that Justin Verlander is going to be on the shelf for at least two weeks and possibly the entire season. The Astros didn't need Verlander to get by Seattle, but they sure could have used him on the hill in this series.
Instead, Houston will turn to Framber Valdez, who spent most of last year coming out of the bullpen and didn't inspire a lot of confidence as either a starter or a reliever. Last year, Valdez had four different months in which he posted an ERA above 5, hardly the situation you want from your pitcher when facing a hungry Dodgers lineup. The last time he pitched for longer than an inning was in September of last year, when he was one of the many Astro pitchers who got knocked around trying to clean up Wade Miley's mess in a 21-7 loss to the Oakland Raiders — sorry, I meant the Athletics. Jokes aside, Valdez will have to be a lot better than he's previously been as a starter if the Astros are going to build momentum here.
Betting Trends
The Dodgers are 12-1 in their past 13 as a road favorite.
The Dodgers have won 11 of their past 16.
The Astros have lost four straight interleague home games.
The Astros are 4-10 in their past 14 games as a home underdog.
The under is 5-0 in the Dodgers' past five against the AL West.
The under is 4-0 in the Astros' past four games as a home underdog.
Weather Report
With temperatures at a reasonable 79 degrees in Houston, the roof is likely to be open at Minute Maid Park.
Dan's Pick
The line has been moving toward the Astros after the Dodgers' pratfall in their past two games with San Francisco, but I cannot see Houston getting the job done here. Valdez is just not on Buehler's level as a pitcher, and the Dodgers are going to be very motivated to put up some massive numbers, if at all possible. I think Buehler stabilizes things for Los Angeles and gets the Dodgers back on track. Part of winning at baseball betting is getting the best priced odds possible. Yes, some sportsbooks offer discounted odds! Does yours? Probably not! Stop overpaying for odds and wasting your money. Start saving big bucks that you could be using for other things such as buying golf clubs, taking your rotten wife out to dinner or betting more to win more at 5Dimes!