[et_pb_dcsbcm_divi_breadcrumbs_module hide_homebreadcrumb="off" homebreadcrumbtext="Home" separator="sep-raquo" hide_currentbreadcrumb="off" homebreadcrumborientation="left" _builder_version="3.8″ fontsbreadcrumbs_font="Lato||||||||" fontsbreadcrumbs_text_color="#000000″ fontsbreadcrumbs_font_size="15px" fontsbreadcrumbs_line_height="16px" fontsseperator_font="||||||||" fontsbreadcrumblinks_font="||||||||" fontsbreadcrumblinks_text_color="#2567cf" custom_margin="25px|||" custom_margin_phone="30px|||" custom_margin_last_edited="off|desktop" custom_css_main_element="font-family: Helvetica Regular;" global_module="3641″ saved_tabs="all"][/et_pb_dcsbcm_divi_breadcrumbs_module]
MLB Pick: Red Sox vs. Yankees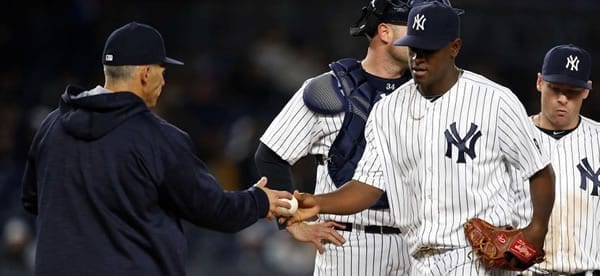 After splitting the first two games of a three-game series at Yankee Stadium – neither close – Boston and New York battle out a rubber match Sunday night on national TV (8:05 ET, ESPN). Which way are we playing this game with our daily free MLB picks?
The MLB Betting Line
Sunday's MLB betting odds opened New York and Luis Severino at around -183 over Boston and David Price, with an over/under of 8 runs. In early betting action that line was then bet down as much as 15 cents, to the -185 range.
The Pinstripes could also be found at around +105 giving the run and a half on the MLB betting run line.
Sunday Set-Up
New York took the opener of this series Friday night 8-1 but the Red Sox grabbed game 2 Saturday 11-0. Boston put up a four spot in the first inning Saturday and scored twice in the second, giving starter Chris Sale plenty of room to work with, as the Sox won as -155 favorites on the MLB betting line.
Boston is now 7-2 over its last nine games while New York is just 3-5 over its last eight.
These teams have now split eight meetings this season, with the overs going 4-3-1, as Sox-Yanks games are averaging a healthy 11 runs per.
Big-picture, at 56-28 Boston leads the AL East and the battle for the best record in the American League by one game over 53-27 New York. The Yankees also lead Seattle by two games for the top spot in the AL wild-card race.
Sunday's Starting Arms
Severino (12-2, 2.10), by our tough accounting, is 13/17 on quality starts this season, and two for his last three. Tuesday he tossed seven scoreless innings against Philadelphia, with zero walks and nine whiffs, and over his last three starts he's allowed just three runs through 20 2/3 innings. New York is a sparkling 15-2 with Severino this season, with the unders going 11-5.
In two starts this season against the Red Sox Severino allowed seven runs and 14 hits through 11 innings. The Yankees split those two games.
Lefty Price (8-5, 3.66) is 8/16 on quality starts this year, but four for his last five. Tuesday he held the Angels to one run through six innings, and over his last five starts he's allowed 10 runs through 31 innings. Boston is 11-5 with Price this season, with the unders going 9-6.
In his only start so far this season against the Yanks Price got knocked up for four runs through just one inning, then left with a sore hand. The Sox lost that game 10-7.
Sunday's Batting Splits
Boston ranks 1st in the Majors this year against right-handed pitching with a .271 team batting average, 2nd with a .337 team OBP and 1st with a .477 team slugging percentage.
New York ranks 12th against left-handed pitching with a .251 BA, 6th with a .336 OBP and 2nd with a .466 slugging percentage.
It's close but we'll give the Red Sox a slim edge with the sticks for Sunday night.
The Bullpens
The Boston bullpen ranks 5th in the ML with a 3.13 ERA and 6th with a 1.19 WHIP, while going 27/34 on save opportunities.
The Yankees pen ranks 3rd in ERA at 2.76 and 2nd in WHIP at 1.10 while going 24/32 on save opps.
Red Sox relievers have thrown five innings in this series, allowing three runs; New York relievers have thrown 8 2/3 innings in this series, allowing five runs.
We're gonna call the bullpen comparison a push.
Totals Report
The overs are 21-20 in games played at Yankee Stadium this season, which are averaging 9.4 runs per.
However, New York has played 21 unders over its last 24 games, because while it's been getting great pitching (other than Saturday) the bats have also cooled. The Yanks have been shut out just four times all season, but all four of those came in their last 19 games.
Also, even as both these teams are averaging better than five runs per game both have played more unders this season than overs – New York 43-35, Boston 42-39.
Free MLB Picks
Severino is a very hot item, both on the mound and in betting circles. In fact, oddsmakers initially overpriced him for this game. And that's where our bet on this game goes; with the value. We're taking the Red Sox at the tempting +173 underdog price at 5Dimes.
<div class="widget105"><!-- [et_pb_line_break_holder] --><h4 class="baseball">Baseball Sportsbooks</h4><!-- [et_pb_line_break_holder] --><table id="dimeline"><!-- [et_pb_line_break_holder] --> <tr><!-- [et_pb_line_break_holder] --> <th></th><!-- [et_pb_line_break_holder] --> <th width="110px">10¢ to:</th><!-- [et_pb_line_break_holder] --> <th width="110px">20¢ to:</th><!-- [et_pb_line_break_holder] --> </tr><!-- [et_pb_line_break_holder] --> <tr><!-- [et_pb_line_break_holder] --> <td><div class="col1"><a href="https://record.commission.bz/_BhTQDVOVie23_O3IiMN7EWNd7ZgqdRLk/1/"><!-- [et_pb_line_break_holder] --> <img src="https://www.predictem.com/wp-content/uploads/2018/06/SportsBettingDark.png" width="150" alt="SportsBetting" /></a><!-- [et_pb_line_break_holder] --> </div></td><!-- [et_pb_line_break_holder] --> <td>-200</td><!-- [et_pb_line_break_holder] --> <td>-279</td><!-- [et_pb_line_break_holder] --> </tr><!-- [et_pb_line_break_holder] --> <tr><!-- [et_pb_line_break_holder] --> <td><div class="col1"><a href="https://www.predictem.com/betting-sites/heritage-sportsbook/"><img src="https://www.predictem.com/wp-content/uploads/2018/06/heritage-xs.png" width="150" alt="Heritage" /></a></div></td><!-- [et_pb_line_break_holder] --> <td>-200</td><!-- [et_pb_line_break_holder] --> <td>-240</td><!-- [et_pb_line_break_holder] --> </tr><!-- [et_pb_line_break_holder] --> <tr><!-- [et_pb_line_break_holder] --> <td><div class="col1"><a href="https://affiliates.5dimes.eu/tracking/Affiliate.aspx?idBook=1&mediaTypeID=220&AffUrlID=80&LandingPageID=2"><img src="https://www.predictem.com/wp-content/uploads/2018/06/5Dimes_sm.png" width="150" alt="5Dimes" /></a></div></td><!-- [et_pb_line_break_holder] --> <td>-195</td><!-- [et_pb_line_break_holder] --> <td>-266</td><!-- [et_pb_line_break_holder] --> </tr><!-- [et_pb_line_break_holder] --></table> <!-- [et_pb_line_break_holder] --><div class="widget-footer"><a href="https://www.predictem.com/best-sportsbooks/mlb-dimeline/">See all Dimeline Sportsbooks</a></div><!-- [et_pb_line_break_holder] --></div><!-- [et_pb_line_break_holder] --><!-- [et_pb_line_break_holder] --><style><!-- [et_pb_line_break_holder] --> #dimeline {border: 0px;}<!-- [et_pb_line_break_holder] --> #dimeline th{color:#000;}<!-- [et_pb_line_break_holder] --> #dimeline td{padding: 2px; text-align: center;}<!-- [et_pb_line_break_holder] --> #dimeline td, #dimeline th{padding: 8px 2px; text-align: center;border-bottom: 1px solid #bbb;}<!-- [et_pb_line_break_holder] --> .img-hover {border: 1px solid #fff; padding:5px}<!-- [et_pb_line_break_holder] --> .img-hover:hover {background: #edeef0; border: 1px solid #008156; margin-top:1px; padding:5px}<!-- [et_pb_line_break_holder] --></style>
<aside><!-- [et_pb_line_break_holder] --><div class="widget105"><!-- [et_pb_line_break_holder] --><h3>Biggest Sportsbook Bonuses</h3><!-- [et_pb_line_break_holder] --><div class="widgetlist"><!-- [et_pb_line_break_holder] --><div class="col1"><!-- [et_pb_line_break_holder] --><img src="https://www.predictem.com/wp-content/uploads/2018/04/bovada.png" width="150" alt="Bovada" /><!-- [et_pb_line_break_holder] --></div><!-- [et_pb_line_break_holder] --><div class="col2"><!-- [et_pb_line_break_holder] --><span class="list"><b>50% Cash</b></span><br><!-- [et_pb_line_break_holder] --><span class="list">5x Rollover</span><!-- [et_pb_line_break_holder] --> </div><!-- [et_pb_line_break_holder] --> <div class="col3"><!-- [et_pb_line_break_holder] --><a href="https://www.predictem.com/betting-sites/bovada/"><button class="btn-widget">Review</button></a><!-- [et_pb_line_break_holder] --></div><!-- [et_pb_line_break_holder] --></div><!-- [et_pb_line_break_holder] --><div class="widgetlist"><!-- [et_pb_line_break_holder] --><div class="col1"><!-- [et_pb_line_break_holder] --><img src="https://www.predictem.com/wp-content/uploads/2018/04/intertops.png" width="150" alt="Intertops" /><!-- [et_pb_line_break_holder] --></div><!-- [et_pb_line_break_holder] --><div class="col2"><!-- [et_pb_line_break_holder] --><span class="list"><b>50% Cash</b></span><br><!-- [et_pb_line_break_holder] --><span class="list">4x Rollover</span><!-- [et_pb_line_break_holder] --> </div><!-- [et_pb_line_break_holder] --><div class="col3"><!-- [et_pb_line_break_holder] --><a href="https://www.predictem.com/betting-sites/intertops/"><button class="btn-widget">Review</button></a><!-- [et_pb_line_break_holder] --></div><!-- [et_pb_line_break_holder] --></div><!-- [et_pb_line_break_holder] --><div class="widgetlist"><!-- [et_pb_line_break_holder] --><div class="col1"><!-- [et_pb_line_break_holder] --><img src="https://www.predictem.com/wp-content/uploads/2018/05/gt-bets.png" width="150" alt="GtBets" /><!-- [et_pb_line_break_holder] --></div><!-- [et_pb_line_break_holder] --><div class="col2"><!-- [et_pb_line_break_holder] --><span class="list"><b>150% Cash</b></span><br><!-- [et_pb_line_break_holder] --><span class="list">4x Rollover</span><!-- [et_pb_line_break_holder] --> </div><!-- [et_pb_line_break_holder] --> <div class="col3"><!-- [et_pb_line_break_holder] --> <a href="https://www.predictem.com/betting-sites/gtbets/"><button class="btn-widget">Review</button></a><!-- [et_pb_line_break_holder] --></div><!-- [et_pb_line_break_holder] --></div><!-- [et_pb_line_break_holder] --><div class="widget-footer"><a href="https://www.predictem.com/best-sportsbooks/bonuses/">See all sportsbook bonuses</a></div><!-- [et_pb_line_break_holder] --> </div></aside>