[et_pb_dcsbcm_divi_breadcrumbs_module hide_homebreadcrumb="off" homebreadcrumbtext="Home" separator="sep-raquo" hide_currentbreadcrumb="off" homebreadcrumborientation="left" _builder_version="3.8″ fontsbreadcrumbs_font="Lato||||||||" fontsbreadcrumbs_text_color="#000000″ fontsbreadcrumbs_font_size="15px" fontsbreadcrumbs_line_height="16px" fontsseperator_font="||||||||" fontsbreadcrumblinks_font="||||||||" fontsbreadcrumblinks_text_color="#2567cf" custom_margin="25px|||" custom_margin_phone="30px|||" custom_margin_last_edited="off|desktop" custom_css_main_element="font-family: Helvetica Regular;" global_module="3641″ saved_tabs="all"][/et_pb_dcsbcm_divi_breadcrumbs_module]
MLB Pick: West loves A's over Giants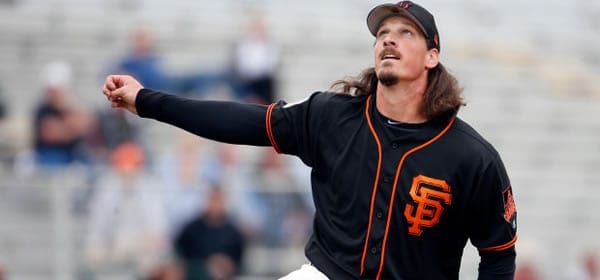 Oakland A's (53-42) vs. San Francisco Giants (50-46)
When: Saturday, July 14th, 2018 (10:05 PM EST)
Where: AT&T Park, San Francisco, CA
TV: DirecTV 696, 698
Betting Odds: Oak +104/SF -114
Total: Opened at 8.5, bet down to 8
by Kevin West, MLB Handicapper, Predictem.com
It's a great day to bet on bases as Saturday presents us with a beautiful underdog play in the Oakland A's at +104. Oakland is one of the hottest teams in MLB, yet all we hear about is the Boston Red Sox and New York Yankees. Better yet, they're facing one of the 5 worst starters in the league, Jeff Samardzija.
Why the A's are worthy of a bet tonight
For starters, the A's are HOT! Led by Stephen Piscotty, with 4 homers in the past week, the Athletics have gone 19-7 in their last 26 contests. It's been a complete team effort as nobody on the roster is killing it at the plate, but somehow they've managed to win a ton of games scoring in the 4-6 run region. Good pitching and good defense have helped as well. Even more amazing, they're doing it with retreads such as Edwin Jackson, Brett Anderson and Trevor Cahill along with young inexperienced pitchers Montas, Manaea and Bassitt.
On the flip side, San Francisco sends Jeff Samardzija to the mound, which is somewhat mind-boggling that the team keeps marching him out there because he's pitched horribly all season. He has really only had one good outing this year, and that was back on April 20th. Since then, he's struggled to get past the 5th inning, with a lot of 3 and 5 run allowances. There have been a consistent flow a few free passes being handed out as well.
When taking a closer look at the 6'5″ guy who should have stuck with football, we see some atrocious numbers. His ERA is 6.42, and his WHIP is 1.67. Surprisingly, his batting average against is only .273, which tells us that he's not really giving up a ton of hits, just big ones, along with a ton of walks. The stats back this up as he's given up 6 homers in 40 innings this season along with 29 walks. This all points to a lack of command which creates a "pitching from behind" in bad counts, then being forced to get too much of the plate which leads to even the most average MLB hitter having the opportunity to hammer the ball.
One would assume that the Giants righty would have better stats at home in the friendly confines of a dead ballpark, but he doesn't. His numbers at home are 6.20 ERA, 1.72 WHIP and .298 average against. He hasn't won at home all season. Not that it matters much, but I'll mention it anyway. His career stats vs. Oakland are a 7.92 ERA and 1.72 WHIP.
On the hill for Oakland, is lefty Brett Anderson. If you're scratching your head wondering why I'd recommend a wager on a guy who has a 5.75 ERA and 1.77 WHIP, it's because those stats are an enigma. Anderson got absolutely torched on May 7th vs. the Houston Astros where he gave up a whopping 10 hits and 7 earned runs over 3 innings. The Yankees beat him up a bit too on May 13th. Today's Giants team isn't comparable to either, and has a tough time vs. left-handed pitching, only hitting .229 vs. southpaw's along with a weak on base percentage of .289.
Historically speaking, Anderson hasn't faced the Giants since 2015, where he allowed 6 runs over 18.2 innings.
Samardzija has faced Oakland three times dating back to 15, allowing 19 earned runs in 17 innings.
Something that's also interesting to note is that Brett Anderson is a reverse splits pitcher. Despite being a lefty, he has better career numbers vs. right-handed batters, and the Giants lineup will be stacked with them.
Blessing in disguise?
A's regulars Khris Davis (shoulder), and Jed Lowrie (leg) are questionable for this game. I'm kind of hoping neither suits up because neither has hit Samardzija at all, combining for only 2 hits in 21 at bats (That's under .100). Their likely replacements would be Chad Pinder who has hit .400 over the past week and Nick Martini, who is hitting .429 in limited at bats over the last 7 days.
Betting Trends
The A's are 19-7 in their last 26 overall, 6-1 in their last 7 interleague games, 5-1 in their last 6 games vs. a right-handed starter, 17-5 in their previous 22 road games vs. a right-handed starter, 9-3 in their last 12 road games, and 24-9 in their previous 33 games vs. a starter with a WHIP greater than 1.30,
The San Francisco Giants are 0-5 in their last 5 games vs. a starter with a WHIP greater than 1.30, 9-26 in Jeff Samardzija's last 35 starts vs. a team with a winning record, 1-6 in Samardzija's last 7 Saturday starts, and 0-6 in Samardzija's last 6 starts.
Kevin's Pick to Get the Money
I'm betting the Oakland A's at +104. Being hot rises above and beyond all stats. The A's have not only been winning games, but they also play well on the road at 29-21.
Another bet I like in this game is for Jed Lowrie to have UNDER 2.5 hits, runs and RBI's. He's banged up and hasn't had any success whatsoever vs. Samardzija in his career. This prop bet can be found at Bovada Sportsbook.