MLB Picks: Angels vs. Mariners 4/30/21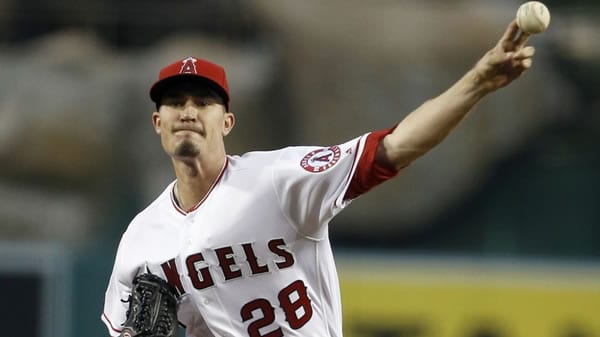 Los Angeles Angels (12-11) vs. Seattle Mariners (14-12)
When: 10 p.m., Friday, April 30
Where: T-Mobile Park, Seattle
Moneyline: LAA -155/SEA +135 (Get better lines at BetOnline - 35% Crypto Reloads too!)
Runline: Angels -1.5/Mariners +1.5
Total: 8.5
Starting Pitchers: Andrew Heaney (1-1, 4.35 ERA, 0.92 WHIP) vs. Chris Flexen (2-1, 2.74 ERA, 1.35 WHIP)
Nothing Comes Easy
The way these pitchers have been working, both teams are going to have to earn every base runner they get. Flexen has just five walks on the year against 21 strikeouts in 23 innings pitched, and Heaney's ratio is even more pronounced, fanning 29 hitters while walking only seven. That's bad news for the Mariners because the Angels hit the ball a lot better than Seattle. The Mariners are hitting just .207 as a team, one of the largest reasons they've lost four of their past five games and played to the under in four of five games. Seattle's batting average is second-worst in the majors, not a positive situation when facing a pitcher who's been as sharp with his command as Heaney has been.
Coming home isn't likely to make much of a difference for the Seattle offense, either. T-Mobile Park is notori-ously pitcher-friendly, and the Mariners have played to the under here in each of their past four home games.
Living on the Edge
Flexen has been a lot like MacGruber from Saturday Night Live: getting in and out of ultra-sticky situations. Unlike MacGruber, Flexen usually manages to get out of trouble before things blow up on him, with the ulti-mate example being his April 17 start against Houston. In that appearance, he gave up ten hits to the Astros in six innings but somehow managed to hold Houston to just one run. The Mariners being the Mariners, they managed to lose the game 1-0, but the overall point is that Flexen knows how to work himself out of trouble should he get into a jam.
However, there are only so many times you can work yourself into trouble before you find yourself in a situa-tion that you can't escape on your own, which happened to Flexen three weeks ago against Minnesota. In that game, the Mariners' offense bailed him out after Minnesota tagged him for five runs in five innings, but with Seattle not hitting the ball well at all, that seems an unlikely possibility at this point.
DEPOSIT $100 AND GET $100 FREE AT BETNOW SPORTSBOOK!
Win or Concede
When the Angels are involved, you can usually count on at least one team putting up plenty of runs. In the past 11 Anaheim games, at least one team has managed to score four runs or more, and Thursday's 6-1 loss to Texas marked the first time in that stretch that the Angels went under in a defeat. Unless you want to bet one team to score at least four runs, that nugget isn't all that helpful on its own, but it does mean that there's a very good chance that the Angels are going to at least push their way close to the total, and if the Mariners do much of anything on offense, they'll cash on the over.
If you do want to bet against the Angels in this game, keep in mind that you're going to be betting against their defense first and foremost. That's not necessarily a bad thing, as the Angels have given up four runs or more in 10 of their 11 losses this season, but know ahead of time that you'll almost certainly be banking on the Mariners coming through at the plate.
Betting Trends
The Angels are 4-1 in their past five when coming off an off day.
The Angels are 2-5 in their past seven against a team with a winning record.
The Mariners have won four of their past five series openers.
The Mariners are 1-4 in their past five as an underdog.
The over is 4-0 in the Angels' past four after an off day.
The under is 3-0-1 in the Mariners' past four home games.
The under is 4-1 in the past five meetings.
The Angels have won four of the last five matchups in Seattle.
Weather Report
With temperatures at 60 degrees at game time, the Mariners probably won't close the roof for the first half of the game. Winds will blow at six miles an hour heading south-southwest or directly to left-center.
Dan's Pick
With Seattle not hitting much of anything right now and the Angels' biggest weakness being run prevention, this isn't a situation where I want to touch the home dog. Throw in that the Mariners haven't exactly been feisty as underdogs as of late, and I think we're in a situation where Seattle has shot its wad in the first month of the season and is beginning to come back to reality.
The Angels should have enough to take this matchup. Where are you betting on bases? Did you know that you could be getting paid more on underdogs and lay LESS on favorites at BetAnySports? Wagering on games at reduced odds is like shopping at Walmart prices, opposed to shopping at your expensive local supermarket. Same product… Why pay more? Sign up at BAS today to start saving your hard earned loot! It's the only way to wager!
100% REAL CASH up to $300

USE BONUS CODE:
PREDICT100