National League MVP Award Odds & Picks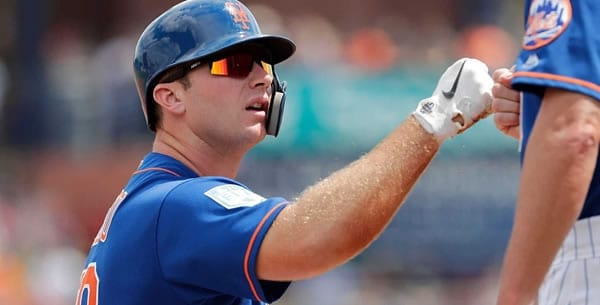 As we break down the MVP race in the National League, it's important to keep in mind that we're operating under the assumption that the leagues will remain as we've known them for the past 119 years, the American and National League. If you've been paying attention to the possible plans for the upcoming season, you might have noticed that Major League Baseball has suggested a potential switch to the Cactus League and the Grapefruit League for one year, which would completely change around the odds for just about everything.
But for the time being, we're going to stick with the idea that the National League will remain the National League, and that means a very difficult pick to make among a lot of potential options. Unlike the American League, where Mike Trout is considered the consensus choice by a wide margin, the National League has a lot of possible options that could pay off. Plus, nobody in the NL has longer odds than +500, even newly minted favorite Mookie Betts. With so many great options available, making your pick in the National League has a lot to do with which teams you like, as the winner will most likely be a member of a playoff-bound squad. Here are a few names you might want to consider.
Mookie Betts, Los Angeles Dodgers, +500
There are two diverging schools of thought with Betts. The first is that he's possibly the best player in the game, which makes for a compelling argument to make him the MVP in his first year in the National League. He's playing for the best team in the league, and unless something goes completely wrong, the Dodgers are almost sure to be in the mix for the pennant and a World Series title.
And that's also one of the biggest arguments against Betts: his team was going to be fantastic with or without him, so is he going to get the credit that he deserves if the Dodgers do have a great season? Or are the writ-ers going to see him as merely another cog in an already outstanding squad and look elsewhere for the MVP? It's a classic case of why I do not like making a bet on the MVP because value is totally subjective. Betts could have a fantastic season, and the Dodgers could see their winning percentage drop 20 points, leading some writers to question whether Betts was the right fit for Los Angeles, even as he did his job. Or Betts could be the spark plug that leads Los Angeles to a genuinely terrific regular season where the Dodgers have the divi-sion and the top seed sewn up early. You just don't know how the writers are going to see it with a player in this type of situation, and that's what makes it so hard to decide one way or the other with Betts.
Personally, I'm a lot more willing to make this bet than I was with Mike Trout because a player going off at +500 isn't that big of a risk to take as the favorite. He's in a walk year (the reason the Red Sox traded him to the Dodgers in the first place), so he's got every incentive to try to bring a championship to Hollywood. If he sets up the Dodgers for another run at the World Series, he'll be in the mix. The absolute best odds for Mookie Betts to win the NL MVP award is at 5Dimes. They also offer reduced odds wagering on baseball games every day of the season. Reduced juice baseball betting trumps any signup bonus that you can receive as it's the gift that keeps on giving!
Ronald Acuña, Atlanta Braves, +600
While Betts could pay the price with the voters for joining an already great team, Acuña could benefit from the loss of Josh Donaldson if the Braves are able to keep up their winning ways without him. Acuña has proven himself equally adept at winning games with both power and speed. If he can add defensive skills to his repertoire this season, he'll set himself up for an outstanding season and make the Braves contenders for the NL pennant.
Where could this go wrong? The Braves might not be as good without Donaldson — and it's possible that they might not have been as good with him because they play in a tough division. The NL East includes the defending world champion Nationals as well as the up-and-coming Mets and Phillies. The Braves are the best team in the division on paper. However, it's difficult to keep maintaining success year after year, especially in a situation like this one, where nobody really knows what's going on with anything.
However, few teams have as strong of a history of success in the regular season as Atlanta, and the Braves still have a very talented roster returning to help Acuña showcase his immense talent. Plus, thanks to the Nationals stealing their spotlight last year, the Braves won't have the huge target on their back that usually comes with being a division champion. That will take some pressure off Acuña, and any time you can reduce the pressure in baseball, it's a good thing. As long as the Braves give him a green light on the base paths, there's a lot to like about Acuña at his price.
Christian Yelich, Milwaukee Brewers, +700
How much do you believe in the Brewers? Yelich would likely have been the NL's MVP a season ago if he could have stayed healthy (and the Nationals' magical run might have been over before it started with a loss in the wild card game to the Brewers), but the end of his season on Sept. 10 ruined his run at the award and severely hampered Milwaukee's pursuit of the NL pennant.
However, Milwaukee probably isn't going to be as good as it was a season ago, which means that Yelich is re-ally going to have to earn this thing if he's going to win it. Not only are the Brewers weakened by the loss of several key players, but they've seen the division get stronger while they've taken a step back. Both the Car-dinals and the Reds have likely passed Milwaukee, which means that Yelich really has his work cut out for him as far as getting the Brewers back into the postseason. But his OBP was nothing short of outstanding a season ago, and the Brewers should still be competitive for a wild card spot. If Milwaukee is still playing after the final regular-season game, Yelich will be hard to ignore.
Cody Bellinger, Los Angeles Dodgers, +800
Here's something that doesn't often happen: the defending MVP isn't even seen as the best player on his own team. That's what happens when a player like Betts changes teams and changes leagues, but Bellinger needs to be getting more respect. Bellinger was outstanding in terms of power and defense, and his next-level stats resulted in a 9.0 WAR, easily enough to impress voters.
But can he do it again? First, he's going to have a hard time winning over the voters for a second consecutive year, because as we mentioned in the American League piece with Trout, voters do not like giving the MVP award to the same player in consecutive seasons. Second, the presence of Betts has changed things, because Bellinger could get overshadowed by a member of his own team. It's tough to be considered the league's most valuable player when you're not the most valuable player on your own team.
Bellinger certainly has the talent to repeat as the NL MVP, but he's going to have to find a way to outshine Betts. That's a tough ask, and it's not one I want to bet.
Bryce Harper, Philadelphia Phillies, +1200
Harper was the butt of jokes last season after he forgot he now played for Philadelphia and mistakenly said that he wanted to bring a title back to D.C. (and then watched the Nationals do precisely that). That said, he had an excellent first season in eastern Pennsylvania, driving in 114 runs and hitting 35 homers. But he played for a so-so team in Philly, and that's never a good way to get MVP votes. But the Phillies seem to be taking some steps forward in a tough division, and they're built around Harper continuing to be a star.
It's easy to forget just how good Harper has been and how young he is, given that he's never really done it in a big game. But we're only worried about the regular season here, so it doesn't make a difference that Har-per has never played in anything beyond the NLDS. What matters is that the Phillies are on the right track, and while Didi Gregorius is an excellent player, he's the kind of player who will complement Harper rather than stealing his spotlight a la Betts with Bellinger. If the Phillies make a run at the NL East title, Harper will be a big reason why.
Pete Alonso, New York Mets +3300
Something's wrong with the sportsbooks here because there is absolutely no way that Alonso should be go-ing off at this kind of price. Yes, he strikes out far too often, and the Mets have never had an MVP award winner in their 58-year history, but the man whacked 53 home runs a season ago and plays for a team that could easily make a short step forward and contend for the wild card or even the NL East. Plus, prior to last year, the Mets had never had a player hit 50 home runs in a season, so Alonso is used to making some history in Queens.
There are plenty of flaws with Alonso, not the least of which that he's in line for a sophomore slump after bursting onto the scene last season and sending baseball after baseball into the stands. His average isn't great for this day and age, and 183 strikeouts is a ridiculously high number. But Alonso finished seventh in the race for MVP last season and was the easy choice for Rookie of the Year in the National League. Plus, he plays in New York, which gives him the chance to be seen a lot and get a lot of hype from the New York media (alt-hough it didn't work last year for D.J. LeMahieu in the Bronx).
If Alonso has a great year and the Mets find their way to the postseason, the hype train will get rolling, espe-cially given that the Mets have never had an MVP. These odds are about double what they should be, and I'd be happy to throw a couple of dollars on Alonso at this return on investment.
Dan's Pick to Win the NL MVP
With so many top players on the senior circuit and so much balance between the top teams (outside of the Dodgers), this isn't an easy bet to make by any stretch of the imagination. That's good and bad because it means that nobody really stands out as a favorite, meaning that anyone you pick will return a nice payout if it turns out to be the right guy.
For me, even though Betts is the favorite, I really don't want to gamble on that narrative. He's a great player, but playing with Bellinger makes it more likely that they're going to suck votes from each other and ruin each other's chances at the award. Not to mention, Betts will be having to adjust to unfamiliar National League pitching, which the unfamiliarity could lead to struggles at times.
For a purely subjective bet like this one, I want a guy who is unquestionably the best player on his team, and that leads me toward Acuña. I like the Braves this season even without Donaldson, and for Atlanta to become a genuine contender as I expect, Acuña has to play like a top player.
I think this sets up well for taking two and possibly three players because of how high the potential payouts are. If I were betting this, I'd like to play two units on Acuña and one unit each on Harper and Alonso. The NL East is a tough division to pick this year, and I think any of the four teams not named the Marlins could win it. I also believe that Atlanta, Philadelphia and the Mets all have one player who would have to be great in order for them to win the division title, and any of them represents a nice return on your investment. Futures bets are tough. Instead of risking your hard earned money, consider betting the NL MVP for FREE. How can you do this? You simply need to register for an account at MyBookie and deposit $100 to $300 and they'll match your deposit amount with a 100% matching REAL CASH bonus. You'll need to sign up through this special link to take advantage of this great offer and make sure that PREDICT100 is in the promo/bonus code box. Enjoy!