New York Mets at Atlanta Braves Pick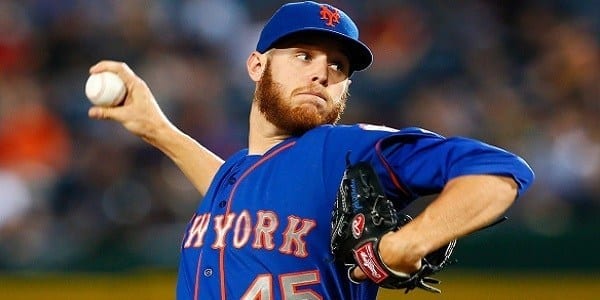 Time: 7:20 pm ET
Where: SunTrust Park, Atlanta
Listed Pitchers: Steven Matz (NYM) vs. Kevin Gausman (Atl)
TV: SNY, FS South
Moneyline: Mets +110/Braves -120
Over/Under: 8.5
The Mets bounced back after two straight losses by taking advantage of a meltdown by Minnesota's bullpen and scoring a 9-6 victory despite managing just five hits in the entire contest. The Braves, meanwhile, didn't get the chance to play on Wednesday after a blizzard threatened to bury Colorado, allowing Atlanta to get out of the mountains before the most severe weather arrived in Denver.
MLB Betting Odds
The line has shifted slightly toward the Mets since opening at -130 for the Braves with an over/under of 9. The Mets are now at +110 to the Braves' -120, setting Atlanta up with a relatively low price for a home team that technically had the previous day off.
Mets vs. Braves Set-Up
This was once the best rivalry in the National League East, and there's a chance that things are heading in that direction again after the Braves won the division for the first time since 2013. Atlanta won the season series from the Mets by a 13-6 count, including a 6-3 mark at SunTrust Park. This will be the first meeting of the year between these squads, and they'll match up 18 more times before the season is complete.
MLB Betting Note: Here at Predictem we focus not only on why we like one team over another, but also how much value the odds offer on said team. No matter how strong Team A is over Team B, team A will never win 100% of the time so that means the payout needs to be right. Betting into pricing that is too high, especially in MLB, is a sure way to be a losing gambler. Predictem offers information about the best MLB betting sites but also low margin betting in general. It is similar to buying a car. No matter how good of a deal the car is, if you're paying 40% interest on the loan, you can't come out ahead!
Thursday's Starting Arms
Dating back to last season, Matz (0-0, 0.87) has seen his team win in each of his past four starts. Matz seems to have settled into his own in New York. The Stony Brook, N.Y. native isn't likely to waste much time worrying about the New York media and the distractions that come with playing in New York.He only faced Atlanta on one occasion last year, and his team took the loss when the Mets' bullpen couldn't hold a lead and the Braves scampered home with a 7-6 win.
The Braves will counter with Gausman (1-0, 0.00), who was masterful in his only start this year, a seven-inning shutout of the Marlins that saw him surrender just two hits. Granted, everyone has done that to the Marlins in recent years, but Gausman has looked very solid since the Braves plucked him out of the baseball purgatory otherwise known as Baltimore.
Dating back to last season, 10 of Gausman's past 11 starts have seen him hold the opponent to three runs or less. Matz is right there with him, having gone 10 straight starts without conceding more than three earned runs.
Thursday's Batting Splits
The question mark here had absolutely nothing to do with the action on the diamond, but it's an important part of which team is going to win this matchup. How are the teams feeling after a long day of travel? Atlanta actually got a reprieve here when the blizzard in Colorado wiped out its game, but the Braves did still have to cross two time zones. Conversely, the Mets didn't have as far to go, but they still had to play their Wednesday game.
Who else wants $60 of FREE MLB picks & predictions?
Outside of travel concerns, these teams are essentially equals at hitting and manufacturing runs. The Mets rank ninth in OPS at .811 and eighth in runs scored with 60, and the Braves are a shade behind at .805 in OPS and 59 runs scored, both of which are one spot below the Mets.
More Free MLB Picks - from Kevin West
The Bullpens
These bullpens should come with instructions to fasten your seatbelts. Neither team has really been able to count on its bullpen to close the door, as the Braves' pen acknowledges an ERA of 5.54 and the Mets are even worse at 6.51. Only Justin Wilson and Edwin Diaz have a lower ERA than 4.5 for the Mets' pen, and the Braves have just three players below that pedestrian mark. In short, no lead is safe with these bullpens.
Totals Report
The over is 5-0 in the Mets' past five road games.
The under is 6-1 during the Mets' past seven Thursday games.
The under is 4-1 during the Braves' past five road games.
The under is 4-1 in Gausman's past five starts when his most recent appearance was a quality start.
Free MLB Pick
These two teams are likely going to be battling each other throughout the year for the NL East, along with Philadelphia. Both clubs know that they can't afford to lose ground to each other, and that's especially true when they aren't facing their rivals' top starters.
That's why I'm going with the Braves in this game. They're playing at home, they didn't use their energy in playing a game Wednesday and I think they understand that they need this game more given that they're not facing off with Jacob deGrom or Noah Syndergaard. Matz is a solid No. 3 starter, but he's the type of pitcher that the Braves need to go out and beat if they're going to keep their crown in the face of the charges of the Mets and the Phillies. I think Atlanta wins a low-scoring affair, and I'll take the Braves and the cheap price for a home team.