New York Mets vs. New York Yankees Pick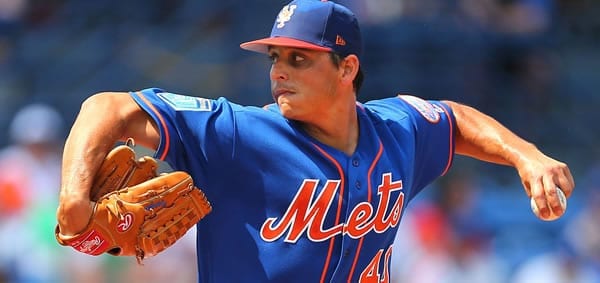 New York Mets (32-33) at New York Yankees (40-24)
When: 7 p.m., Wednesday, June 12, 2019
Where: Yankee Stadium
Line: NYM +165/NYY -185
Runline: Mets +1.5/Yanks -1.5
Total: 9
Starting Pitchers: Jason Vargas (2-3, 3.57 ERA, 1.35 WHIP) vs. James Paxton (3-2, 3.11 ERA, 1.17 WHIP)
One and Done
Jason Vargas has emerged from the injured list as a totally different pitcher than he was when he started the season. At the beginning of the year, Vargas looked like he wasn't going to last the season in the Mets' rotation, starting the year by getting hammered by the likes of Miami, Atlanta and Minnesota (although the last one has proven to be a much better outcome than nearly anyone could have predicted).
But since his embarrassment of four runs in a third of an inning against the Braves, he's found his form. His next three starts yielded just one earned run apiece, and after going on the IL for three weeks following a 3-2 loss to Milwaukee, he's found the endurance that had been missing at the start of the year. In his past three starts, he's given up just two earned runs while going an average of seven innings. Only a complete lack of run support prevented him from beating the Dodgers, but he more than made up for it by blanking the Giants and going the distance in his most recent outing. Something has changed for Vargas, and he's now pitching like a reliable major league starter.
Home Sweet Home
For James Paxton, the goal has been to string together three good performances in a row. Paxton has had no trouble piecing together consecutive sharp outings as of late, as four of his past six starts saw him hold his opponent to zero earned runs. But the other two didn't go nearly as well, as he gave up three in less than six innings to both San Francisco and Toronto. The Yankees were able to bail Paxton out against San Francisco with seven runs, but things didn't go as well against the Blue Jays in his most recent start.
Betting Note: Successful baseball betting depends on two factors. 1) Winning and 2) The best MLB odds. You can win at a relatively high rate and still lose money because you aren't getting the best mlb prices. Many times a sportsbook with a dime line will have the best price. Be sure to have low margin books in your betting toolbox!
So what's the situation facing Paxton here? Not only is this the start of a new three-game stretch, but he's pitching at home. That's the common link in Paxton's starts: every third start has been away from Yankee Stadium. When he's pitched in the Bronx, he's been stingy and difficult for hitters to solve, and he's not given up an earned run at home since March 30 against Baltimore. In his four road starts, on the other hand — including one against those same Orioles — Paxton has been very human. The Orioles tagged him for four rins in that game, and he's not had a road start where he's conceded less than three earned runs. Luckily for him and the Yankees, this one's going to be in the Bronx.
50% Free Play up to $1,000

Eighteen-Inning Event
These teams were already scheduled to face off on Tuesday, but storms in New York knocked out those plans. Instead, the teams now face a day-night doubleheader, which means a long time at the ballpark for both of these teams on Wednesday. This becomes a test of both mental preparation and physical fatigue, as 18 innings and nearly 10 hours at any location takes its toll on even the strongest of competitors. It might not be too difficult for a player to have one productive at-bat in three or four chances, but it gets substantially harder when you're facing the seventh or eighth trip to the plate of the day. Whichever team can overcome the fatigue and distractions of this game will have the edge.
The Historicals
Subway Series games are always going to be intense affairs given the fan bases of both clubs and their histories. Incredibly, the Mets are the team with a World Series appearance most recently under their belt, as they made in in 2015, while the Yankees haven't gotten there since 2009. Last year, the teams split six meetings: a far sight better for the Mets than 2017, when the Yankees swept all four games.
Betting Trends
The Mets have won six of their past seven Tuesday games (postponed to Wed).
The Mets are 1-6 in their past seven road games against a left-handed starter.
The Yankees are 6-1 in their past seven interleague games against a left-handed starter.
The Yankees have won five of Paxton's past six starts.
The over is 9-1-1 in the Mets' past 11 interleague road games against a left-handed starter.
The over is 4-1 in the Yankees' past five against the NL East.
Weather Report
74 degrees and sunny makes for a much better situation than what these teams had yesterday, so expect ideal conditions for baseball in the Bronx.
Dan's pick
This is a battle of strength on strength, as Paxton is pitching at home, where he has been simply dominant this season. Vargas has looked very good in the past three weeks no matter where he has pitched. So which way do I pick this game?
I've got to go with the Yankees, simply because the Mets' bullpen is just awful. The Mets have conceded 41 earned runs in their past 46.2 innings, and the bullpen is such a mess that Vargas had to go the distance just to ensure that no comeback was possible for San Francisco.
I don't think Vargas can repeat that performance a second time. I think he'll give the Mets a good performance and keep them in the contest, but I expect him to leave the game after six or seven innings, which opens the door for the Yankees to pad their lead off the bullpen.
Because of the bullpen weakness, I need to go with Paxton and the Bronx Bombers at home, and I'll do it on the runline because the Yankees are going at an awful price, so I need to get some better odds on them somehow. I'll do it by taking the Yankees at -1.5
Who else wants $60 of FREE member picks & predictions?
(NO commitments. NO Credit Card. NO Salesman.)