[et_pb_dcsbcm_divi_breadcrumbs_module hide_homebreadcrumb="off" homebreadcrumbtext="Home" separator="sep-raquo" hide_currentbreadcrumb="off" homebreadcrumborientation="left" _builder_version="3.8″ fontsbreadcrumbs_font="Lato||||||||" fontsbreadcrumbs_text_color="#000000″ fontsbreadcrumbs_font_size="15px" fontsbreadcrumbs_line_height="16px" fontsseperator_font="||||||||" fontsbreadcrumblinks_font="||||||||" fontsbreadcrumblinks_text_color="#2567cf" custom_margin="25px|||" custom_margin_phone="30px|||" custom_margin_last_edited="off|desktop" custom_css_main_element="font-family: Helvetica Regular;" global_module="3641″ saved_tabs="all"][/et_pb_dcsbcm_divi_breadcrumbs_module]
New York Yankees at Baltimore Orioles (7/11/18)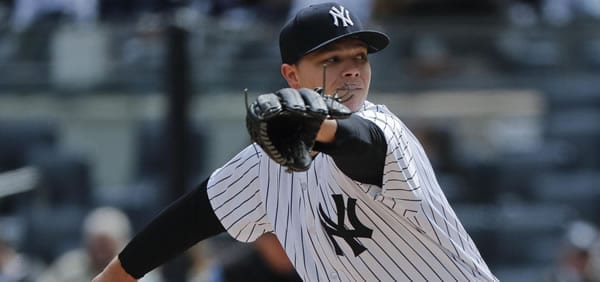 Time: 7:05 PM ET
Venue: Oriole Park at Camden Yards
Location: Baltimore, Maryland
Moneyline: New York (-140) / Baltimore (+130)
Over/Under: 9.5
By Bryan B.
Baltimore looks for a rare series win against one of the best teams in Major League Baseball Wednesday night at Camden Yards. Tuesday night's comeback victory gives the Orioles a 2-1 lead in the four-game set versus the Yankees. The Orioles own the worst record in the league with a 26-66 (.283) mark. However, they're leading the season series versus the Yankees 5-4 despite being outscored 51-42 thru nine games. This is the 10th meeting of the year between these two clubs, and they'll play nine more after the All-Star break. Currently, Baltimore's five wins against the Yankees are the most they have against any team so far this season.
Yankee Bullpen falters late; lose at Orioles
The Yankees appeared to be in control in the latter stages of Tuesday night's American League East showdown at Camden Yards. Clinging to a 5-3 lead in the bottom of the seventh, reliable reliever Chad Green (5-1, 2.23 ERA & 0.97 WHIP) gave up a two-run shot to Orioles lone All-Star Manny Machado (.314 AVG, 23 HR, 63 RBI & .385 OBP). It was Green's first home run or earned run allowed since May 21st. Then, with the bases juiced and two outs in the bottom of the ninth Orioles second baseman Jonathan Schoop hit a walk-off single off Dillon Betances (2.75 ERA & 1.07 WHIP). Schoop went 2 for 5 (.400) with one extra-base hit and the game-winning RBI. Manny Machado is likely playing his last few games in a birds uniform before he's dealt at the deadline, but he's playing as a man possessed. In Tuesday night's contest, he finished 3 for 4 (.750) with two homers and three RBI. It was Betances third loss this season.
As a result of Tuesday night's loss, the Yankees are 59-31 (.656) thus far which is the third-best mark in the League. They're second in the AL East Race, three and a half games behind the surging Boston Red Sox who've won eight straight decisions. Offensively, the Yankees have plated 465 runs which is third best in MLB. Their pitching staff has been stellar too as they've allowed just 343 runs which is second best in the Bigs. New York's plus-122 run differential is third best in the League behind only Boston and Houston. Wednesday night's game at Camden Yards is the seventh game of an 11-game road trip to culminate the first half of the year. July 12th – 15th the Bronx Bombers will play a four-game set at Cleveland. On the road, the Yankees are 26-18 (.591) approaching the All-Star Break.
Speaking of All-Stars, the Yankees have four of them: Judge, Severino, Chapman, and Torres. Aaron Judge (.281 AVG, 25 HR, 60 RBI & .398 OBP) is second in the American League in homers and walks (64). Luis Severino's the ace of the Yankees rotation, and he's 14-2 with a 2.12 ERA and 0.96 WHIP this year. Severino leads the AL in wins (14) and winning percentage (.875). Closer Aroldis Chapman has been nothing short of stellar this season. Chapman's 3-0 with a 1.42 ERA and 0.84 WHIP. He's converted 96% of his save attempts so far (24/25). Rounding out the Yankees All-Star selections is rookie sensation Gleyber Torres (.294, 15 HR, 42 RBI & .350 OBP). However, Torres won't be participating due to a hip injury which the Yankees hope to have him back from after the All-Star Break.
Baltimore's in the basement
Even with the nice comeback win against a terrific Yankees lineup Tuesday night, there isn't much to smile about if you're an Oriole fan these days. They're the worst team in baseball, All-Star Manny Machado's on his way out of town, and the whole organization appears to be a dumpster fire. According to our calculations, Baltimore's on pace for a 46-116 Regular Season record. It'll probably wind up being even worse since they're about to part ways with all their best players who've got value at the deadline. Currently, the Orioles are last in the AL East Standings, and they're 37.5 games behind first-place Boston. Baltimore's the second worst offensive unit in baseball having scored just 330 runs, and their pitching staff is tied for third worst in the League having allowed 480 runs thus far. Their minus-150 run differential is second worst in MLB. Baltimore aims to do something they've only accomplished six times this year Wednesday night at Camden Yards: win back-to-back games.
Gray vs. Bundy
Things haven't been too sunny lately for Yankees starter Sonny Gray (5-7, 5.85 ERA & 1.57 WHIP). His future in Pinstripes looks somewhat gray right now, and this very well could be his last start in a Yankee uniform as his name has been rumored in trade chatter. The sixth-year Vanderbilt product has been the weakest link in the otherwise stellar Yankees rotation this season. In his last three starts, Gray is 0-3 with a 12.27 ERA and 2.18 WHIP. He hasn't advanced past 2 1/3 innings in consecutive starts. However, Sonny gets a shot at redemption at Camden Yards in a favorable matchup against the lowly Baltimore Orioles. In two starts against the O's this year, Gray is 2-0 with a 3.00 ERA and 0.83 WHIP.
This will be Dylan Bundy's (6-8, 4.08 ERA & 1.27 WHIP) first start versus the Yankees this year. The fourth overall pick for the Orioles in the 2011 MLB Draft is Baltimore's number-one, and he proved why in June. Bundy went 3-0 in four starts with a 1.99 ERA and 1.00 WHIP. However, he suffered a sprained ankle in the win at Atlanta on June 23rd. In his first start since returning from the disabled-list on July 6th, Bundy threw 61 pitches over 3.1 innings in a 6-2 loss at Minnesota. He allowed nine hits and five earned runs, earning his eighth loss of the season. Consequently, Bundy's 0-1 with a 14.52 ERA and 3.23 WHIP in July. Bundy looks to regain his form from June Wednesday night versus the Yankees. In his career versus the Bronx Bombers, Bundy's 2-3 with a 5.38 ERA and 1.59 WHIP.
Where's the value?
Oddsmakers are giving the slight edge to the Yankees here with the -140 price tag. Essentially, this means the Yanks need to win this one 59.2% of the time to make this a profitable bet. On the flip side, Baltimore's getting +125 which means they'd need to win 44.4% of the time to justify laying the bet on them as the dog. Gray and Bundy are both untrustworthy right now. Gray has just been awful lately, not being able to get thru even three frames in consecutive starts. Bundy, on the other hand, is returning from a severe ankle sprain and isn't his usual self. However, Gray does have quality numbers against the Orioles this year, and he's pretty much fighting for his job in this favorable matchup against an Orioles team that has the worst record and second-worst offense in the League. There's absolutely no value in putting money down on a team that's won just 28.3% of their games this year (Baltimore). In fact, there's significant negative value in betting on the underdog here. However, there's some value in taking New York is this spot despite the less than desirable starting pitcher. The Yankees are starting to fall behind Boston in the AL East Race, and they've got to be livid after blowing Tuesday night's game against the lowly Orioles. Every game counts in the grand scheme and losing gimmes to teams of the Orioles ilk is simply a crime. Don't expect it to happen back-to-back nights at Camden Yards. According to our calculations, the Bronx Bombers will take this one 65.5% of the time. So, with the current line, we're getting a 6.3% edge which is where the value is at in this AL East battle. Guys, get the best betting value for this game by laying your action at 5Dimes where you risk less with every wager!
<div class="widget105"><!-- [et_pb_line_break_holder] --><h4 class="baseball">Baseball Sportsbooks</h4><!-- [et_pb_line_break_holder] --><table id="dimeline"><!-- [et_pb_line_break_holder] --> <tr><!-- [et_pb_line_break_holder] --> <th></th><!-- [et_pb_line_break_holder] --> <th width="110px">10¢ to:</th><!-- [et_pb_line_break_holder] --> <th width="110px">20¢ to:</th><!-- [et_pb_line_break_holder] --> </tr><!-- [et_pb_line_break_holder] --> <tr><!-- [et_pb_line_break_holder] --> <td><div class="col1"><a href="https://record.commission.bz/_BhTQDVOVie23_O3IiMN7EWNd7ZgqdRLk/1/"><!-- [et_pb_line_break_holder] --> <img src="https://www.predictem.com/wp-content/uploads/2018/06/SportsBettingDark.png" width="150" alt="SportsBetting" /></a><!-- [et_pb_line_break_holder] --> </div></td><!-- [et_pb_line_break_holder] --> <td>-200</td><!-- [et_pb_line_break_holder] --> <td>-279</td><!-- [et_pb_line_break_holder] --> </tr><!-- [et_pb_line_break_holder] --> <tr><!-- [et_pb_line_break_holder] --> <td><div class="col1"><a href="https://www.predictem.com/betting-sites/heritage-sportsbook/"><img src="https://www.predictem.com/wp-content/uploads/2018/06/heritage-xs.png" width="150" alt="Heritage" /></a></div></td><!-- [et_pb_line_break_holder] --> <td>-200</td><!-- [et_pb_line_break_holder] --> <td>-240</td><!-- [et_pb_line_break_holder] --> </tr><!-- [et_pb_line_break_holder] --> <tr><!-- [et_pb_line_break_holder] --> <td><div class="col1"><a href="https://affiliates.5dimes.eu/tracking/Affiliate.aspx?idBook=1&mediaTypeID=220&AffUrlID=80&LandingPageID=2"><img src="https://www.predictem.com/wp-content/uploads/2018/06/5Dimes_sm.png" width="150" alt="5Dimes" /></a></div></td><!-- [et_pb_line_break_holder] --> <td>-195</td><!-- [et_pb_line_break_holder] --> <td>-266</td><!-- [et_pb_line_break_holder] --> </tr><!-- [et_pb_line_break_holder] --></table> <!-- [et_pb_line_break_holder] --><div class="widget-footer"><a href="https://www.predictem.com/best-sportsbooks/mlb-dimeline/">See all Dimeline Sportsbooks</a></div><!-- [et_pb_line_break_holder] --></div><!-- [et_pb_line_break_holder] --><!-- [et_pb_line_break_holder] --><style><!-- [et_pb_line_break_holder] --> #dimeline {border: 0px;}<!-- [et_pb_line_break_holder] --> #dimeline th{color:#000;}<!-- [et_pb_line_break_holder] --> #dimeline td{padding: 2px; text-align: center;}<!-- [et_pb_line_break_holder] --> #dimeline td, #dimeline th{padding: 8px 2px; text-align: center;border-bottom: 1px solid #bbb;}<!-- [et_pb_line_break_holder] --> .img-hover {border: 1px solid #fff; padding:5px}<!-- [et_pb_line_break_holder] --> .img-hover:hover {background: #edeef0; border: 1px solid #008156; margin-top:1px; padding:5px}<!-- [et_pb_line_break_holder] --></style>
<div style="width:340px; margin: 0 auto;"><!-- [et_pb_line_break_holder] --> <a class="twitter-timeline" data-width="340" data-height="500" data-link-color="#008156" href="https://twitter.com/PredictemPicks?ref_src=twsrc%5Etfw">Tweets by PredictemPicks</a> <script async src="https://platform.twitter.com/widgets.js" charset="utf-8"></script><!-- [et_pb_line_break_holder] --></div>
<aside><!-- [et_pb_line_break_holder] --><div class="widget105"><!-- [et_pb_line_break_holder] --><h3>Biggest Sportsbook Bonuses</h3><!-- [et_pb_line_break_holder] --><div class="widgetlist"><!-- [et_pb_line_break_holder] --><div class="col1"><!-- [et_pb_line_break_holder] --><img src="https://www.predictem.com/wp-content/uploads/2018/04/bovada.png" width="150" alt="Bovada" /><!-- [et_pb_line_break_holder] --></div><!-- [et_pb_line_break_holder] --><div class="col2"><!-- [et_pb_line_break_holder] --><span class="list"><b>50% Cash</b></span><br><!-- [et_pb_line_break_holder] --><span class="list">5x Rollover</span><!-- [et_pb_line_break_holder] --> </div><!-- [et_pb_line_break_holder] --> <div class="col3"><!-- [et_pb_line_break_holder] --><a href="https://www.predictem.com/betting-sites/bovada/"><button class="btn-widget">Review</button></a><!-- [et_pb_line_break_holder] --></div><!-- [et_pb_line_break_holder] --></div><!-- [et_pb_line_break_holder] --><div class="widgetlist"><!-- [et_pb_line_break_holder] --><div class="col1"><!-- [et_pb_line_break_holder] --><img src="https://www.predictem.com/wp-content/uploads/2018/04/intertops.png" width="150" alt="Intertops" /><!-- [et_pb_line_break_holder] --></div><!-- [et_pb_line_break_holder] --><div class="col2"><!-- [et_pb_line_break_holder] --><span class="list"><b>50% Cash</b></span><br><!-- [et_pb_line_break_holder] --><span class="list">4x Rollover</span><!-- [et_pb_line_break_holder] --> </div><!-- [et_pb_line_break_holder] --><div class="col3"><!-- [et_pb_line_break_holder] --><a href="https://www.predictem.com/betting-sites/intertops/"><button class="btn-widget">Review</button></a><!-- [et_pb_line_break_holder] --></div><!-- [et_pb_line_break_holder] --></div><!-- [et_pb_line_break_holder] --><div class="widgetlist"><!-- [et_pb_line_break_holder] --><div class="col1"><!-- [et_pb_line_break_holder] --><img src="https://www.predictem.com/wp-content/uploads/2018/05/gt-bets.png" width="150" alt="GtBets" /><!-- [et_pb_line_break_holder] --></div><!-- [et_pb_line_break_holder] --><div class="col2"><!-- [et_pb_line_break_holder] --><span class="list"><b>150% Cash</b></span><br><!-- [et_pb_line_break_holder] --><span class="list">4x Rollover</span><!-- [et_pb_line_break_holder] --> </div><!-- [et_pb_line_break_holder] --> <div class="col3"><!-- [et_pb_line_break_holder] --> <a href="https://www.predictem.com/betting-sites/gtbets/"><button class="btn-widget">Review</button></a><!-- [et_pb_line_break_holder] --></div><!-- [et_pb_line_break_holder] --></div><!-- [et_pb_line_break_holder] --><div class="widget-footer"><a href="https://www.predictem.com/best-sportsbooks/bonuses/">See all sportsbook bonuses</a></div><!-- [et_pb_line_break_holder] --> </div></aside>