New York Yankees vs. Tampa Bay Rays Pick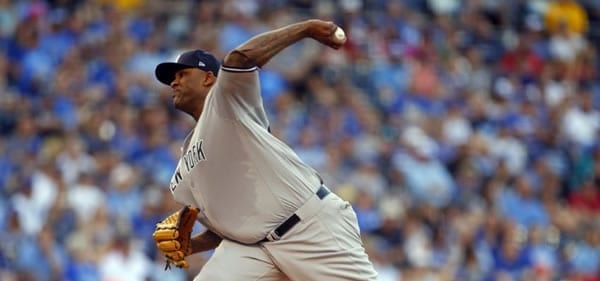 New York Yankees (23-15) vs. Tampa Bay Rays (23-14), 5/11/19
Time: Saturday, May 11, 6:10 pm ET
Where: Tropicana Field, Tampa, FL
Listed Pitchers: CC Sabathia (2-1, 3.20 ERA, 1.14 WHIP) vs. Ryne Stanek (0-1, 2.50, 1.00)
TV: YES, FS Sun
The Yankees grabbed the opener of this AL East rivalry series Friday night and now shoot for the series victory when the teams meet again Saturday evening at the Trop. Which way are we going here for our free MLB pick?
MLB Betting Odds
As of this writing Saturday's MLB betting odds were holding off on lining this game, as they contemplated what to do with Tampa and its "opening" starting pitcher. Last year Stanek opened against Sabathia once and the Rays won as +140 underdogs. But they won't be +140 underdogs Saturday.
Yanks vs. Rays Set-Up
New York took Game 1 of this series Friday night 4-3, cashing in as a +150 underdog on the MLB betting line against hot young Tampa pitcher Tyler Glasnow. Unfortunately for DJ, the Yanks took a 2-0 lead in the top of the first inning Friday, fell down 3-2 in the fifth, then scored twice in the top of the sixth to re-take the lead and held on from there for the victory.
Also, Friday's game pushed its total of seven runs.
With Friday's win New York is now 17-6 over its last 23 games.
With Friday's loss Tampa is only 4-5 over its last nine games.
At 23-14 overall the Rays now lead lead the AL East by just a half-game over the 23-15 Yankees.
This series is the first meeting between these divisional rivals this season. Last year New York took the season series from the Rays 10 games to nine.
More of Today's Action: Blazers vs. Nuggets Game 7 Pick!
Saturday's Starting Arms
Opener Stanek is 0/9 on quality starts this season, but his job is really just to pitch an inning or so, and he's done a pretty good job of it. In fact, he's only allowed the opposing team to hit the scoreboard once in his nine "openings." Tuesday he tossed two scoreless innings in a 6-3 Rays victory over Arizona, although six days before that Kansas City got him for three runs in one inning of work.
Tampa is 6-3 in games Stanek has "opened" this season.
Over seven appearances against the Yankees last season Stanek allowed four runs – three earned – and nine hits through 7 1/3 innings. Tampa finished 3-1 in games Stanek opened against New York last year.
Lefty Sabathia is 0/5 on quality starts this season because he has yet to pitch six full innings in any outing. Monday he gave up three runs and five hits, including a couple of homers, through five innings of a 7-3 Yanks victory over Seattle. And over his last three starts he's allowed nine earned runs and 16 hits, including six ding-dongs, over 15 1/3 innings.
Nonetheless, New York is 4-1 with Sabathia this season.
In three starts last year against Tampa Bay Sabathia allowed four ER and 20 hits through 18 innings, with 19 strikeouts. Thanks to some poor run support the Yankees lost two of those three games.
Saturday's Batting Splits
New York is batting .257/.339/.444 this season against right-handed pitching. This lineup is also still operating without several key sticks, including both Aaron Judge and Giancarlo Stanton, so it's almost amazing the Yankees are doing as well as they are this season.
Tampa Bay is batting .237/.322/.363 against left-handed pitching this season. But this lineup has been held to three runs or less six times in its last nine games.
The Bullpens
The Yankees bullpen, after throwing four scoreless innings Friday night and escaping a big-time jam in the bottom of the seventh, owns a 4.09 ERA this season and a 1.30 WHIP.
The Rays bullpen, which will play a big part in Saturday's game, owns a 3.23 ERA and a 1.16 WHIP.
Totals Report
Overs are 20-18 in Yankees games this season.
Unders are 20-15 in Rays games this season.
Unders are 11-8 in games played at Tropicana Field this season.
Unders finished 12-7 in Yanks-Rays games last season.
Free MLB Pick
Even with all its injuries New York is going in a good direction at the moment. Meanwhile, after a hot start to this season Tampa Bay is cooling off a bit as of late. And we're still not convinced this "opener" strategy is a winner. We're going with the Yankees for our free MLB pick for Saturday.
Who else wants $60 of FREE baseball picks & predictions?