Portland Trail Blazers vs. Denver Nuggets Game 7 Pick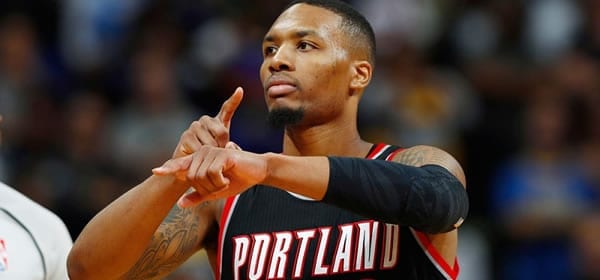 Portland Trail Blazers vs. Denver Nuggets Game 7 Preview and Pick
When: Sunday, May 12th, 3:30PM ET
Where: Pepsi Center, Denver, Colorado
TV: ABC
Point Spread: Por +5.5/Den -5.5
Total: 212.5
Money Line: Blazers +199 / Nuggets -240
Power Rating: Nugs -3
Probable Starting Lineups
Blazers: PG Damian Lillard, SG C.J. McCollum, SF Maurice Harkless, PF Al-Farouq Aminu, C Enes Kanter.
Nuggets: PG Jamaal Murray, SG Gary Harris, SF Torrey Craig, PF Paul Millsap, C Nikola Jokic
Loser Goes Home
It's a sports handicapper's dream! Game 7… An NBA game where there's something serious on the line and you KNOW you're going to get almost a 100% effort out of most players on the court. Or… is it a nightmare, because both teams are GOOD, all sportsbooks have a sharp line, and it's like splitting hairs to determine who will get the money? It's both and there are a turd load of intangibles to break down. Let's get at some of the more interesting angles…
All of Denver is High!
Yes! Maryjane is legal there, but that's not what I was referring to. Denver, Colorado sits at 5,280 feet in elevation, hence the nickname "Mile High City". As you've probably heard or experienced, it's harder to breath in higher altitudes. One wouldn't think a mile wouldn't be a big deal, but it is, and it's a tremendous home court advantage that the Denver Nuggets have been enjoying for quite some time. This year was no different, as the team went 34-7 on their home court (Best home record in the NBA). Breathing problems lead to fatigue. Fatigue leads to wobbly legs. Wobbly legs lead to shots being short.
Today's MLB Pick! - Always Free
So it leaves one to ponder… If the Blazers flew out directly after Thursday's home win to Denver to try and hurry up and get acclimated to the thin air, would they be rip-roaring-ready-to-go for Sunday's afternoon tilt? The answer? NO. It takes runners 3-6 weeks to get used to the altitude change. This gives the Nuggets an advantage.
Digging a little deeper, exactly how much of a home court advantage is it? Let's take a look at the most recent playoff games they've had. I thought about going back as far as mid-season, but I don't think that's relevant as the level of urgency isn't anywhere near what it is now. NBA players are generally lazy and don't put out 100% max effort. As a general rule of thumb, you can pretty much skip most of the game and just watch the last few minutes because that's the only time true effort is given. Can you imagine if players had the same motivation/dedication throughout the first 46 minutes? They did back in the 80's. It'd be a cold day in hell before you saw to opponents smiling, laughing and hugging after games like they do today. I'm getting off track. Let's get back to determining what kind of HCA the Nuggets have.
Denver has won by 5, 9, 18, 4, 8,and 26. They had one loss, which was by 7 points to Portland. If you applied game seven's spread of -5.5, they would have covered 4 of 7. That's 57.1%, which would net you a very tidy amount of loot if you were able to pull that off long term.
Tricky Line Backfires on Bookies?
So why the hell is game seven only a 5.5 point spread if Denver would have beaten the number to the tune of 57.1%? Here's my take… The books thought people were gong to load up on the Nuggets and they didn't. Like Portland, Denver isn't a market that gets a lot of run, so that can create misconceptions. The average fan saw Lillard's crazy stat line of his insane percentage of shots hit longer than 30 feet. They don't really want to bet on the Nuggets because they don't know Denver. East coast people rarely see Nuggets games unless they subscribe to the NBA League Pass. I really do believe the books hung a tricky line here, thinking they'd get one sided action on the Nuggets and they didn't. What's surprising to me is that there hasn't been any line movement as of Saturday morning at midnight.
The NBA is the "What Have You Done for Me Lately League"
Too many opinions are formed from what happened in a team's previous game. That's not a big enough sample size though, yet most sports bettors lean on that memory to form their opinion of who is going to win or cover. It's wrong, and that's why Bookies drive Cadillac's and you probably don't. Vegas wasn't built on people's opinions being right. Please erase the 124-98 drubbing that the Nuggets gave the Blazers in game 5 on May 7th. Denver isn't going to hold the Trailblazers to 36.7% shooting from the field again. Denver has allowed less than 40% from the field only TWO times in their last 17 contests. Portland will NOT hit 53.3% from the line again either. Prior to that unbelievable dud, the Blazers had only shot less than 65% from the charity stripe ONCE since Christmas. Furthermore, that was the first blowout in this matchup over the past 12 games since December 22nd of 2017, when Denver won by 17 at Portland.
Despite this game having more importance than all of their previous matchups, a good sample size would be to look at all of this season's games to see how they played out. When doing so, we see these two teams have gone at it nine times in the 2018/2019 season, dating back to November 30th. Four of those games were played in Denver. The Nuggets went 3-1 straight up in those games with final score margins of 3, 9, 8 and lost by 7. I wish it were as easy to say that you add those wins up, subtract the loss and divide by four, to come up with Denver should be favored by 3.25 lol. Some guys do! That's not how this works though. There are numerous variables to take into account such as who played, how much they played, who sat, who was hobbled, who was at the end of a road trip, who had been comfy at home for a week. Too much to list here. The historicals do have value though! Trends don't accurately produce future results, but it gives us a variable to take into consideration, especially if we see continued dominance, which we don't here. The fact that Portland won at Denver earlier in the series and only lost by 3 in another game earlier this season, proves that it's at least a 50/50 proposition that they'll cover Sunday's 5.5 line.
TIRED OF YOUR CREDIT CARD NOT WORKING AT SPORTSBOOKS? IT WILL AT MYBOOKIE+ GET a $1000 Free Play!
Injuries
Portland: Jusuf Nurkic is out indefinitely with some broken leg bones.
Denver: None
Betting Trends
The Blazers are 34-16-3 against the spread in their last 53 games after a straight up win of 10 or ore points.
The last four games in this series have gone over the total.
The OVER is 4-1 in the last 5 meeting's between these teams IN Denver. Note: Tonight's total is inflated!
The OVER is 19-7 in these team's last 26 meetings.
The UNDER bet has been a huge winner in Denver's last 19 home games as it's gone 14-5.
How the Public is Betting Blazers/Nuggets Game 7
One popular source I looked at had 58% taking the points and backing the Blazers.
The OVER 212.5 total is getting one-sided to the tune of 72%. The book has held firm on their line which means they like it to go under.
All This Mumbo-Jumbo and…
I'm basing my whole pick on one little thing I picked up on in the 4th quarter of Game 6… Zach Collins. Anybody notice how much run Zach Collins was getting in crunch time? it wasn't talked about but it was HUGE. The young 7-footer, who is supposed to be a Junior at Gonzaga, came up big for his team. His minutes spiked to 29 (he averages 17) and the young big-man was really effective defensively around the rim with 5 blocked shots. He stretches out the Denver defense as well, as he's a legit 3-point threat.
On a side note, Harkless and Aminu had their minutes pruned to 16 and 17 in favor of Collins and the red hot Rodney Hood, who was on the floor for 32 minutes in game 6 (where our Matt grabbed a W for us). The move was effective and I fully expect Terry Stotts to employ the same strategy in game 7. It takes some real nuts to go away from your game plan and to Stotts' credit, he did it and prospered in doing so. The Blazers were simply a better team with Collins/Hood getting the lions share of the minutes. I believe they rebounded better than Hark/Farouq, which is a key point, because the Blazers have had a miserable time bringing down rebounds.
Kevin's Pick to Cover the Spread
I'm betting the Blazers at +5.5. I absolutely hate being on the same side of the public but I think they have it right. In making this pick, I'm banking on Terry Stotts to play Collins and the all-of-a-sudden-confident Rodney Hood big minutes and for this game to be super competitive, with the Portland Trailblazers staying within +5.5 at games end and possibly even winning the game straight up. Best of luck to you with whatever you decide. Please be sure to check out Zman's Sunday night baseball preview in our MLB section!
Who else wants $60 of FREE member picks & predictions?