New York Yankees vs. Tampa Bay Rays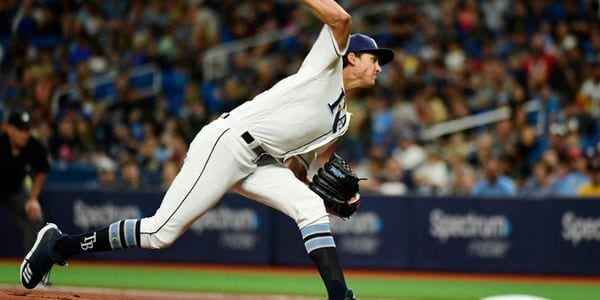 New York Yankees (22-15) at Tampa Bay Rays (23-13)
Starting Pitchers: Domingo German (6-1, 2.35 ERA, 0.89 WHIP) vs. Tyler Glasnow (6-0, 1.47 ERA, 0.86 WHIP)
When: Friday, May 10, 2019
Where: Tropicana Field, St. Petersburg, Fla.
Opening Line: NYY +125/TB -135
Line at Time of Print: (11:30AM ET) NYY +140/TB -150
Runline: Yanks +1.5 (-160)/Rays -1.5 (+140) (5Dimes)
Total: 7.5
Plundering the Pirates
So far, acquiring Glasnow from Pittsburgh a year ago looks like a stroke of brilliance for the Rays, as Glasnow has blossomed into an outstanding pitcher this season for Tampa Bay. The Rays surrendered Chris Archer in the deal, so it's not like they stole Glasgow for nothing, but to date, Glasnow has pitched like the All-Star they gave away, going at least five innings in every start and earning the decision in all six of the games that his team has won. In three of his seven starts, he didn't give up a single run, and he's proven excellent at missing bats by striking out six or more hitters on four occasions.
It's anyone's guess as to how long Glasnow can keep up his torrid start and whether he'll keep producing or fall back to earth, but right now, he looks like he could be the real deal.
What's German for Ace?
OK, it isn't pronounced the same (the Yankee pitcher's name is pronounced HER-mahn) and he's actually from the Spanish-speaking Dominican Republic, but in any language, Domingo German has emerged as the top hurler in the Bronx Bombers' rotation. He's been the starter six times this season, and he's pitched well in all seven of his appearances, never giving up more than six hits in an appearance. He's held opponents to two runs or less five times this year, and in one of his wins where he didn't, that happened because the Yankees stoked to an 8-0 lead, which allowed him a few free mistakes. What he's done well is get hitters to fly out, which could be an edge in pitcher-friendly Tropicana Field — as long as he can keep the ball away from the four catwalks that make up the roof.
Who else wants $60 of FREE member picks & predictions?
Whose Home is it Anyway?
One not-so-secret fact about this series is that the Rays rarely have much of an edge over the Yankees in terms of home field when they play at home. Tampa remains the Yankees' spring home, and New York has a substantial following in the Rays' home territory. The secondary market suggests that if Yankees fans plan to turn the Trop into Bronx South, they'll pay to do it: tickets are going for at least $40 for this game — and just $16 to see the teams meet in the Bronx a week later.
The Historicals
These teams play each other a lot, and they play each other tough and even. You might think that the Yankees used to beat up on the Rays in the days before Tampa Bay became a smart, disciplined, innovative organization, but you would be wrong. Even in the bad days when the Rays routinely finished last in the AL East, they always played the Yankees tough, and that's continued right along with Tampa Bay's rise. The biggest margin for either team in a season series over the past 12 years has been 12-7 for the Yankees, hardly a one-sided affair. Last year was no different, as the Yankees edged the Rays by going 10-9 against Tampa for the year. This marks their first meeting of 2019, and the Rays will be trying to claim the season series over the Bronx Bombers for the first time since 2014.
Betting Trends
The Yankees are 5-0 in their past five against the AL East.
The Yankees are 10-2 in their past 12 Friday games.
The over is 5-0 in German's past five road starts.
The Rays are 5-1 in their past six games following a day off.
The Rays are 10-1 in their past 11 series openers.
The under is 12-3-2 in Glasnow's past 17 starts.
Weather Report
 No weather to speak of here. Tampa's lovely in the spring, but this game's under a dome, so it means nothing.
Dan's pick
 One other thing we haven't covered is what these teams were doing on Thursday. While the Yankees were grinding out a home win over Seattle and giving us the W, the Rays were relaxing, at home in their own beds following a day off. They also didn't travel for their last series, when they hosted Arizona. The Yankees had to fly down to Tampa from New York, suggesting that travel fatigue could be a problem in this game.
Considering that these two offenses are almost equal, any edge to either side could be critical. This edge is too significant for me to ignore, and Tampa Bay is too good of a team not to take advantage of it. I don't love the idea of laying chalk here, but the goal is to win money however you can, and that means taking the Rays to keep things going in the right direction.