Seattle Mariners vs. New York Yankees Pick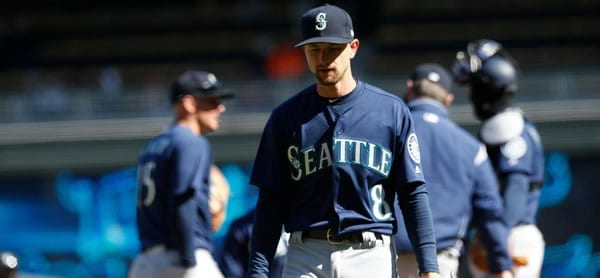 Seattle Mariners (19-19) at New York Yankees (21-14)
When: Wednesday, May 8, 2019
Where: Yankee Stadium, Bronx, New York
Opening Line: SEA +120/NYY -130
Line at Time of Print: (11:30AM ET) ATL +131/LAD -149
Runline: Mariners +1.5 (-158)/Yanks -1.5 (+139)
Total: 9
Starting Pitchers: Yusei Kikuchi (1-1, 3.98 ERA, 1.16 WHIP) vs. Jonathan Loaisiga (1-0, 2.70 ERA, 1.30 WHIP)
Get Me Some Help!
Yusei Kikuchi pitched well enough to win in his most recent start. He went seven strong innings on the hill, scattering just three hits for the evening. He'd only allowed one run to score, and he fanned 10 Cleveland hitters. The bad news is that the Mariners still lost the game because their punchless offense couldn't get more than a single run against Cleveland all night and took a 2-1 loss to the Indians.
It's a shame that Seattle wasted Kikuchi's sharp outing, because 10 strikeouts don't look very likely moving forward. Kikuchi is not the kind of pitcher who regularly misses bats, as his previous season high was five strikeouts. Instead, he'll slightly favor the fly ball to get outs…and that could be dangerous at the short right field porch in Yankee Stadium.
More MLB Picks from Kevin West
Rotation Return
 Jonathan Loaisiga last pitched out of the bullpen for the Yankees, and that's where he has been most effective. Truth be told, even when he starts, the Yankees treat him more like an opening pitcher a la Tampa Bay rather than someone they're counting on to go three turns through the lineup. Loaisiga didn't do that in either of his first two starts, exiting after four and three innings respectively, despite pitching a relatively solid game. The message is clear: do not expect him to still be in the game when the fifth inning rolls around. Loaisiga is only moving into the rotation with James Paxton sidelined, so the Yankees most likely turned to him because he's got starting experience and wouldn't force them to call anyone up from the minors. It's up to him to make the most of his chance.
Struggling in Seattle
The days of Slugging Seattle and that 18-11 start for the Mariners are long over. Over the past nine games, the Mariners' offense has been nothing short of pathetic. In that stretch, Seattle has scored a mere 29 runs, an average of just over three per game. But it gets much worse than that, because the Mariners managed to bunch 10 of those runs into one game against Cleveland. Take that out, and Seattle's production drops to an anemic 19 runs in eight games, all of which have gone in the loss column. Three times, they've put up a mere one run, and on another occasion, they were shut out at home by the Cubs.
Put simply, there's a reason that tickets for this nationally-televised matchup in the Bronx are going for $3 online (and $2 for Thursday's game): nobody wants to watch this Mariners team right now. They might lead baseball in home runs based off what they did in April, but right now, they're a struggling, boring team that isn't doing much of anything at the dish.
The Historicals
This hasn't been a close matchup as of late. Over the past three years, it hasn't mattered much where the matchup is played, the result has pretty much been the same: the Yankees besting the Mariners. Counting the two games played this year in that stretch, the Bronx Bombers have beaten up on the Mariners, going 10-3 against Seattle and winning all but one meeting in New York.
Betting Trends
The Mariners are 1-7 in their past eight road games.
The Yankees are 4-0 in their past four Game 3's of a series.
The over is 5-1-1 in Kikuchi's past seven starts.
The over is 4-1 in the Yankees' past five against the AL West.
The Mariners have dropped seven straight at Yankee Stadium.
Weather Report
The temperature is supposed to be 66 degrees for first pitch, a great night for baseball at Yankee Stadium.
Dan's pick
Was the hot start a mirage, or are the Mariners going to rediscover their form in the near future? Honestly, I don't know, but it feels like they're more likely a pretender than a contender. They're not hitting the ball well right now, and they're not getting the results they were at the start of the season. The Yankees, of course, have no such problems. They're playing very well at the moment, riding four wins in their past five games.
The line at bitcoin sites isn't too bad for a team that's lost eight of its past nine and hasn't exactly spent much time showing signs of life. Give me the Bronx Bombers here to keep making lives miserable for the Mariners.
Who else wants $60 of FREE member picks & predictions?