MLB Pick 9/11/18: Laying the lumber on the road with the A's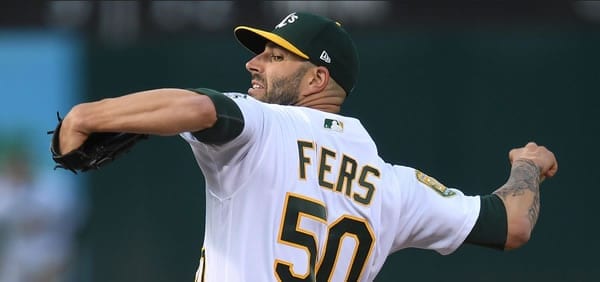 Oakland Athletics at Baltimore Orioles (9/11/18)
Time: 7:05 PM ET
Where: Oriole Park at Camden Yards. Baltimore, Maryland.
Listed Pitchers: Fiers (OAK) & Cobb (BAL)
TV: NBC Sports – California & MASN
Moneyline: OAK (-190) / BAL (+165)
Over/Under: 9
The Oakland A's and Baltimore O's both had an off-day Monday and should be fresh to start a three-game set at Camden Yards Tuesday night. Baltimore is the worst team in MLB, while the A's have really shown their mettle down the home stretch of the season. It looks like the American League Wild Card Game will be Oakland at the New York Yankees, but we'll see what happens the rest of September. This will be the fourth meeting of six scheduled for the season between Oakland and Baltimore. The A's swept the O's in early May at Oakland Coliseum, winning three straight games by a combined 10-5 score. Oakland enters Tuesday night's contest riding a four-game winning streak, while Baltimore's lost four consecutive decisions. It's probable that the streaks of success and futility will continue, respectively.
A's racking up W's
With 18 games remaining in the MLB Regular Season, the Oakland Athletics appear playoff-bound for the first time since 2014. Oakland enters Tuesday's contest on a four-game winning streak, and they've won six of their last seven decisions while outscoring opponents 46-25. Consequently, the A's sit at 87-57 (.604) overall this season.
Oakland's currently in second place in the American League West Division Standings, three games behind Houston. They're comfortably 7.5 games ahead of Seattle for the second and final Wild Card spot in the AL right now. The A's are ranked top six in the AL in runs scored (699 – 5th), runs allowed (598 – 6th) and run-differential (+101 – 5th). On the road, Oakland's accrued a 41-28 mark (.594) so far this season.
How low can the O's go?
There isn't much positive to say about the Baltimore Orioles 2018 MLB Campaign. At 41-102 (.287), the O's own the worst record in MLB. Their 102 losses are seven more than next-worst Kansas City. Baltimore's recent run of play has been indicative of their dismal season, losers in four straight games while being outscored 37-12. The O's have lost eight of their last nine decisions and have been outscored 65-25. Already having eclipsed the century mark in losses, the Orioles still have 19 games left to add to their embarrassing total.
Not surprisingly, Baltimore ranks worst in the league in runs allowed (795) and run-differential (-241). However, they aren't in the League basement in the runs scored department. The O's managed to plate 554 runs thus far, which ranks 28th in MLB. Baltimore's been better at home, but that's not saying much. Their 24-44 (.353) record at Camden Yards is the worst in Orioles History.
Fiers vs. Cobb
Veteran right-hander Mike Fiers (11-6, 3.36 ERA & 1.17 WHIP) is slated to start for Oakland Tuesday night. Fiers has been tremendous in his brief time as a member of the Oakland Athletics. In six starts with the A's since being acquired from Detroit, Fiers's 4-0 with a 2.98 ERA and 0.96 WHIP. On April 27th as a member of the Tigers, Fiers lost to Baltimore at Camden Yards. He allowed three earned runs on four hits over six frames in the eventual 6-0 loss to the Orioles. However, in three career starts in Baltimore, Fiers is 2-1 with a 2.25 ERA and 0.90 WHIP. Fiers is 3-4 over 10 road starts in 2018, compiling a 4.17 ERA and 1.16 WHIP.
Alex Cobb (5-15, 4.97 ERA & 1.42 WHIP) missed his last start due to blisters on his right hand, but he's scheduled to take the hill for the O's at Camden Yards. The veteran righty has had a forgettable year. On May 6th, Cobb allowed just one earned run on five hits over six frames at the Oakland Coliseum. Despite the solid effort, Cobb received the loss in a 2-1 Oakland win. In nine career starts versus Oakland, Cobb's 4-3 with a 2.30 ERA and 1.21 WHIP. Camden Yards hasn't been Cobb's friend throughout the 2018 season. In ten home starts, Cobb's 0-7 with a 5.10 ERA and 1.42 WHIP.
Where's the value?
This game gives us bettors an excellent opportunity to increase our bankrolls Tuesday night. Oakland is currently -190 on the money line, and I expect that number to soar the next 24 hours, so buy while the price is still right. With the odds at -190, Oakland would need to win this game 65.5% of the time to make betting on them profitable. According to my calculations, the A's will take this one 73.6% of the time which gives us an 8.1% edge against the number on the money line. I'm a proponent for taking Oakland -190 on the money line for the "W" and cold-hard cash.
Not betting online? Take the guess work out of choosing a betting site by reading our "Best Sportsbooks" page.