MLB Pick: LA Dodgers vs Colorado Rockies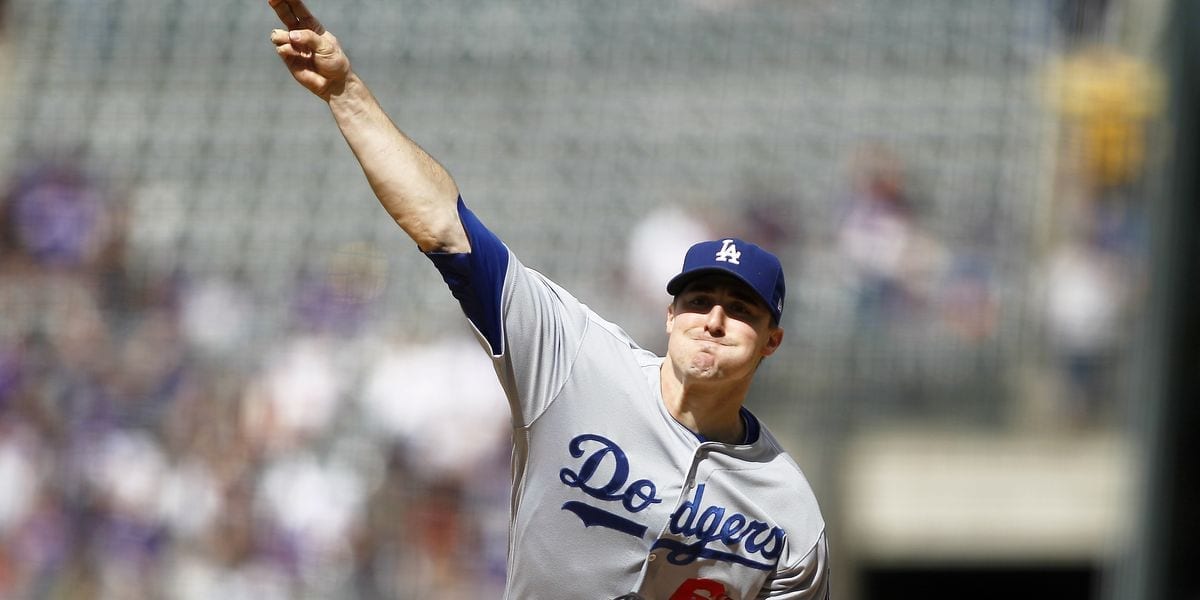 The Dodgers and Rockies continue their playoff quests when they open a four-game series in Denver Thursday night (8:40 ET). Which way are we playing this contest with our daily free MLB picks?
MLB Betting Line
Thursday's MLB betting odds LA and Ross Stripling at around -120 over Colorado and Tyler Anderson, with an over/under of 10.5 runs. Early MLB betting action then bumped the Dodgers about 15 cents, to around -135.
Los Angeles could also be bet getting around +115 giving the run and a half on the MLB run line. With an MLB dime line average pricing improves greatly. 
Thursday Set-Up
The Dodgers just split two games in Oakland earlier this week, losing with Clay Kershaw Wednesday 3-2. So LA is 0-1-2 over its last three series and 4-6 over its last 10 games.
Colorado, meanwhile, just dropped two of three games at home to Pittsburgh, losing Wednesday's rubber match 4-3. So the Rockies are 0-3 over their last three series and 2-6 over their last eight games.
Big-picture, at 63-52 the Dodgers trail first-place Arizona by a half-game in the NL West, while the Rockies, at 60-54, sit just three games out. Also, LA is one game behind Atlanta in the battle for the second National League wild-card spot, while Colorado lurks 3.5 games back.
LA leads this season series six games to three.
Thursday's Starting Arms
Lefty Anderson (6-4, 4.05), by our strict standards, is 11/23 on quality starts this season, but 0 for his last two. Last Saturday he gave up seven runs and three home runs in just four innings against Milwaukee, and just before that he allowed four runs in six innings against St. Louis. On the season the Rockies are 10-13 with Anderson, with the totals splitting 11-11.
Over two starts this year against Los Angeles Anderson allowed five runs and 11 hits through 13 innings. Colorado split those two games.
Stripling (8-3, 2.68) is making his first start after doing a 10-day stint on the DL with a sore toe. On the season he's 7/16 on quality starts, but he's also 0 for his last two. Eleven days ago he gave up four runs and seven hits through four innings against Atlanta, and just before that he gave up five runs and seven hits, including three homers, in 4 2/3 innings against Philadelphia. On the season the Dodgers are 10-6 with Stripling, with unders going 10-6.
In one start this year against the Rockies, back in July, Stripling allowed four runs and nine hits through six innings of a 6-4 Los Angeles victory.
We're giving the Dodgers the edge in this pitching match-up.
Thursday's Batting Splits
Los Angeles ranks just 28th in the Majors this year against left-handed pitching with a .226 team batting average, 21st with a .312 team OBP and 23rd with a .382 team slugging percentage.
Colorado ranks 19th against right-handed pitching with a .245 BA, 23rd with a .311 OBP and 14th with a .414 slugging percentage.
We might give the Rockies a short edge offensively for Thursday night, but their numbers are probably slightly inflated by their home ballpark. So we're calling this split with the sticks a wash.
The Bullpens
The Dodgers bullpen ranks 12th in the ML with a 3.80 ERA and seventh with a 1.24 WHIP.
The Colorado pen ranks 28th in ERA at 5.09 and 25th in WHIP at 1.43.
We gotta give LA our handicapping check-mark in the bullpen comparison.
Totals Report
Unders are 31-21 in games played at Coors Field this year, even though those games are averaging a healthy 10.6 total runs per, second-most among all ML ballparks. Obviously, Rockies home games are regularly tagged with the highest totals on the daily MLB betting boards.
However, all three games of a LA-Colorado series in Denver in June played over the totals, as the teams combined to score 19, 16 and 17 runs.
But unders are 9-3 in the Dodgers last 12 games, in part because their bats have gone a bit cold.
Free MLB Picks
LA leads this season series and gets two of our main baseball handicapping check-marks. So despite their recent struggles with the sticks we're betting the Dodgers Thursday night.