[et_pb_dcsbcm_divi_breadcrumbs_module hide_homebreadcrumb="off" homebreadcrumbtext="Home" separator="sep-raquo" hide_currentbreadcrumb="off" homebreadcrumborientation="left" _builder_version="3.8″ fontsbreadcrumbs_font="Lato||||||||" fontsbreadcrumbs_text_color="#000000″ fontsbreadcrumbs_font_size="15px" fontsbreadcrumbs_line_height="16px" fontsseperator_font="||||||||" fontsbreadcrumblinks_font="||||||||" fontsbreadcrumblinks_text_color="#2567cf" custom_margin="25px|||" custom_margin_phone="30px|||" custom_margin_last_edited="off|desktop" custom_css_main_element="font-family: Helvetica Regular;" global_module="3641″ saved_tabs="all"][/et_pb_dcsbcm_divi_breadcrumbs_module]
Pick San Francisco Giants over Cubs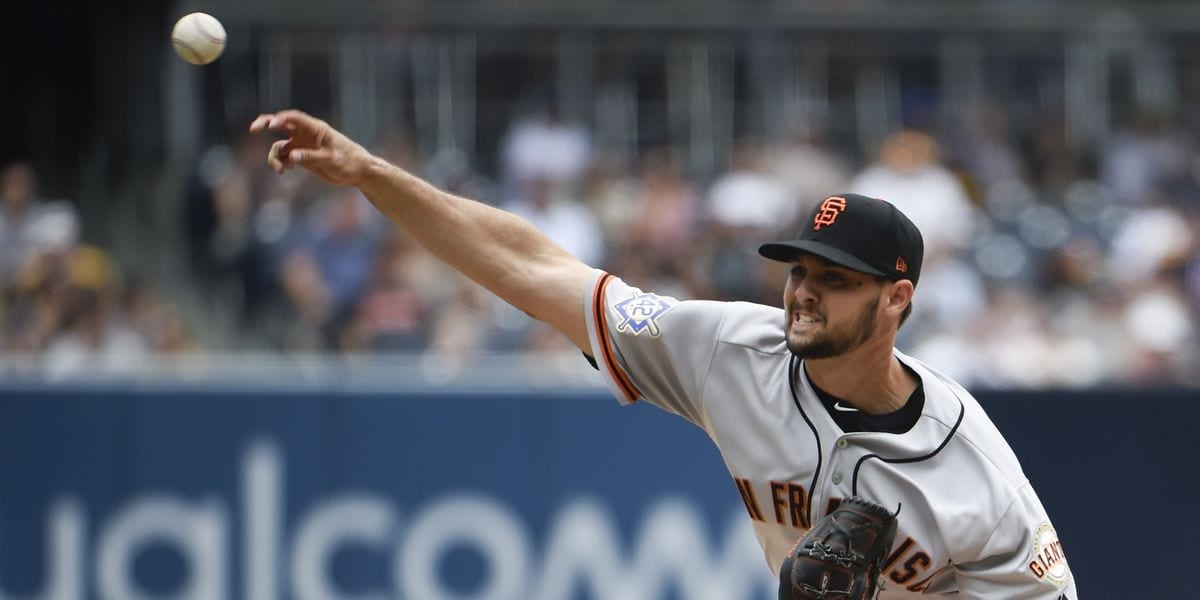 Following a successful home-stand that included a six-game winning streak the Cubs hit the road to begin a three-game series with the Giants out by the Bay Monday night (10:15 ET). Which way are we playing this series opener with our daily free MLB picks?
MLB Betting Line
As of this writing books had not yet posted MLB betting odds on Monday's game, which matched Chicago's Kyle Hendricks against (probably) San Francisco's rookie left-hander Andrew Suarez.
Set-Up
Chicago had a six-game winning streak snapped by a 3-2 loss to Cincinnati Friday, but got back on track with an 8-7 come-from-behind victory over the Reds Saturday afternoon. The Cubs trailed that game 5-0 through three innings and 7-2 into the bottom of the sixth, then scored six runs on the Cincy bullpen to pull out the victory.
At 50-36 (through Saturday) the Cubbies trailed division-leading Milwaukee by a game and a half in the NL Central, but also owned the top spot in the National League wild-card race.
San Francisco, meanwhile, dropped two of the first three games of a four-game weekend series with St. Louis, heading into Sunday's series finale. The Giants lost Johnny Cueto's return Thursday 11-2, won Friday 3-2 but lost Jeff Samardzija's return Saturday by that same 3-2 score.
At 46-45 (through Saturday) the Giants trailed division-leading Arizona by four games in the NL West, and sat 5.5 games behind Atlanta in the battle for the second National League wild-card spot.
In the only previous encounter between these teams this season the Cubs took two of three games from the Giants at Wrigley back in May.
Monday's Mound Match-Up
Suarez (3-5, 3.92), by our tough accounting, is 5/14 on quality starts this season, but he's also just one out away from being four for his last four. Wednesday he held the Rockies in Denver to one run through seven innings, and over his last four starts he's allowed just five runs through 25 innings. Also, over his last three starts at home Suarez has given up just three runs through 19 innings. On the year San Francisco is only 5-9 with Suarez, but that certainly hasn't been all his fault. Also, the overs are 7-6 with Suarez, although his last three starts have all played under.
This will be Suarez' first-ever start against the Cubs, which could give him an advantage, at least for the first couple of times through the lineup.
Hendricks (5-8, 4.27) is only 6/17 on quality starts this year, and 0 for his last seven. Tuesday he gave up three runs in five innings in a no-decision against Detroit, and over his last four starts he's allowed 16 runs and 25 hits, plus 11 walks, through 19 1/3 innings. Chicago, a team that's 14 games above .500 overall, is just 6-11 with Hendricks this season, although that is thanks in part to some poor run support. That run support has also led to the unders going 11-6 in Hendricks' starts.
In his one start this year against San Francisco, in that series back in May, Hendricks tossed seven innings of two-hit, one-run ball in a 6-2 Cubbies victory. But that was actually the last time he qualified for a quality start in our book.
Based on recent performance we're giving Suarez and the Giants the handicapping edge in this pitching match-up.
Monday's Batting Splits
Chicago ranks 7th in the Majors against left-handed pitching with a .264 team batting average, 4th with a .343 team OBP and 8th with a .424 team slugging percentage.
San Francisco ranks 4th against right-handed pitching with a .258 BA, 13th with a .320 OBP and 18th with a .405 slugging percentage.
The Cubs own the check-mark with the sticks for Monday.
The Bullpens
The Cubbies bullpen ranks 5th in the ML with a 3.12 ERA and 12th with a 1.28 WHIP, while going 25/35 on save opportunities.
The San Fran pen ranks 12th in ERA at 3.72 and 11th in WHIP at 1.27 while going 22/39 on save conversions. However, replacement closer Will Smith has been lights-out as of late, going 3/3 on save chances last week, holding opponents scoreless over his last five appearances, covering 4 2/3 innings, with seven strikeouts.
We'll call the bullpen comparison a wash.
Totals Report
Overs are 23-18 in games played at this year, which are averaging 8.8 total runs per, a figure that's inflated as compared to Giants home games over recent seasons.
Into Sunday San Francisco rode an 11-3 run on the unders, mainly because Giants sticks were running a bit cold.
Free Pick
San Fran was playing some good ball, with a recent 7-2 stretch, and while the bats have been a bit cold lately Hendricks could help them break out. And we like what Suarez has been up to. Plus the Cubs are still playing without Kris Bryant, and you'd think eventually his absence would be felt. We're betting the Giants Monday night.
<div class="widget105"><!-- [et_pb_line_break_holder] --><h4 class="baseball">Baseball Sportsbooks</h4><!-- [et_pb_line_break_holder] --><table id="dimeline"><!-- [et_pb_line_break_holder] --> <tr><!-- [et_pb_line_break_holder] --> <th></th><!-- [et_pb_line_break_holder] --> <th width="110px">10¢ to:</th><!-- [et_pb_line_break_holder] --> <th width="110px">20¢ to:</th><!-- [et_pb_line_break_holder] --> </tr><!-- [et_pb_line_break_holder] --> <tr><!-- [et_pb_line_break_holder] --> <td><div class="col1"><a href="https://record.commission.bz/_BhTQDVOVie23_O3IiMN7EWNd7ZgqdRLk/1/"><!-- [et_pb_line_break_holder] --> <img src="https://www.predictem.com/wp-content/uploads/2018/06/SportsBettingDark.png" width="150" alt="SportsBetting" /></a><!-- [et_pb_line_break_holder] --> </div></td><!-- [et_pb_line_break_holder] --> <td>-200</td><!-- [et_pb_line_break_holder] --> <td>-279</td><!-- [et_pb_line_break_holder] --> </tr><!-- [et_pb_line_break_holder] --> <tr><!-- [et_pb_line_break_holder] --> <td><div class="col1"><a href="https://www.predictem.com/betting-sites/heritage-sportsbook/"><img src="https://www.predictem.com/wp-content/uploads/2018/06/heritage-xs.png" width="150" alt="Heritage" /></a></div></td><!-- [et_pb_line_break_holder] --> <td>-200</td><!-- [et_pb_line_break_holder] --> <td>-240</td><!-- [et_pb_line_break_holder] --> </tr><!-- [et_pb_line_break_holder] --> <tr><!-- [et_pb_line_break_holder] --> <td><div class="col1"><a href="https://affiliates.5dimes.eu/tracking/Affiliate.aspx?idBook=1&mediaTypeID=220&AffUrlID=80&LandingPageID=2"><img src="https://www.predictem.com/wp-content/uploads/2018/06/5Dimes_sm.png" width="150" alt="5Dimes" /></a></div></td><!-- [et_pb_line_break_holder] --> <td>-195</td><!-- [et_pb_line_break_holder] --> <td>-266</td><!-- [et_pb_line_break_holder] --> </tr><!-- [et_pb_line_break_holder] --></table> <!-- [et_pb_line_break_holder] --><div class="widget-footer"><a href="https://www.predictem.com/best-sportsbooks/mlb-dimeline/">See all Dimeline Sportsbooks</a></div><!-- [et_pb_line_break_holder] --></div><!-- [et_pb_line_break_holder] --><!-- [et_pb_line_break_holder] --><style><!-- [et_pb_line_break_holder] --> #dimeline {border: 0px;}<!-- [et_pb_line_break_holder] --> #dimeline th{color:#000;}<!-- [et_pb_line_break_holder] --> #dimeline td{padding: 2px; text-align: center;}<!-- [et_pb_line_break_holder] --> #dimeline td, #dimeline th{padding: 8px 2px; text-align: center;border-bottom: 1px solid #bbb;}<!-- [et_pb_line_break_holder] --> .img-hover {border: 1px solid #fff; padding:5px}<!-- [et_pb_line_break_holder] --> .img-hover:hover {background: #edeef0; border: 1px solid #008156; margin-top:1px; padding:5px}<!-- [et_pb_line_break_holder] --></style>
<div style="width:340px; margin: 0 auto;"><!-- [et_pb_line_break_holder] --> <a class="twitter-timeline" data-width="340" data-height="500" data-link-color="#008156" href="https://twitter.com/PredictemPicks?ref_src=twsrc%5Etfw">Tweets by PredictemPicks</a> <script async src="https://platform.twitter.com/widgets.js" charset="utf-8"></script><!-- [et_pb_line_break_holder] --></div>
<aside><!-- [et_pb_line_break_holder] --><div class="widget105"><!-- [et_pb_line_break_holder] --><h3>Biggest Sportsbook Bonuses</h3><!-- [et_pb_line_break_holder] --><div class="widgetlist"><!-- [et_pb_line_break_holder] --><div class="col1"><!-- [et_pb_line_break_holder] --><img src="https://www.predictem.com/wp-content/uploads/2018/04/bovada.png" width="150" alt="Bovada" /><!-- [et_pb_line_break_holder] --></div><!-- [et_pb_line_break_holder] --><div class="col2"><!-- [et_pb_line_break_holder] --><span class="list"><b>50% Cash</b></span><br><!-- [et_pb_line_break_holder] --><span class="list">5x Rollover</span><!-- [et_pb_line_break_holder] --> </div><!-- [et_pb_line_break_holder] --> <div class="col3"><!-- [et_pb_line_break_holder] --><a href="https://www.predictem.com/betting-sites/bovada/"><button class="btn-widget">Review</button></a><!-- [et_pb_line_break_holder] --></div><!-- [et_pb_line_break_holder] --></div><!-- [et_pb_line_break_holder] --><div class="widgetlist"><!-- [et_pb_line_break_holder] --><div class="col1"><!-- [et_pb_line_break_holder] --><img src="https://www.predictem.com/wp-content/uploads/2018/04/intertops.png" width="150" alt="Intertops" /><!-- [et_pb_line_break_holder] --></div><!-- [et_pb_line_break_holder] --><div class="col2"><!-- [et_pb_line_break_holder] --><span class="list"><b>50% Cash</b></span><br><!-- [et_pb_line_break_holder] --><span class="list">4x Rollover</span><!-- [et_pb_line_break_holder] --> </div><!-- [et_pb_line_break_holder] --><div class="col3"><!-- [et_pb_line_break_holder] --><a href="https://www.predictem.com/betting-sites/intertops/"><button class="btn-widget">Review</button></a><!-- [et_pb_line_break_holder] --></div><!-- [et_pb_line_break_holder] --></div><!-- [et_pb_line_break_holder] --><div class="widgetlist"><!-- [et_pb_line_break_holder] --><div class="col1"><!-- [et_pb_line_break_holder] --><img src="https://www.predictem.com/wp-content/uploads/2018/05/gt-bets.png" width="150" alt="GtBets" /><!-- [et_pb_line_break_holder] --></div><!-- [et_pb_line_break_holder] --><div class="col2"><!-- [et_pb_line_break_holder] --><span class="list"><b>150% Cash</b></span><br><!-- [et_pb_line_break_holder] --><span class="list">4x Rollover</span><!-- [et_pb_line_break_holder] --> </div><!-- [et_pb_line_break_holder] --> <div class="col3"><!-- [et_pb_line_break_holder] --> <a href="https://www.predictem.com/betting-sites/gtbets/"><button class="btn-widget">Review</button></a><!-- [et_pb_line_break_holder] --></div><!-- [et_pb_line_break_holder] --></div><!-- [et_pb_line_break_holder] --><div class="widget-footer"><a href="https://www.predictem.com/best-sportsbooks/bonuses/">See all sportsbook bonuses</a></div><!-- [et_pb_line_break_holder] --> </div></aside>