[et_pb_dcsbcm_divi_breadcrumbs_module hide_homebreadcrumb="off" homebreadcrumbtext="Home" separator="sep-raquo" hide_currentbreadcrumb="off" homebreadcrumborientation="left" _builder_version="3.8″ fontsbreadcrumbs_font="Lato||||||||" fontsbreadcrumbs_text_color="#000000″ fontsbreadcrumbs_font_size="15px" fontsbreadcrumbs_line_height="16px" fontsseperator_font="||||||||" fontsbreadcrumblinks_font="||||||||" fontsbreadcrumblinks_text_color="#2567cf" custom_margin="25px|||" custom_margin_phone="30px|||" custom_margin_last_edited="off|desktop" custom_css_main_element="font-family: Helvetica Regular;" global_module="3641″ saved_tabs="all"][/et_pb_dcsbcm_divi_breadcrumbs_module]
Pick Washington Nationals Over Cincinnati Reds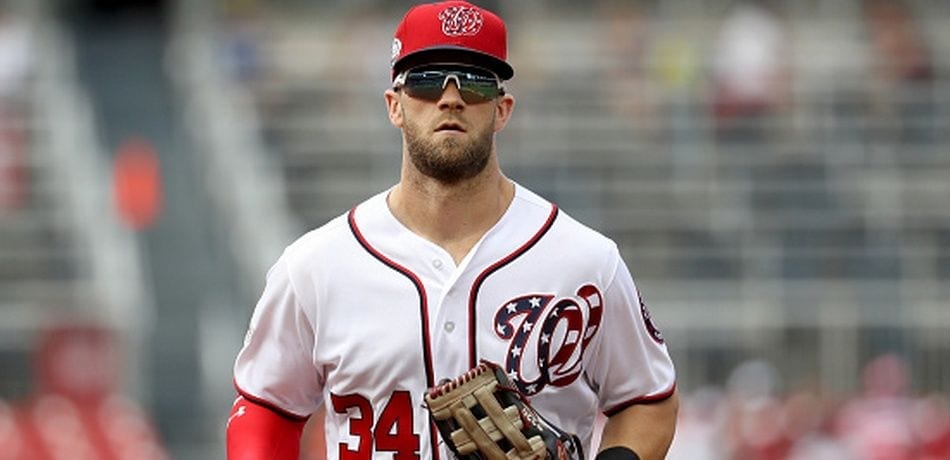 Cincinnati Reds (48-61) vs. Washington Nationals (55-53) Pick
When: Saturday, August 4th, 2018, 1:05 PM EST
Where: Nationals Park, Washington, DC
TV: DirecTV 640/660
Betting Odds: Nationals -190 / Reds +180 (with a top dime line sportsbook)
Total: Opened at 10, bet down to 9.5
Weather: 85 degrees, wind blowing left to right at 7mph
by Kevin West, MLB Handicapper, Predictem.com
Two teams going in opposite directions meet up Saturday as the Cincinnati Reds sent Anthony Desclafani to the hill vs. the Washington Nationals who will counter with lefty Gio Gonzalez.
It appears that Nats Mgr. Dave Martinez has rallied the troops after getting shutout at Miami back on July 29th. Since that whoopin' and a day off, the team looks completely different, winning three in a row, which kicked off with a 25 run outburst vs. the lowly New York Mets. They followed that up with a win vs. Noah Syndergaard and then blasted the Reds 10-4 last night in a game that had the feeling of being over at the end of the second inning.
Momentum is a real "thing" in betting and the Nationals have it right now. The team is only 5 games out of first place behind the Phillies. They have both the hitting and pitching to jump back into the drivers seat and there are strong indicators that the Nationals are in the beginning stages of a long plus run here that we can cash in on.
Conversely, the Cincinnati Reds are in the cellar in the NL Central at 48-61 and are going nowhere at 14.5 games out of first place.
The Pitchers
Reds pitcher Anthony DeSclafani is somewhat of an enigma. The kid doesn't give up a ton of hits, nor does he walk a ton of batters. He even has a pretty decent K-rate at a little under one per inning. His problem? The longball. He serves them up at a rate of three-to-one in comparison to a normal pitcher. One could argue that he pitches in hitter-friendly Great American Ballpark, but that case is broken as he's given up equally as many on the road. More importantly, he hasn't been on his game as of late, having not gotten past the 4th inning in his last three starts.
The Nats send Gio Gonzalez to the hill. Having watched Gio too many times in my life, I can whole-heartedly say that this guy is somewhat of a chameleon with regards to his environment. If his team is up and winning, Gio seems to pitch better. If the team is down, Gio seems to find a way to suck. The Nats are in the midst of a fat winning run. I think we're going to see "good Gio" tonight. As for stats, he's got a respectable 3.09 ERA at Nationals Park this season and he's been throwing fairly well as of late, allowing 2 earned runs or less in 2 of his last 3 starts.
More Things I Like About Washington Tonight
Anthony DeSclafani has given up 9 ding dongs in his last 24 innings. (A normal pitcher would allow roughly 2.4 over that span)
DeSclafani has given up "double dongs" (2 or more hr) in 5 of his last 8 games.
Desclafani has a 9.01 ERA and 1.75 WHIP over his last 3 starts.
Gio Gonzalez has only allowed 9 hits and 1 earned run over his last 14.1 innings vs. the Reds. (Including one start this year and one last season)
Gio Gonzalez has given up 3 earned runs or less in 6 of his last 8 starts.
The Nats are 6-2 in their last 8 games.
Washington has dominated the Reds to the tune of 14 wins and only 4 losses over the past 3 seasons. They're 4-0 vs. the Reds this season.
Some Likable Betting Trends
The Reds are 19-41 in their last 60 games vs. a left-handed starter.
The Reds are 17-38 in their last 55 road games vs. a south-paw.
The Reds have dropped 4 straight on the road.
The Nats are 7-1 in their last 8 home games vs. a team with a losing record.
The Nats (as a team) are 6-1 in Gio's last 7 home starts.
The Reds are 2-14 in their last 16 games vs. the Nats.
West's Winner
Gio has pitched pretty well this season but hasn't been credited with a win since May 28th. For whatever reason, the Nats haven't scored well behind him. I'm throwing that ugly trends out the window in favor of a team getting ready to be hot vs. a team that is NOT and that's throwing a pitcher on the mound who is surely lacking confidence after a handful of recent brutal showings. I'm betting on the Washington Nationals at -190.
<div class="widget105"><!-- [et_pb_line_break_holder] --><h4 class="baseball">Baseball Sportsbooks</h4><!-- [et_pb_line_break_holder] --><table id="dimeline"><!-- [et_pb_line_break_holder] --> <tr><!-- [et_pb_line_break_holder] --> <th></th><!-- [et_pb_line_break_holder] --> <th width="110px">10¢ to:</th><!-- [et_pb_line_break_holder] --> <th width="110px">20¢ to:</th><!-- [et_pb_line_break_holder] --> </tr><!-- [et_pb_line_break_holder] --> <tr><!-- [et_pb_line_break_holder] --> <td><div class="col1"><a href="https://record.commission.bz/_BhTQDVOVie23_O3IiMN7EWNd7ZgqdRLk/1/"><!-- [et_pb_line_break_holder] --> <img src="https://www.predictem.com/wp-content/uploads/2018/06/SportsBettingDark.png" width="150" alt="SportsBetting" /></a><!-- [et_pb_line_break_holder] --> </div></td><!-- [et_pb_line_break_holder] --> <td>-200</td><!-- [et_pb_line_break_holder] --> <td>-279</td><!-- [et_pb_line_break_holder] --> </tr><!-- [et_pb_line_break_holder] --> <tr><!-- [et_pb_line_break_holder] --> <td><div class="col1"><a href="https://www.predictem.com/betting-sites/heritage-sportsbook/"><img src="https://www.predictem.com/wp-content/uploads/2018/06/heritage-xs.png" width="150" alt="Heritage" /></a></div></td><!-- [et_pb_line_break_holder] --> <td>-200</td><!-- [et_pb_line_break_holder] --> <td>-240</td><!-- [et_pb_line_break_holder] --> </tr><!-- [et_pb_line_break_holder] --> <tr><!-- [et_pb_line_break_holder] --> <td><div class="col1"><a href="https://affiliates.5dimes.eu/tracking/Affiliate.aspx?idBook=1&mediaTypeID=220&AffUrlID=80&LandingPageID=2"><img src="https://www.predictem.com/wp-content/uploads/2018/06/5Dimes_sm.png" width="150" alt="5Dimes" /></a></div></td><!-- [et_pb_line_break_holder] --> <td>-195</td><!-- [et_pb_line_break_holder] --> <td>-266</td><!-- [et_pb_line_break_holder] --> </tr><!-- [et_pb_line_break_holder] --></table> <!-- [et_pb_line_break_holder] --><div class="widget-footer"><a href="https://www.predictem.com/best-sportsbooks/mlb-dimeline/">See all Dimeline Sportsbooks</a></div><!-- [et_pb_line_break_holder] --></div><!-- [et_pb_line_break_holder] --><!-- [et_pb_line_break_holder] --><style><!-- [et_pb_line_break_holder] --> #dimeline {border: 0px;}<!-- [et_pb_line_break_holder] --> #dimeline th{color:#000;}<!-- [et_pb_line_break_holder] --> #dimeline td{padding: 2px; text-align: center;}<!-- [et_pb_line_break_holder] --> #dimeline td, #dimeline th{padding: 8px 2px; text-align: center;border-bottom: 1px solid #bbb;}<!-- [et_pb_line_break_holder] --> .img-hover {border: 1px solid #fff; padding:5px}<!-- [et_pb_line_break_holder] --> .img-hover:hover {background: #edeef0; border: 1px solid #008156; margin-top:1px; padding:5px}<!-- [et_pb_line_break_holder] --></style>