Seattle Mariners vs. Oakland Athletics Pick 8/23/21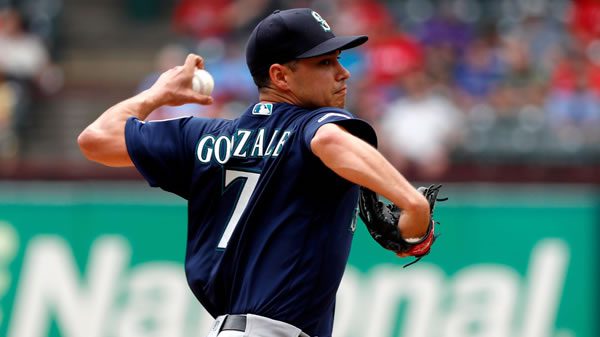 Seattle Mariners (67-58) vs. Oakland Athletics (70-55)
When: 9:40 p.m., Monday, August 23
Where: Oakland Coliseum, Oakland, Calif.
Moneyline: SEA +115/OAK -125 (Bovada - Awesome live betting platform!)
Runline: Mariners +1.5/Athletics -1.5
Total: 9
Starting Pitchers: Marco Gonzales (5-5, 4.10 ERA, 1.26 WHIP) vs. Paul Blackburn (0-1, 5.06 ERA, 1.50 WHIP)
Time Runs Short
The Mariners basically have one reason why they're still in this race for the AL West title: their schedule. The Mariners are down to 37 games left on the schedule and they sit 6.5 games back of the Astros, but 15 of their last 37 are against Houston and Oakland, giving them opportunities to cut into their deficits.
However, the Mariners just kicked away a golden opportunity to make a run at the division by losing two out of three to Houston and nearly getting swept before rescuing the game in the 11th inning. Whether Seattle can build off that success in the finale of that series with the Astros will determine whether they can actually put an end to the playoff drought, which remains the longest in MLB at 20 years. Catching the Athletics would be the easiest path, especially with the Red Sox starting to fall apart, but the Mariners really don't want to have to take down both the Yankees and the Rays in the playoffs to try to make a run. Going after the Astros and then beating the White Sox would make for a much easier path to the ALCS, if Seattle can pull it off.
Low, Low, Low
The big question for Marco Gonzales is how much of his low ERA in recent starts has been because he's been pitching well and how much of this is because he was facing the Rangers. For whatever reason, four of his past eight starts have had him matched up with the Rangers, who have mostly been a light-hitting squad that's handed their opponents some easy wins.
However, the Rangers are the only team in Gonzales' past 10 appearances to tag him for more than two runs in a start, as they got him for six on July 3. Otherwise, Gonzales is on seven straight starts of conceding two runs or less and has held 13 of 17 opponents to three or less on the campaign. He's working on six consecutive unders and helped Seattle to a 4-3 win over Oakland in their previous meeting, going 5.2 innings and holding the Athletics to two earned runs. He's seen the A's twice in 2021, and he's done well each team, conceding just three runs total on the year to Oakland.
$100% Cash up to $500

Spot Start Success
Paul Blackburn did fairly well against the White Sox in his first start of the season, but there have to be questions about whether the success is going to hold up beyond that one game. He's in his fifth year with the Athletics' organization, and he hasn't seen much in the way of success, as he's seen his innings go down and his ERA rise during his brief time of bouncing between Oakland and Triple-A Las Vegas. The Athletics even DFA'd him back in February and had him spend most of the year in Triple-A before bringing him back to pitch against Chicago last week.
In that game, he was decent but not spectacular, giving up three runs in 5.1 innings of work and at least giving the Athletics a chance against the Sox. The day ended in a 3-2 loss for Oakland, but if Blackburn can build on that success, the Athletics would have another decent option in their rotation. However, given that his ERA in 2020 was 27.00 and his ERA in 2019 was 10.64, there's plenty of reason to think that he's more likely to revert to past form.
Betting Trends
The Mariners have won five straight Monday games.
The Mariners are 8-3 in their past 11 games overall.
The Athletics are 2-6 in their past eight overall.
The Athletics are 5-2 in their past seven home games.
The over has hit in four straight Mariners games.
The under is 8-3 in the Mariners' past 11 Monday games.
The under is 4-1-2 in the Athletics' past seven games overall.
The over is 5-0 in the Athletics' past five against the AL West.
The under is 4-1-1 in the past six matchups in Oakland.
The Mariners have won the past three between the teams.
Weather Report
Northern California is actually chilly in August, and the temperature will be 60 degrees at first pitch with wind blowing at 10 miles per hour toward right-center.
Dan's pick
Seattle looked bad against the Astros on Friday and Saturday, but the Mariners had won seven of eight before that pratfall. Oakland has left the door open far too long, and the Athletics have already been caught and passed by the Yankees because of their struggles. The Athletics are not favored to win this pitching matchup, so I don't see the point in paying juice on them to win this game.
I'll take Seattle here. Question: Where are you betting your NFL picks this season? Does your bookie let you wager on games at reduced odds? Did you even know that you could be wagering on games at -105 (sides and totals both) instead of the traditional -110? Making the switch to reduced juice will save you TONS of cash and trumps ANY bonus you could ever get! Start saving big money by making the switch to BetAnySports!