Texas Rangers at Houston Astros Pick 7/20/19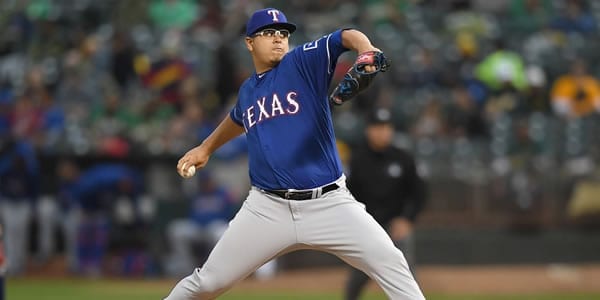 Texas Rangers (50-47) at Houston Astros (62-37)
When: 7 p.m., Saturday, July 20
Where: Minute Maid Park, Houston
Moneyline: TEX Off/HOU Off
Runline: Rangers +1.5/Astros -1.5
Total: Off
Starting Pitchers: Ariel Jurado (5-5, 4.63 ERA, 1.43 WHIP) vs. Jose Urquidy (0-0, 10.50 ERA, 2.50 WHIP)
Break Glass for Emergency
The Astros have had all sorts of problems keeping their pitchers healthy, so they've turned to Jose Urquidy to try to get through this situation. Urquidy has been a decent pitcher at Triple-A Round Rock this season with an ERA of just over four at the Triple-A level, but pitching in the majors has proven a different story so far. In two starts against Colorado and the Angels, Urquidy has seen things quickly fall apart, as he's allowed 14 hits in six innings of work total, giving up seven runs in the process. That's not exactly a ringing endorsement for him, but the Astros are pretty much just thankful to have a warm body on the mound right now.
Bouncing Back and Forth
The Rangers haven't gotten anything in the way of consistency from Jurado as of late. In his past five starts, the Rangers' hurler has been feast or famine, with absolutely nothing in between. His most recent stat line had him become his own worst enemy, walking four hitters on his way to allowing five earned runs in a 12-4 loss to these same Astros. Yet when he went up to Minnesota, he pitched effectively in his two innings and did so again on a trip to Detroit.
This begs the question as to whether Jurado simply pitches much better on the road than he does at home. After all, the three matchups he lost all came at the Rangers' ballpark in Arlington, not exactly a pitcher's paradise.
The counter to that is that he's also been to Cincinnati and gotten bombed, losing 11-3 in June (although the Reds' park might be even more homer-friendly than the Rangers is). Given that issue, the prevailing wisdom seems to be that he's unable to show any kind of consistency on the slab. He's capable of pitching with the best of them, but his arm could produce just about anything on any given day.
The Historicals
The Lone Star State rivals know each other possibly better than anyone in baseball at this point, as Houston and Texas have already seen each other 15 times this season and are done against each other after this series until two games in mid-September. The Astros hold a modest 9-6 lead on the Rangers this season, but that's a bit deceiving because Texas has had more home games out of those 15, and the home team is 11-4 in this series. The news gets worse for Texas: all four of those wins by the road team were the Astros winning in Arlington. Houston is 4-6 at Texas this season, but the Rangers are 0-5 in Houston.
Betting Trends
The Rangers are 1-5 in their past six road games.
The Astros are 5-2 in their past seven games.
The over is 5-1 in the Rangers' past six games.
The over is 4-1 in the Astros' past five games against a right-hander.
The Rangers are 2-7 in their past nine games against Houston.
Weather Report
It's Houston, it's July, and it's boiling. Thankfully, the Astros have a retractable roof so that the 94-degree game-time temperature won't be a problem for these squads.
Dan's pick
If ever there were a time to throw out the stats and take the underdog, this would be the one. The Astros have owned this series all season long, but the hard reality is that they're throwing out an untested pitcher who hasn't shown any idea how to get major league hitters out. Urquidy might get things figured out eventually, but you don't get too many chances to pick against a pitcher who's in his third major league start and doesn't look like he'll be around for very long before he's again optioned back to Triple-A for more seasoning.
While Urquidy tries to get used to the big leagues, give me the guy who's been there before, even if he has been inconsistent. I'm going to take the Rangers here.
Take the Rangers
STOP LOSING TODAY! START WINNING WITH DOC'S TEAM OF PROFESSIONALS! GET A FREE NO STRINGS ATTACHED $60 FOR THIS WEEKEND'S GAMES!